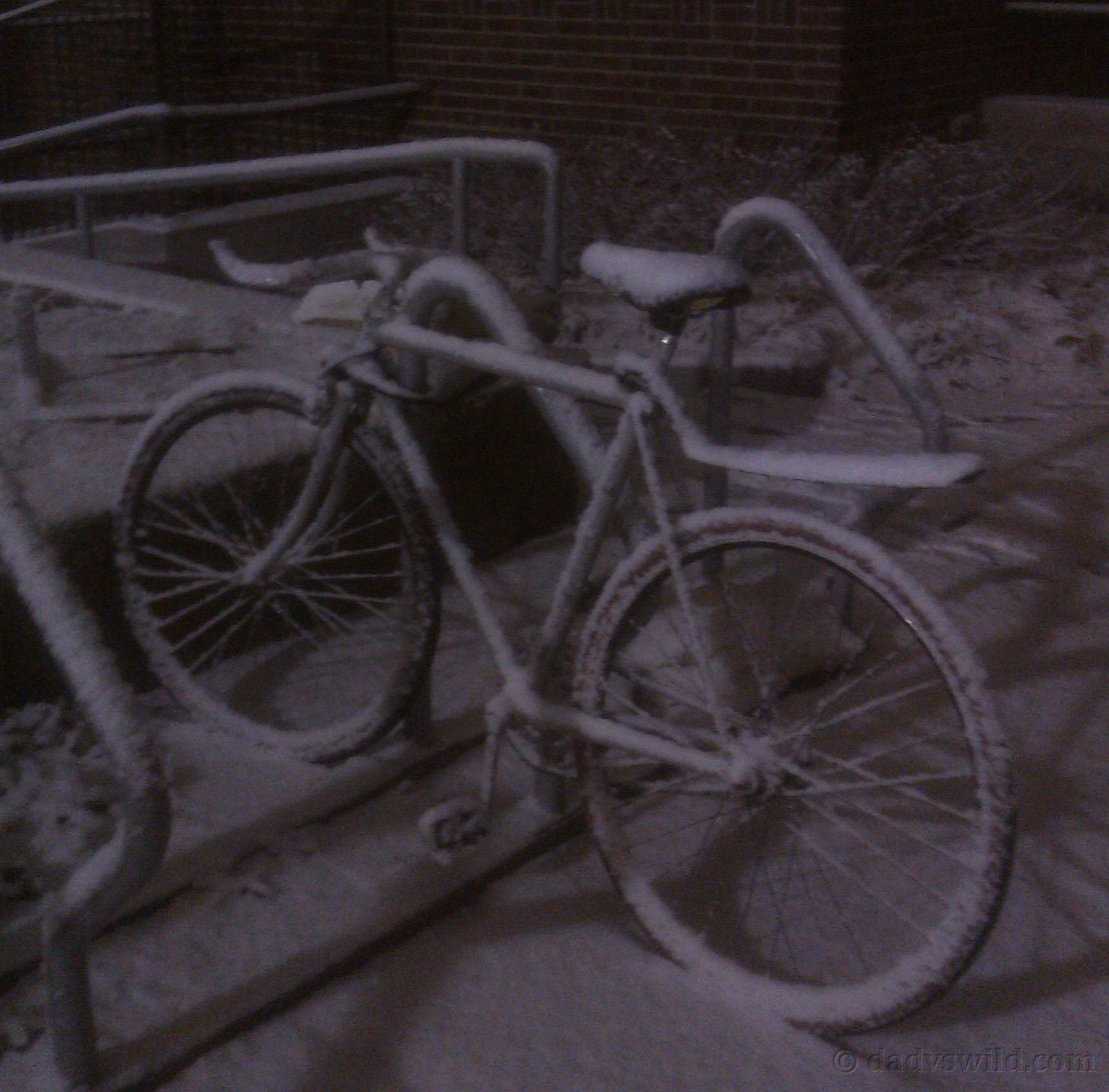 Last week it dropped into the single digits here in the Twin Cities. My wife shed a tear, which froze to her cheek. That only made it worse.
So we didn't play outside on Thanksgiving, since it got well below 20° (Outdoor Thanksgiving Activities with Kids). I'll be honest – the winter is going to kick our butts with its frozen foot, as always, but at this point I'm saying "Bring it on, punk!" I feel like lieutenant Dan on the Bubba Gump shrimpin boat, shouting into the hurricane.
One way I stick it to the winter is by biking to school, right in its face. Here, and in the next post, are some considerations for any fair-weather bicyclists or pedestrians who'd like to give it a shot.
For clothing, you don't need anything fancy like spandex or gortex, even for the -30° temps that we'll soon have in Minnesota, unless you want to be speedy or stylin. On the coldest of days my attire consists of:
Thermal underwear – top and bottom
Wool socks – heavy duty
Jeans or dickies
Waterproof low-top boots, or high-tops for deep sloppy joe snow
Fleece – either light or heavy, depending on your jacket
Jacket – insulated, hooded windbreaker. A shell is fine if your fleece is thick
Ski mask
Beanie, stocking cap, whatever you call it
Scarf or neck warmer thing
Mittens, not gloves
Note, I only bike 2.5 miles each way, so I could walk if I had to. I think 5 to 7 mile commutes are still bearable in the city with this much gear. Longer rides require more layers in case of an emergency, like a freakish wind chill or blizzard, wherein shelter is hard to find.
Note also that my eyes are exposed. This hasn't been a problem, even at extreme lows, but on longer rides you might enjoy ski goggles.
Finally, some encouraging links:
www.ci.minneapolis.mn.us/bicycles/winter-biking
www.bicyclinglife.com/Recreation/wintercycling
adrenalist.com/biking/a-guide-to-winter-biking