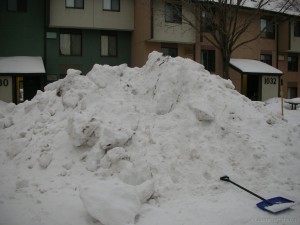 If our first quinzee were an RV it would be a popup tent trailer – functional, but cramped and drafty. Today we upgraded to a class A motorhome with popouts. To build a class A quinzee you need a massive pile of snow, and to add the popouts, i.e., additional bedrooms and den, you need multiple connected piles. I think the snow cleanup crew had just such a cave suite in mind when they plowed our complex this week.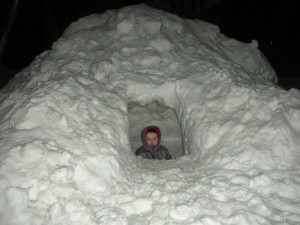 The photo doesn't quite do it justice. I'd say it's ten feet tall, twenty wide, and maybe thirty front to back – the grand teton of snow banks. The problem with quinzee construction in a week-old snow mound is the ice. After two hours of hacking and carving I was spent, so my son took over for about two minutes, but we ran out of light. The campout will have to be for another night, to his dismay, and mine.
For some reason my daughter, who's three, isn't so jazzed about sleeping with a few hundred pounds of snow looming over her. In response to an invite my wife said, thanks for the invite. Sleeping on the snow, in a cave, in the cold, a hundred yards from our apartment… seems silly. But it's not. It's awesome.