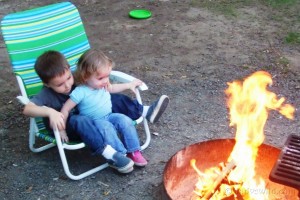 When I was a scoutmaster our troop resolved to camp out twelve times a year, but given the usual logistical and meteorological complications we were content with six. As a family I think we can do better. My first resolution for 2011 is to take the family camping twice a month, rain or shine, in sickness and health. Twenty-four campouts in 2011!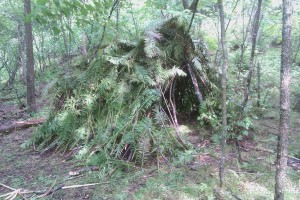 Some stipulations: Camping consists of sleeping overnight in any structure designed to bring you closer to the outdoors, regardless of accommodations or distance from home. With this definition, an RV would be valid, but not at an RV park in Las Vegas, where a stretch Hummer taxis you to the strip. A cabin, houseboat, and yurt are all legit, as is a natural shelter like this fern hut, a quinzee, or no structure at all.
Some specifications: I think we can agree that another defining feature of camping is a reduction in the less essential comforts of our city or suburban home – some amount of deprivation. Normally I'd say RVing, with plumbing, AC, and a flat screen, doesn't count as camping. But everyone draws the line differently.
My line is often close to depravity, with many comforts being nonessential (e.g., shoes? wimpy). However, I grew up camping in trailers and RVs, and loved it. Whether we have cakes on the griddle or cold gruel depends on the purpose of the trip. And, of course, related to comfort is cost. Currently, we're stuck with a tent and whatever we can fashion with our own hands. Depravity works out nicely when you're aiming for minimal spending with maximal adventure.