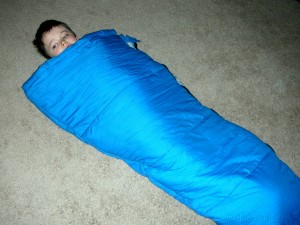 Warm, backpack-worthy sleeping bags for young kids are hard to come by. They're either designed for youth, much larger and heavier than necessary, or they're designed for slumber parties, more to showcase the latest superhero or princess than to keep warm. The ideal solution would be to tailor a bag from scratch, but a simpler, cheaper option is to repurpose an adult bag.
Materials
Sleeping bag – The shape and type aren't important, as long as you can hack it open and fit the layers back under the sewing machine needle. Winter bags may be too thick. A mummy bag is fine, but a rectangular one can be rearranged into two cozy kid bags.
Scissors – sharp ones, maybe kitchen shears, as you'll be chopping through some thick insulation.
Sewing essentials – A sewing machine, regular thread, and familiarity with doing a basic stitch. I'm a novice and the hardest part for me was spooling the thread. From there you'll only need three long seams to complete the first bag.
Embellishments – Drawstrings, velcro straps, and cinching straps are optional.
Instructions
Measuring – I started with a double hand-me-down rectangular adult bag, measuring 72 × 32 inches, about 16 longer and 16 wider than necessary. My five-yr-old son is 42 inches tall and 12 wide at the shoulders. His new bag tapers from 23 inches at the head to 15 at the foot, with a length of 58 inches. These cuts left plenty of material for a bag for my three-yr-old daughter, who is 36 inches tall and 10 at the shoulders.
Cutting – The more loft the more difficult it will be to cut. Ours had only an inch and a half of loft per side, so the cutting went quickly. Once the shapes are cut, you may need to remove half an inch from the edges of the insulation all around so there's enough fabric to sew the layers back together. If you're only making a single bag it makes sense to reuse the original zipper and opening at the head, making your cut from the foot, zipper side, across and then up to the head.
Sewing – First, I sewed each layer back together, starting at the foot. Next, I sewed the two layers together, inside out.
Zipping – The first recycled bag is much easier than the second, since you get to reuse the original zipper. The only snag is creating a new zipper-stop, which will keep the slider from flying off at the bottom, and keep the zipped portion from unzipping itself. A few options are to get a zipper kit, reattach the original zipper-stop, or sew the zipper together at the bottom.
Wrap-up
Making your own bag becomes less practical as kids get older. Synthetic 20° sleeping bags range in price from $70 to $100 (e.g., North Face – Tigger, Mountain Hardwear – Mountain Goat, ALPS – Desert Pine) and they typically fit up to 60 inches while still being as light or lighter than a homemade version. Plus, they have new, lofty fill, as opposed to matted, second-hand insulation. They'll be warmer, they'll last longer, and you won't have to do any sewing.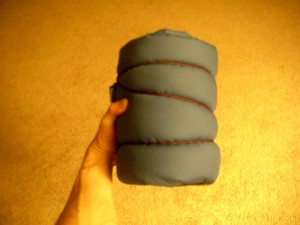 But, for kids under, say, 45 inches, maybe 2 to 5 years old, a tailored sleeping bag is ideal. My son's weighs 2.4 lbs, down from 5.5, and packs to 11 × 5 inches. My daughter's weighs 1.5 lbs and packs to 9 × 5 inches. They're small and light enough for the kids to carry themselves, and the snug size also means there's less empty space taking away body heat on cool nights.