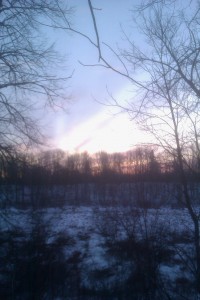 This weekend we camped out in the Chengwatana Forest, about 30,000 acres of birch, aspen, and white pine along the St. Croix River in east-central Minnesota. Like the rest of the state, the forest is flat and wet, with an elevation around 900 ft. and lots of marsh, river, and lake.
In February that means lots of ice. The road was covered in a thick layer because of the recent snow melt. The foot of snow that remained on the ground had a shell of ice on it as well, strong enough to support the first half of a footstep but then break under the second.
It got down to 5° overnight, otherwise the temperature stayed in the teens and twenties with only a slight breeze. We couldn't ask for more in the middle of February. Actually, with a few more degrees we could have ventured, comfortably, more than 5 feet from the campfire. The cold really limits campout activities to survival, i.e., maintaining core body temperature, fending off frostbite, and such. But, like I said, it's the middle of February in Minnesota, where the average high is in the twenties and the average low just above zero.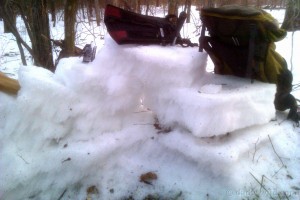 Once again, it was too cold for young kids. I've drawn the line at 10°. Single digits mean frozen digits. The age range for that threshold depends, in part, on the availability of winter gear. The standard boots and mittens for young kids (pre-K) seem to be designed for the warmer months of winter, the beginning and end, rather than the frozen middle.
We'll be back once the weather improves. Chengwatana is 20 minutes further from the Twin Cities than Sand Dunes, but it's bigger, more isolated, and contains less private land. Plus, it has a sweet name.