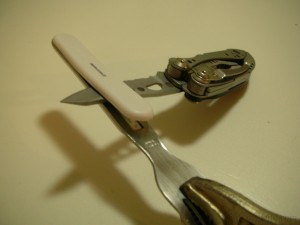 With a big year of camping ahead of us we're trying to gather up some of the essential personal gear for our kids. The mess kit has a simple purpose, to get food from point A (the cookware) to point B (the mouth). We're keeping it simple and affordable: two pieces, no moving parts, under 2$.
When I say mess kit, I'm referring only to the personal pieces, not the skillet, kettle, or espresso machine. In the minimalist, recyclist motif, ours consists of old plastic-ware and the skeleton of an infant/toddler fork.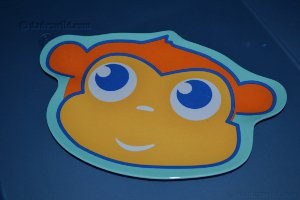 A sierra mug is my plate/cup/bowl of choice, followed closely by the iconic blue enameled mug, aka hobo cup. Both cost around 5$ and are nearly indestructible, but the metal will get too hot for kids to handle. Instead, durable plastic is best, e.g., old tupperware or plates with monkey faces on them.
The only downside to the fork is it's not a spork, otherwise it includes multiple clipping/lashing points, it rivals the ultralight utensils in weight (0.7 oz), and it destroys them in price (plastic utensils cost around 3$, titanium 9$). The steps are simple. If you want a full metal handle, find a fork or spoon with two pieces of plastic on the handle, like in the picture above. Then, hack the plastic off with a sharp knife. For utensils with a single molded piece of plastic, as in the pic below, you can drill a hole in the end for cords and carabiners.