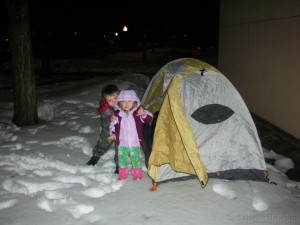 Last night the thermometer read 40°, which called for a campout in the urbs, despite the 40 mph wind gusts and the soggy snow.
There's a lot of movement in the urbs at night. Who are all these people driving around at 2AM? Aren't their kids going to wake them up soon, demanding breakfast? They must be out getting pedialite or emergency wipes.
Besides the cars, there's a train or a jet going by every few minutes, so it's hard to forget your tent is pitched in the city, not the woods. Still, it was a good time. The kids tested out their custom sleeping bags, giving them pretty good reviews: Me, with much excitement and encouragement – Do you like your awesome new sleeping bags? The kids, nonchalant – yeah. Can we have some more hot chocolate?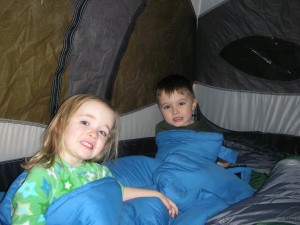 We told stories for a couple hours, about biscuit the bear, carbuncle the crab, and an anonymous ostrich, all of whom were good friends and very helpful to one another. Around 9PM my son and I dozed off while my daughter continued telling us about the volcano that was going to boil, which would feel really hot:
And there was a big rock that was going to roll into it and fill it up and then the planet would crack because the hot lava couldn't get out.

[Laughter, followed by what sounded like a monkey, dying…]

I was talking like a funny monkey. Dad, can you do something for my finger to feel better? For my finger to be, um, not ripped?
She had a hangnail. That's all I can remember.