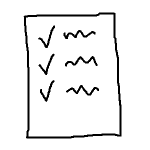 Most kid camping gear lists, including my first draft, seem to focus on what the parents should bring for their kids. Instead, here are seven basic items that every camping kid can learn to pack and utilize, on their own. They're based entirely on the two principles of camping enjoyment.
Download the checklist: pdf
Personal Effects
Gear bag – Kids need their own personal pack, whether a grocery sack or an old Jansport. Even when car camping, they can learn to manage their own stuff. Start small (clothes) and increase the load (sleeping bag, food, etc.) as they grow. My son, who's 5, carries his own clothes and water. My daughter, who's 3, carries all the snacks and treats.
First aid – In addition to the comprehensive kit for the group, kids can carry their own personal items. Again, start small, with things they might occasionally use, like band-aids, lip balm, and a sphygmomanometer. Build the kit together ahead of time and discuss the importance of each item.
Extra Clothing – For the cold, precipitation, or to replace an outfit once it's covered in mud. This is partly for your own sanity, as kids tend to enjoy getting wet and filthy. Inclement weather can spoil a campout if you're not prepared for it. A rain poncho is a step in the right direction – youth sizes are easy to find, but for young kids a garbage bag is perfect. [Our winter camping adventures]
Sustenance – Kids can learn to be responsible for their own nutrition. A disposable water bottle, cheap and light, may suffice for H2O. On long hikes, teach about bringing the right amount of water – not too much, as it's heavy (8.35 lbs/gal, 2.20 lbs/L) – and making it last. Plan meals together and let them carry their own snacks.
Flashlight – Young kids rarely get to explore the outdoors in the dark, which may be one of the reasons they're afraid of it, and one of the reasons camping is such a unique activity. Nighttime is more fun, and safer, with some lighting. The cheap or free keychain type is prefect, though maybe not very luminous.
Sleeping gear – Good sleeping bags for young kids are hard to come by, as most are designed for youth and often weigh as much as the adult counterparts. Tailoring your own bags is feasible and fun. Liners add versatility. Around 40° and below my kids use closed-cell foam pads, which can be obtained for under $7 and cut down to child-size to make them more portable.
Mess kit – This last personal item is perfect for teaching a kid to take care of their gear since losing it or failing to wash it can have an immediate consequence, i.e., hunger. [More on mess kits for kids]
Camping is also a great opportunity to teach about service, teamwork, and group responsibility. In addition to personal items there are many things to be shared – food, shelter, toilet paper, whatnot. Here are a few simple things that kids can oversee.
Items to Share
Marshmallows – The true essence of the marshmallow is its cookability over a fire. It can be replaced with anything which burns or heats and is afterwords still nearly edible, but s'mores make for a nice camping tradition, and mallows are the critical ingredient. They're cheap, light, and indestructible – perfect for a kid's pack.
Topicals – Sunscreen and bug spray. These are also items a kid can share and learn to apply themselves, with some supervision. [Beware of ticks]
Activities – Last but not least are camping games and activities. As far as preparation and responsibility go, we should always include the kids in our campout planning. Discuss what they'd like to see and do, and what they'll need to make it happen. Talk about costs, feasibility, and required equipment. Examine the trail map or research the destination online together.
Please share your comments and suggestions!