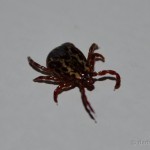 Spring has finally arrived in Minnesota, and so have the ticks. Last week was our first experience with ticks and kids, an unfortunate combination.
As long as bugs keep to themselves I don't usually mind having them around. I can tolerate the pesky ones that sting and bite in self defense, and I've even made peace with mosquitoes. But any creature that takes up semi-permanent residence on my person is an enemy. And anything that goes after my kids will face my wrath. Sitting in church on Sunday I nearly swore out loud when I found a tick clamped to my daughter's neck.
We had gone hiking, to get some bald eagle photos, on Friday morning. So this tick had been stalking us for over 48 hours! It gets worse. Sunday afternoon I took the baby (18 mos old) for a walk. When we got home, while twisting her hair into a mohawk, I found a tick on her neck!
We finally concluded that the pair had been waiting on my older daughter's jacket, which she had worn on our hike, and which my youngest had worn on our walk. Lesson learned – ticks are patient, persistent, and they're gross.
Here are a few more facts I recently learned:
They typically hatch in the summer/fall, live three years, and are dormant through the winter. It's not until the second and third years, or phases, that they're most annoying and most dangerous.
Deer ticks (aka, blacklegged ticks) carry lyme disease and they're not all deer ticks. The ones we found, in the photo above, were dog ticks.
They don't jump or fly. Instead, they sit and wait, usually in thicker grass and brush, and grab on when someone comes by.
Depending on the humidity (the higher the better, for them) they can survive indoors. The rugged ones can also survive a wash cycle, but none will make it through an hour in the dryer.
Good methods of prevention are keeping the kids on the trail, putting them in long pants, and doing a thorough check after being out. Tweezers are the best method of removal.
There's a variety of information on the web, but you'll find everything you ever didn't want to know in this document: www.ct.gov/…/tickhandbook.pdf