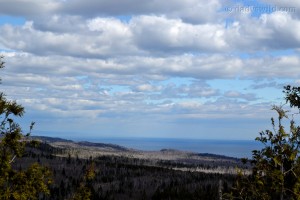 One of the outdoor highlights of Minnesota is the Superior Hiking Trail (SHT), a 300 mile footpath connecting Duluth and Canada along the shore of Lake Superior in northern Minnesota.
The trail has superior accessibility – just off the highway (MN-61), with parking every 5 to 10 miles. In some sections it gets a little too accessible – you may hear a chainsaw or someone riding their quad to the fruit stand, and the vistas may be obstructed by a water tower or a guy in a straw hat chasing squirrels with his pitchfork. But these distractions are part of the rural northern Minnesota experience and they're well worth the convenience of free parking and free camping.
The SHT doesn't excel in distributing good information about itself on the web. The Superior Hiking Trail Association website has some basic maps, with descriptions of each section and campsite. Otherwise, you might talk to the guy with the pitchfork. If it's your first time, I recommend the Silver Bay section, which passes through Tettegouche State Park.
Here are three things to do before you go:
Get a map. For about $6 you can get a pocket-sized spiral-bound version, printed on waterproof paper. The SHT handbook costs around $16.
Check conditions. Given that it's maintained by volunteers who also have other things to do, like make granola and weave things out of hemp, some sections need a little TLC. Call (218-834-2700) or email (hike-at-shta.org) to check on trail conditions, especially in the winter and spring.
Research your campsite. Given that it's free, campsite quality depends a lot on location – elevation, vegetation, hydration, etc. Higher, dryer, and sunnier typically mean more firewood, fewer mosquitoes, and better views.