After about an hour, and 50 tries using the camera timer, we managed to wrangle the kids and keep their fingers out of their noses for one decent family photo: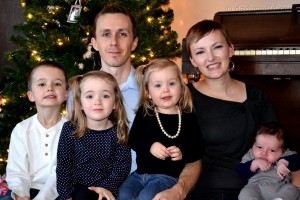 The 49 others went something like this:
We're just grateful our son got really dizzy and split his eyebrow open on the piano after the family photo frenzy. At 9 PM, Christmas Eve, we were in the ER: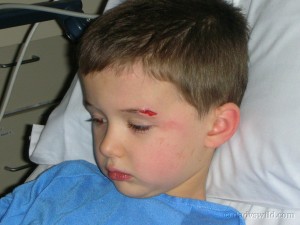 Excessive spinning might have become a cherished family tradition. Oh well. With four kids, the odds are good that at least one is going to need stitches. Of course, that goes for any family activity, even the more sedentary ones. I wouldn't be surprised if someone got injured reading The Lorax. One kid might pretend that they're the super axe hacker, and that another kid's head is a truffula tree.
[Last Christmas – so much simpler.]
While it was stressful, and our son might be missing a left eyebrow for the rest of his life, we tried to look on the bright side: it was his brow, not his eye, and pianos tend to be flat on the front, not spiky.
Merry Christmas!