Last weekend the temperature jumped to 50 °F, with clear skies and an overnight low around freezing. Those seemed like prime conditions for introducing a toddler to winter camping. I decided to take the four older kids to Wildwood Lake, a tiny reservoir hiding among the corn and soybean fields about 45 minutes north of Lincoln.
Wildwood is free, semi-primitive camping. Semi-primitive includes latrines and fire pits, but no running water and no designated sites. As a result, you have to stake your claim. That's not a problem in the winter. We saw a dozen or so people ice fishing on the lake, but ours was the only tent on the entire shoreline.
The kids behaved like they owned the place. They shouted to each other when it was absolutely not necessary – when they were only a few inches apart and when they didn't actually have anything to say. For example, "Hey, Anthony! Are you hitting that stick on that rock!? Whoa!" They also never stop running places. Unnecessary yelling and running are two signs of a successful outing.
The kids really staked our claim by never using the latrine. Not once. Peeing in the middle of nowhere, or right next to where you're going to sleep, is one of the simple beauties of camping. It's especially fun for a newly potty-trained two-year-old, though it's also strange at first, given that pottying anywhere but in the toilet is usually a problem.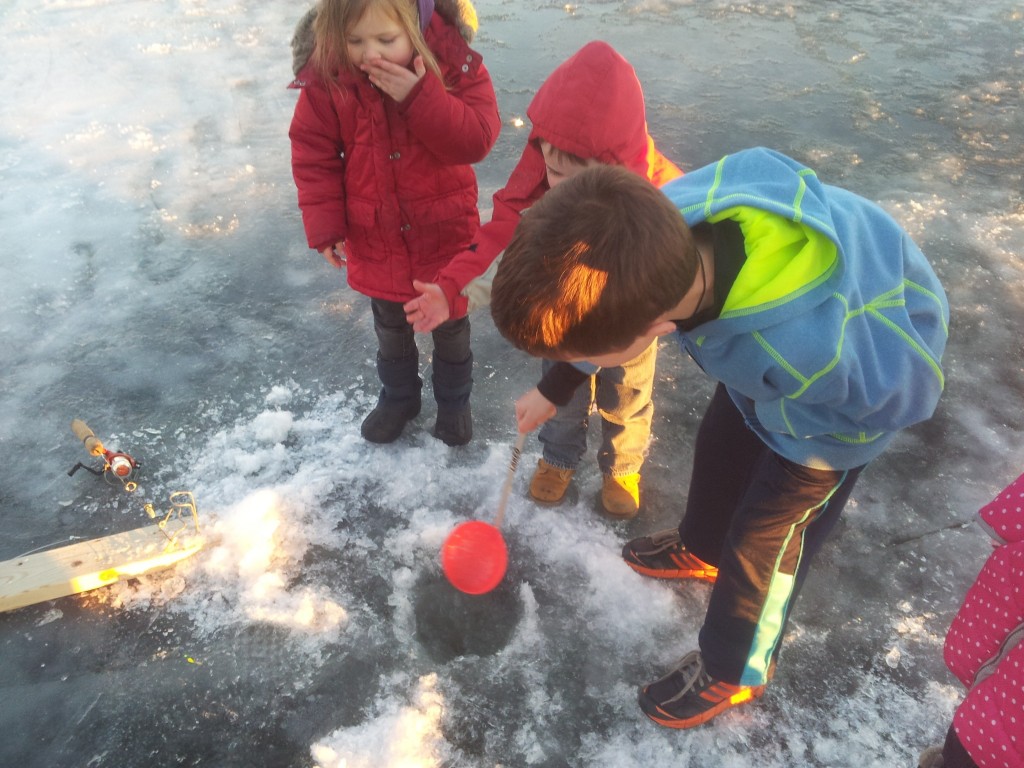 Walking on a lake is really strange, too. My oldest was fine, but the others, especially the toddler, were spooked. They were very cautious for the first 30 minutes or so, looking down to scrutinize each step, and then looking up to remind themselves that other people were doing this too. I could see the wheels turning in their little heads: "Is this OK? Well, dad's doing it. But dad is crazy. I think he eats bugs. Oh, other people are doing it too. And they look normal. Wait, that one is eating candy!"
Really, as soon as the candy comes out, everything is OK. We lasted for about an hour out on the ice. The kids ate candy and then transitioned to nuts and these amazing dried bananas from Costco that taste just like candy. But, with the warmer weather, the surface of the lake was becoming one giant puddle, making it difficult to run without slipping. Once everyone had confirmed this to be true, we decided to head back.
At camp, amidst the yelling, running, and peeing, I'm continually reminding the kids that these freedoms are only available when we're camping. My goal here is to make camping seem super rad, building it up into the greatest thing that has ever happened to them, partly because I want them to share in my obsession, and partly because it's getting cold as the sun sets and two of the kids are going to realize that mom is not there to comfort them.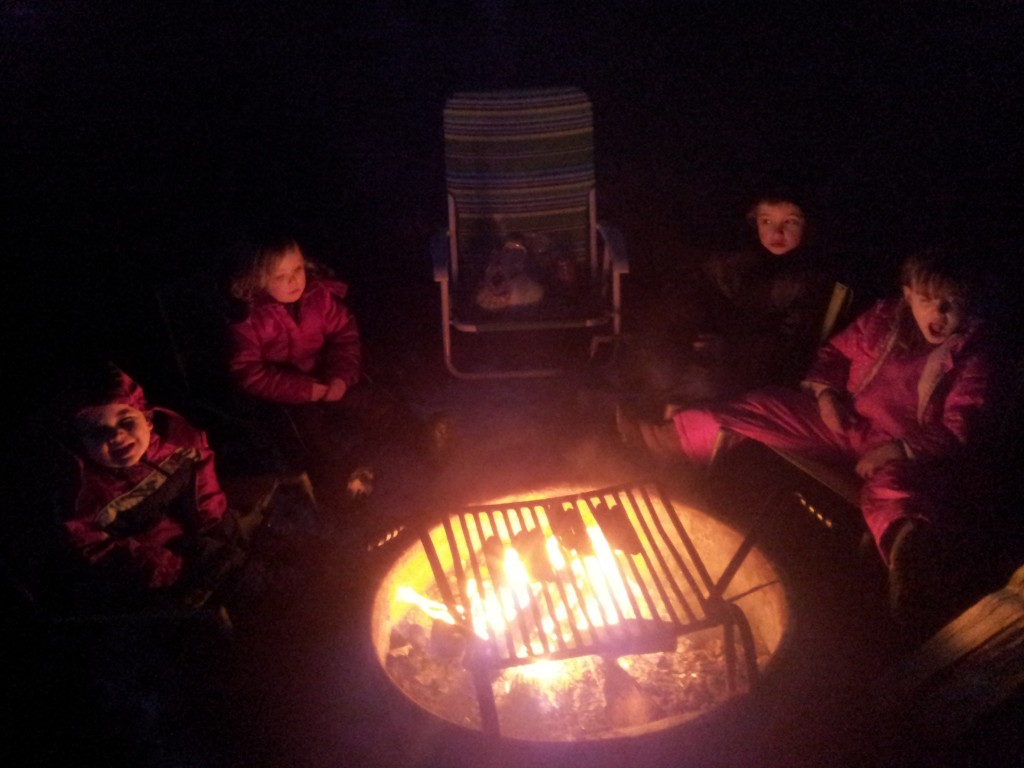 We cooked hot dogs and marshmallows and then started the transition to bed time at about 7PM. Transitioning from party time to bed time is one of the major challenges of camping with kids. Sadly, the party has to end – no more running, peeing, or yelling. No more candy. None of these are compatible with sleep. It is tragic, really.
The younger two kids lost it soon after we got in the tent – their toes were cold, they were still hungry, and they wanted mom. But, after about 20 minutes of tears, I finally prevailed by reading to them from Call of the Wild. My explanation of "the dominant primordial beast" put them right to sleep.