I've been reading lately about the potentially negative effects of overprotecting our children. According to Hanna Rosin, author of The Overprotected Kid, when they don't take risks and experience "dangerous play," our kids miss out on opportunities to overcome their fears, gain confidence, and become independent. She says:
A preoccupation with safety has stripped childhood of independence, risk taking, and discovery – without making it safer. A new kind of playground points to a better solution.
This "new kind of playground" essentially combines an understaffed daycare center with a junk yard. See for yourself. It's hard to believe.
Apparently, this small wasteland exists within a suburban neighborhood in Wales. Wales is sort of part of England, in case you didn't know. I haven't seen the full documentary, and I haven't been to Wales, but I'm guessing that it's a pretty civilized place. This contrast is what makes the imagery so powerful – you see clothes lines, and well-kept brick houses, and then piles of garbage, much of it scorched or abandoned in the mud. It reminds me of Sid's backyard in Toy Story.
Taking Risks
I imagine there's some small print scratched on the sheet-metal door as you crawl in: "enter at your own risk." And that's the point – this is a place where parents can send their kids to take risks. The article emphasizes the fact that parents almost never enter, except to "donate" tools or pallets or trash. The only supervision is provided by "playworkers" who mostly just observe, but who would intervene, I assume, if a bonfire got out of control or if someone cut a finger off. So, kids' risk taking all happens in a confined space, down the street, while parents are at work or at home, tidying up.
At first, I thought the adventure playground was a brilliant idea. I immediately started planning the Lincoln, Nebraska version, with some major improvements, like a zipline and dirtbikes. The US invented the X-games, right? Our kids need more access to dangerous, X-treme activities at a younger age. Otherwise, we may lose our edge to countries that invented cricket and badminton.
Now, I'm not so sure. Although I highly endorse risky play, and I would be happy to see adventure playgrounds proliferate the earth, I also think that parents are primarily responsible for teaching their kids to use matches and saws, and to take risks, responsibly.
Parents Are the Problem
Much of Rosin's article describes how parents nowadays are too protective and too sheltering. We're over-overbearing. In the olden days, kids had much less oversight; now, we're more present than ever in their growing-up years. And in removing the risks from childhood, we perpetuate childhood and prevent growing up. So the adventure playground is intended to be a remedy for the feeble helplessness and immaturity modern-day parents have effected in their kids. Rosin quotes a psychologist who researches these things:
Our fear of children being harmed may result in more fearful children and increased levels of psychopathology.
This all makes sense to me. But I'm not certain a centralized location where kids can get harmed is the answer. Although it does free kids from their parents' safety net, adventure playgrounds aren't addressing the real problem – the parents.
Kids need a gradual introduction to making their own choices. This should probably start early on, like in toddlerhood, and continue until sometime between 16 and 18, when kids are essentially old enough to do whatever they want anyway. The goal here is to teach them along the way, while allowing them to take risks that are appropriate to their age level.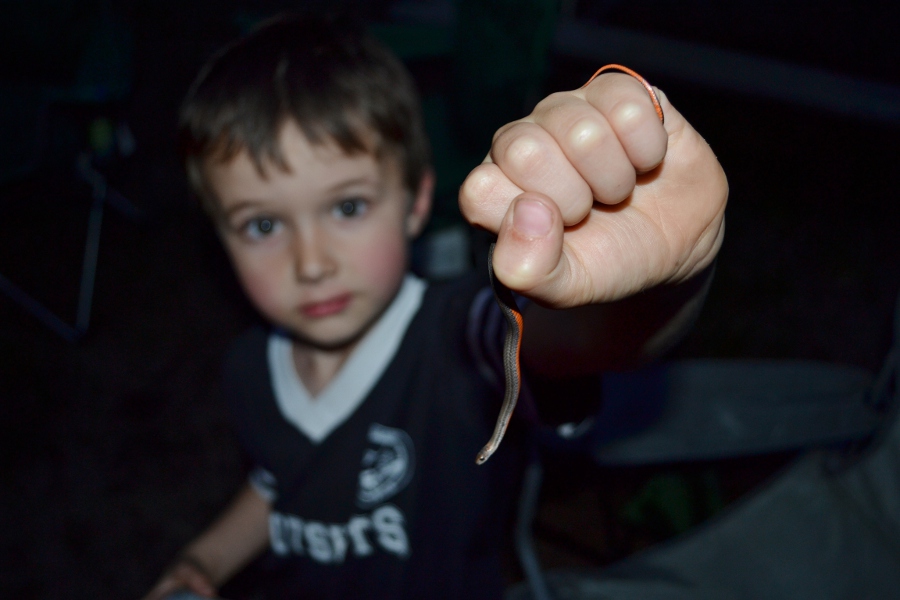 Who is in the best position to teach our kids? How would supervisors in the adventure playground deal with a five-year old lighting fires or catching snakes? Is that too risky? With kids of all ages running around, where do you draw the line? I think parents, not childless teenagers, should be the ones defining the realm of decisions and challenges their kids explore. And if parents can't figure out how to set reasonable expectations, maybe they need their own risk-taking intervention.
What Can We Do About It?
For the most part, I think Rosin is spot-on. Kids need more access to unstructured and unsupervised free time. Parenting and public safety norms can place unnecessary restrictions on kids, and their growth is stunted as a result. Open public spaces, where kids can roam without rules and regulations, are dwindling. So is our connection to nature. Richard Louv writes about this in his book Last Child in the Woods. He asks,
What happens to the nation's intrinsic creativity, and therefore the health of our economy, when future generations are so restricted they no longer have room to stretch?
We can't yet answer that question. I hope we don't have to. Instead, I hope we can be more thoughtful parents, more critical of how we let society, culture, and technology structure our kids' time. The adventure playground is a step in the right direction. It provides access to the freedom that kids need to stretch and grow; it provides a place where kids can define their own society and culture, where they can develop their own technology. However, the bigger point is that parents, and not a park or school system, are ultimately responsible for their kids' growth.