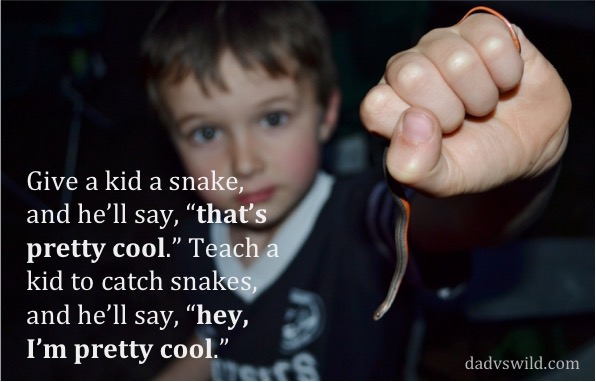 I wrote here about one solution to the problems caused by overprotective parenting, a hazardous junkyard playground referred to as "the land" where kids can do things without their parent's protection. It's a no-fly-zone for kids with helicopter parents. I'm critical of the adventure playground because it sort of treats a symptom of overprotective parenting, scaredy-pants kids, rather than the cause, scaredy-pants parents. But I really do like the idea of leaving my kids outdoors with minimal supervision. It's one of my favorite things to do with my kids.
Supervision is overrated
I grew up in the suburbs of Sacramento, California. For a few years we lived near what we called "the creek." For us, this was "the land:" no parents, lots of space to build things, wreck things, and light things on fire. The creek consisted of a creek, plus some fields and trees growing so close to the creek that a bulldozer couldn't get to them. This was California, so there may have been a law protecting the fragile crawfish ecosystems of the creek. But that law didn't extend to the mischief of the neighborhood kids.
We constructed and destroyed many things by the creek. We also ignited many things. I learned that some things look really cool when they explode. I also gained a healthy respect for fire, and how difficult it is to extinguish, after we burned down a field. I thought this example would support my argument that kids need more freedom and less supervision, but it sounds like it does the opposite. Oh well.
Under-expectations
The problem with overprotecting our kids is they are going to live down to our expectations. When we don't let them do something, we convey the message that they can't do something. They're too small, too young, too immature. Of course, this may be true. But the parenting experts lately are saying what rednecks and some outdoorsy people have believed all along: we need to let kids do things. They'll be fine.
To be clear, I'm not advocating for absentee parenting with no oversight, rules, or boundaries. Progress in safety standards have been helpful in some ways, for example, bike helmets and seat belts. My oldest daughter crashed hard on her bike recently and got a concussion when her head hit the road. And she was wearing a helmet. But the oversight, rules, and boundaries are getting excessive. Parenting trends have lead many of us to underestimate what a kid can do and handle.
Cutting Strawberries
Lately, I'm trying to say yes when one of my kids asks if they can help with something. Before considering if the request is reasonable, I say yes. Then, with some luck, I think of a way to make it age-appropriate. This morning, my daughter asked if she could have strawberries on her cereal. Yes. Can I cut them into pieces? Yes. Wait, she's only six. Is that too young to use a knife? I have no idea. Who is in charge of deciding that? There has to be a website I can go to.
No time for websites. I stood back and she did fine. She got the strawberries out, "washed" them, cut the tops off, diced them, and shared her spoils with her siblings. She was proud of herself.
Breakfast really is a battle and a time sucker when there are five kids to feed and clean up after. Our kids often fix their own breakfast. Then, ideally, or never, they don't leave the kitchen until their mess is cleaned up. Wipe the table, sweep up the crumbs, rinse the dishes. Kids under eight can do all these things. Kids under six can do all these things. They can also pour cereal and milk. They will spill every time. But, after two years, you won't have to do any of it, and your kids will be much more capable and independent.
One big obstacle in letting our kids do things is our own lack of time and energy. We don't want to clean up their mess. There's no time to mop a batch of pancake batter off the floor. Parenting is tiring enough when the kids leave us alone. This is true and serious. I don't have anything funny to say about it. But, a kid has to learn to make pancakes sooner or later. Why not now?
Breaking Lawn Mowers
A few weeks ago, our oldest son asked if he could mow the lawn. Last year he asked the same question, I said yes, and he mowed over some rocks. That was bad, since our lawn mower is the kind designed for grass. It's not a rock mower. So I took the reigns for a year, and now he's interested again. I said yes, and he did surprisingly well the first time. The second time, yesterday, he mowed the top off of a sprinkler head. Springs and shards of plastic flew across the yard. He was really scared that I would be angry, which made me sad. I was a loser and got mad last time. This time, I laughed, gave him a hug, and told him sprinklers are only like eight bucks. He said he would help pay for it. What a rad kid.
Maybe instead of asking how old a kid needs to be to mow the lawn, we should ask how many mower blades and sprinkler heads we're willing to replace in exchange for teaching them an important skill and showing them how awesome they are? Maybe it's less about their limitations, and more about ours. Like a kid with a lawn mower, we have no idea what we're doing. But I think it's going to be OK.