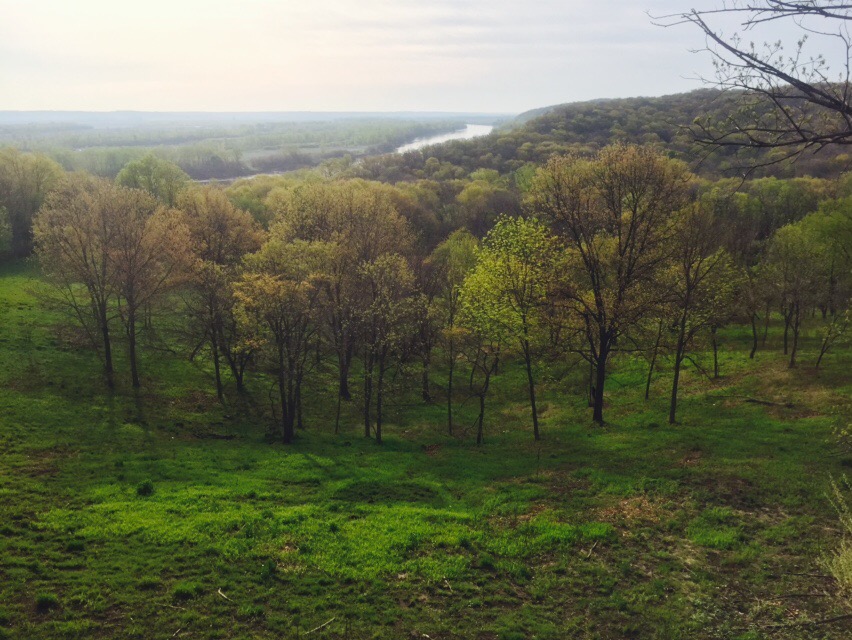 Yes, we finally made it happen: a campout, with all the dirt, unconditioned air, and unmanicured trees and shrubbery of an organically grown forest. It was glorious.
I should start by announcing that we recently got a dog. Echo is about five months old, and mostly resembles his black lab mother, with subtle features from his German shorthaired father, like a narrower face and build and patches of white fur on his chest and paws.
It turns out, raising a puppy is an absurd amount of work. Although I was familiar with the basics of dogs, having grown up with a few, my main responsibility as a kid was scooping up the poop with a shovel and catapulting it into the field behind our house. Spooping is just the tip of the iceberg. I'll save the details, like the number of socks he has ingested, for later. For now I'll just say that, without a fence on our yard, we have to keep him on a short tie out. He endures it well, but it's sad to restrict such a free-spirited animal to a small circle of grass.
Old longings nomadic leap, chafing at custom's chain;
Again from its brumal sleep wakens the ferine strain.
John Myers O'Hara, in Atavism
I know how Echo feels. Since moving to Nebraska our time outdoors has been limited to a small radius from our house. We play in the yard or at the park, but we rarely leave the confines of the city, the concrete and the habitation, the business and daily routines. I feel like a dog on a tie out, in a "brumal sleep."
Last weekend we unclipped ourselves from custom's chafing chain. We broke through the circumference of Lincoln and the gravitational pull of the daily grind, to spend a brief but welcome night out at the remote Indian Cave State Park in southeast Nebraska.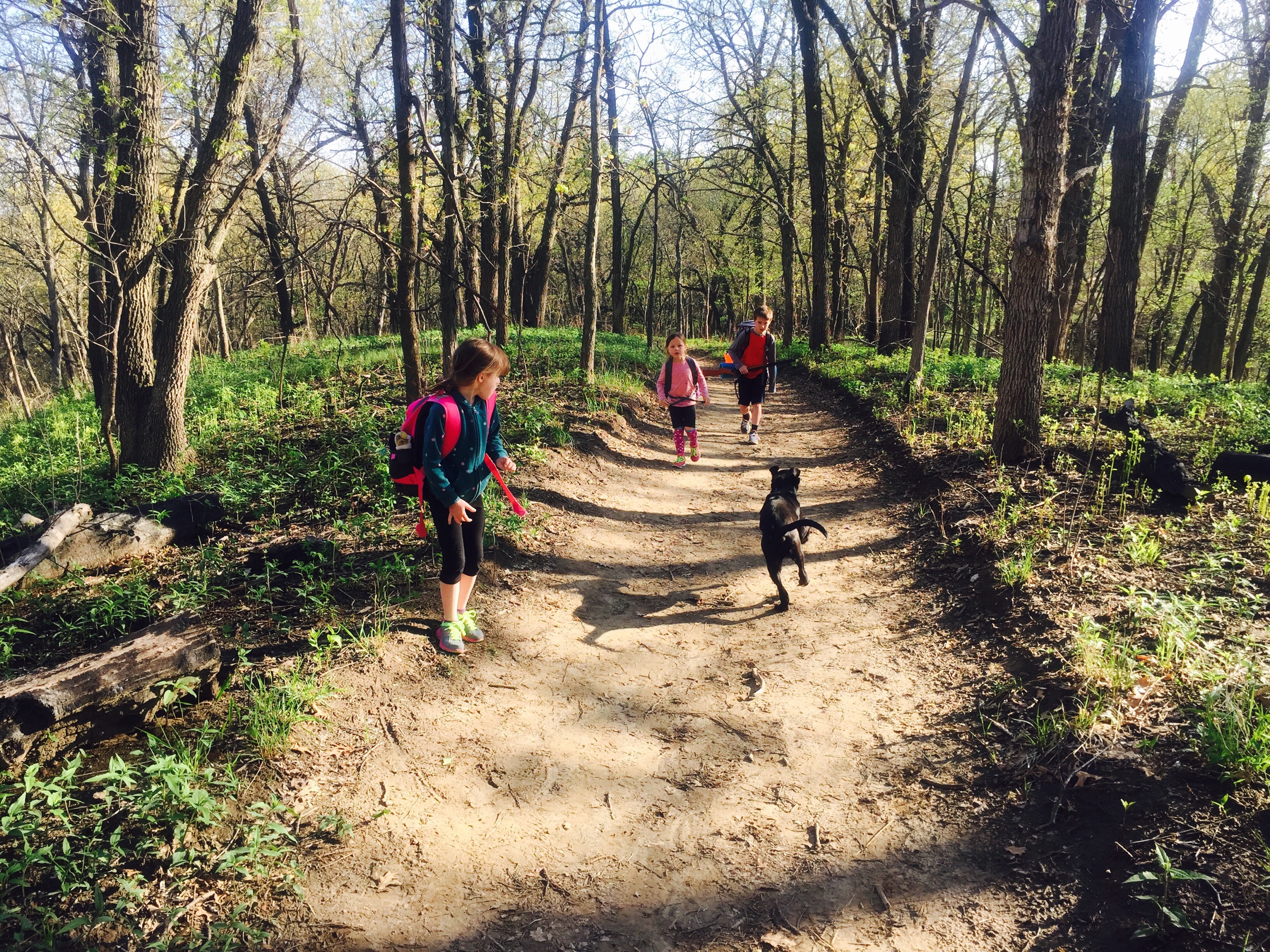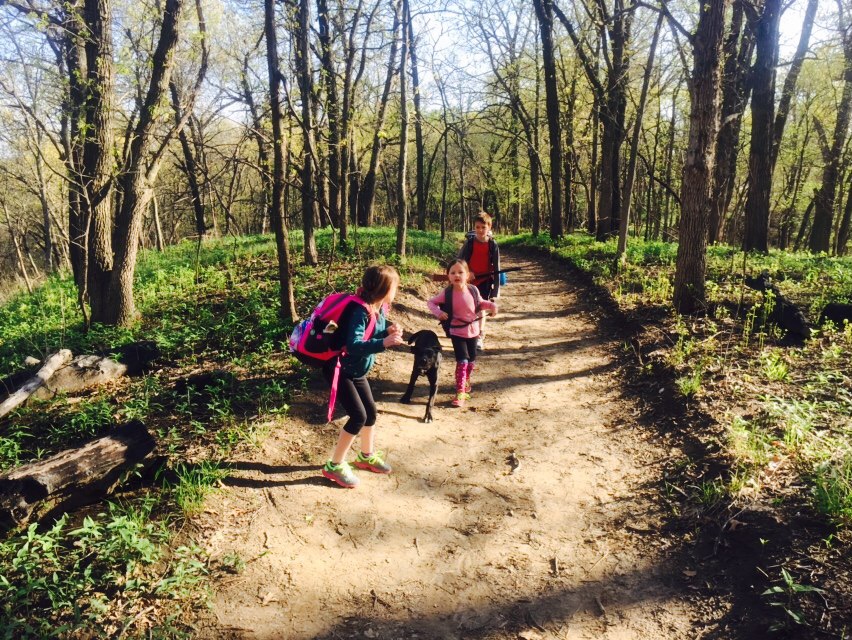 After parking at the trailhead, we set Echo free and watched and laughed as he rocketed down the trail, only to hurry back moments later, and then sprint away again. He never stopped running, up and down, back and forth, to and fro, as if trying not to miss a single leaf drop or bird chirp. He had to see and smell it all, be everywhere and part of everything all at once.
Echo's adjustment to the "wilderness" of Nebraska reminded me of Call of the Wild, where Buck reverts completely from domesticated to wild, from farm dog to alpha male in a wolf pack. Jack London highlights the beauty of this backward evolution to our simple primitive origins.
He was sounding the deeps of his nature, and of the parts of his nature that were deeper than he, going back into the womb of Time. He was mastered by the sheer surging of life, the tidal wave of being, the perfect joy of each separate muscle, joint, and sinew in that it was everything that was not death, that it was aglow and rampant, expressing itself in movement, flying exultantly under the stars and over the face of dead matter that did not move.
The pure joy of a puppy unleashed outdoors is inspiring.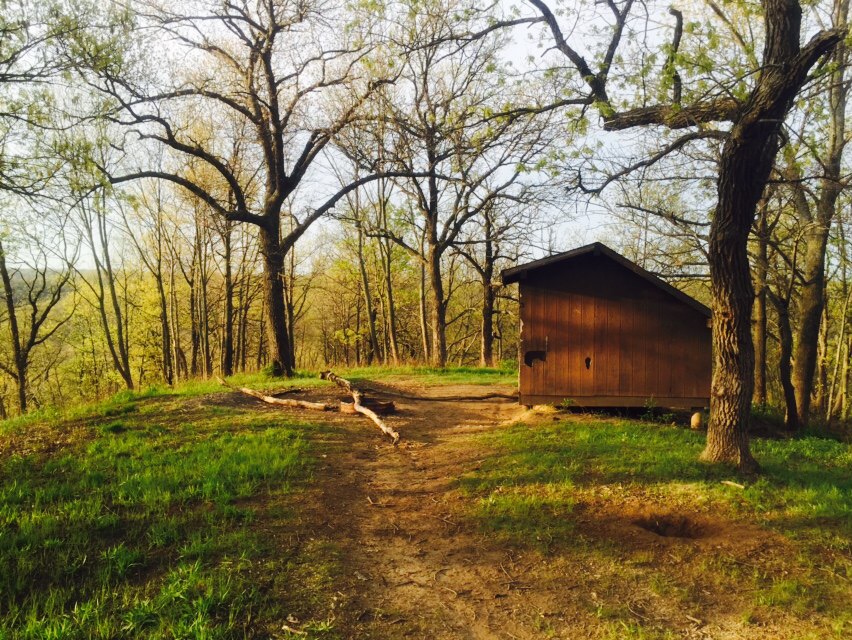 The main attraction of Indian Cave State Park, besides graffiti in a cave that we didn't get to see because of road work, is the backpack camping. The park boasts both remote backpacking sites and Adirondack shelters. From what I could tell, both options are free. And both include the simple amenities of primitive man, space for shelter and fire, and then, lots of space.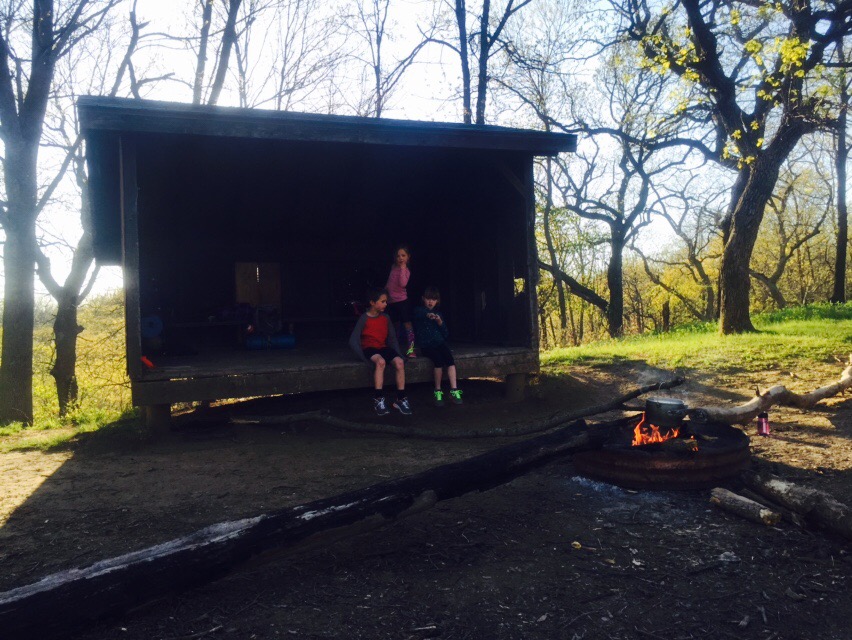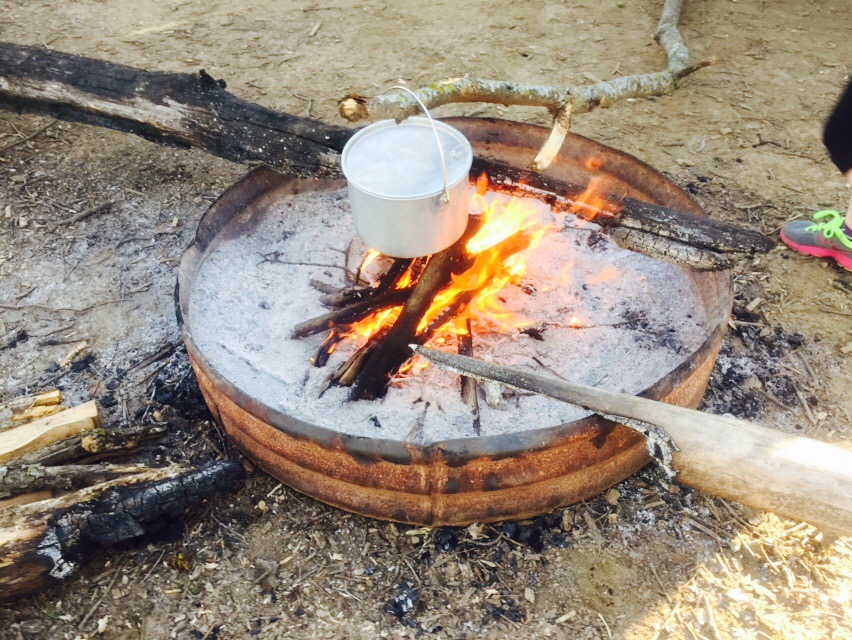 From the trailhead, we hiked in through a forest of swamp white oaks just waking up to spring, with their leaf buds slowly opening like millions of tiny green eyelids. The trees were undisturbed by Echo as he crashed by, scouting a quarter mile ahead and behind, and in all directions, continuously on the lookout for something interesting. After walking an easy mile, with Echo probably covering ten times that, we claimed the first shelter we found, about an hour before sunset.
Remnants of a fire, still warm from the previous campers, quickly ignited the leaves and sticks we piled into the fire pit. We boiled water for some freeze-dried backpacking meals that have lurked in our basement for years, lasagna, chicken teriyaki, and apple crisp, all a little soupy but still tasty. After dinner we hiked around camp, shot the BB gun, and got ready for bed by the light of my phone because I forgot a flashlight.
The kids fell asleep to a bedtime story about dragons and unicorns, and then I lay awake for most the night listening to coyotes singing in the distance. The howls would start as individual yips, and then a chorus would crescendo together from different parts of the river valley below us. After a few minutes of this, the howling would slowly subside and we'd enjoy thirty minutes or so of quiet.
Through the night, Echo paced back and forth in the moonlight, tripping over us and stepping on our heads, as he watchfully protected us from those primordial beasts, his Canis Lupus kin. He would often pause to listen, his silhouette still and attentive. Did he want to join them? Was he scared or curious? I wondered what it was like for him to encounter, by sound at least, his undomesticated counterparts. Could he sense the difference?
Exhausted, I think I finally fell asleep a couple hours before dawn, only to wake up around sunrise to feed Echo his cup of kibble. For breakfast we humans had granola and dried fruit, and we broke camp soon after. And less than 24 hours after leaving the city's gravitational pull, we were back.