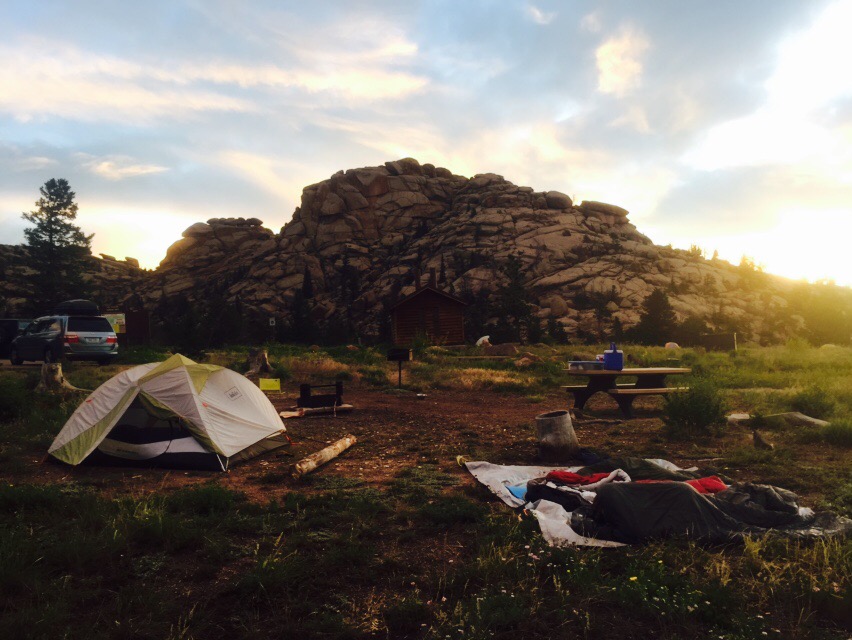 Another sleepless starry night at Vedauwoo. Over the past five years, the annual Vedauwoo campout has become a tradition for us, a brief but important interruption in our 1,500 mile road trip from the waterlogged Midwest to the drought-stricken west coast. Our first time through was in 2011, en route from Minneapolis to Sacramento. We've stopped in twice per summer ever since.
The scene doesn't change much from year to year, whether we're heading west, excited to get on with our vacation, or returning east, worn out and missing home. Our tired van sputters into the campground in the early afternoon, its brakes squeaking as it eases into the familiar parking spot at campsite 4. As soon as the van door rolls open the cheers and crying of countless children disrupt the peaceful serenity of the campground.
Kids scatter in every direction, each knowing almost instinctively where to go: the nearby bathroom to pee, the bush 6 inches from the van door to pee, down the hill to find a stick sword, or up the mountain because we're here to climb and time is short.
This was Echo's first time at Vedauwoo and first time out of Nebraska. He also knew exactly what to do: run and smell. Glorious freedom, just like on his first campout at Indian Cave. Sadly, he kept sneaking off to beg or borrow food from other campers, so we had to tie him up while we set up camp. Not everyone appreciates a 50-pound puppy hopping onto their picnic table, tongue and tail a-wagging.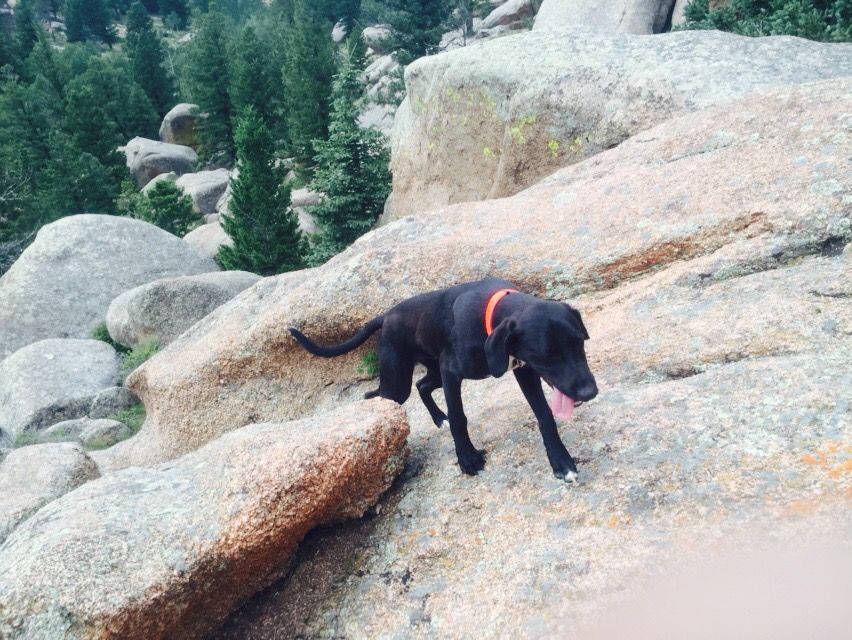 With the tent staked and firewood gathered, we were ready to hit the crag. I took the oldest three and Echo straight up the most accessible of the reddish orange granite hoodoos that characterizes the area, while my wife spotted the littlest two as they bouldered on the massive scree at its base. The dog did surprisingly well, scrambling up with us no matter how high we went. I had to boost him up a few ledges, and carry him across a few crevasses, but his four paws gave him excellent traction on the slab.
The actual rock climbing at Vedauwoo is almost entirely crack and off-width (see Mountain Project). The slabby granite boulders are rounded and featureless, leaving very little to grab. We have fun for now just hiking, scrambling, and exploring. But I am looking forward to climbing Edward's Crack and some other routes on Walt's Wall, once my oldest is comfortable belaying.
Tradition has it that, after hiking and climbing until dusk, we cook hot dogs and s'mores over the fire, and then settle down for few hours of star gazing and not sleeping. This time, after telling stories, and then spotting a few satellites, everyone dozed off close to midnight as I tried to explain to a five-year-old what a satellite is.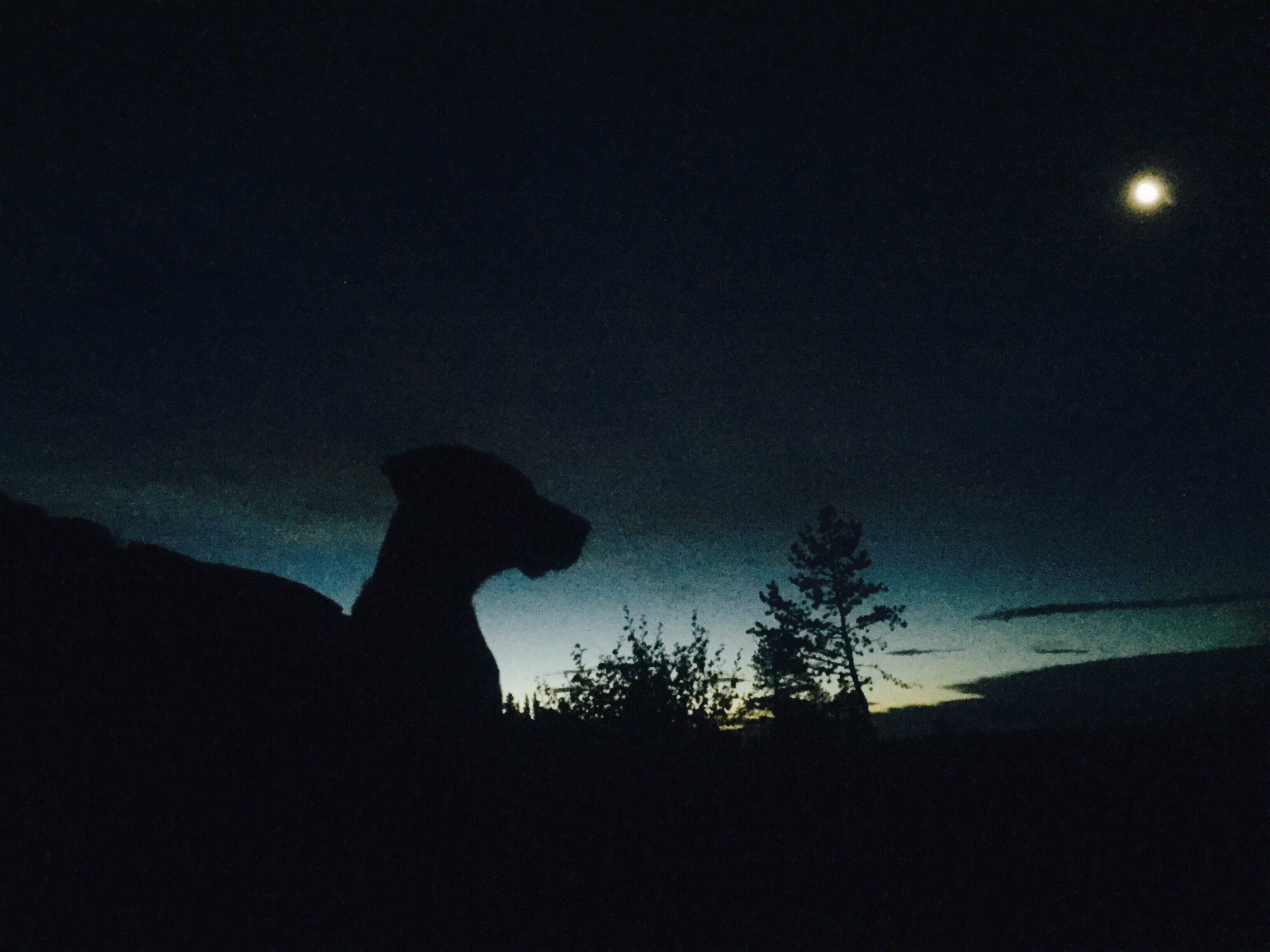 Every hour or so, when I'd wake up to rotate my back or shoulder off the hard ground, I'd check on Echo, who was leashed to a large tree stump close by. For most the night it was too dark to see, and I could only hear him rusting around on his cardboard mat, not sleeping. Toward dawn, the full moon and approaching sunrise revealed his sharp profile silhouetted against the glowing horizon, as he stared and listened attentively into the darkness.
A few times Echo sent a low warning growl toward the forest below our campsite, but I don't think he stayed up all night in fear. I think his curiosity was just overwhelming. To a puppy, everything is exciting and new, especially on his second campout. The nighttime only amplified the mystery of the unexplored outdoors that surrounded him.