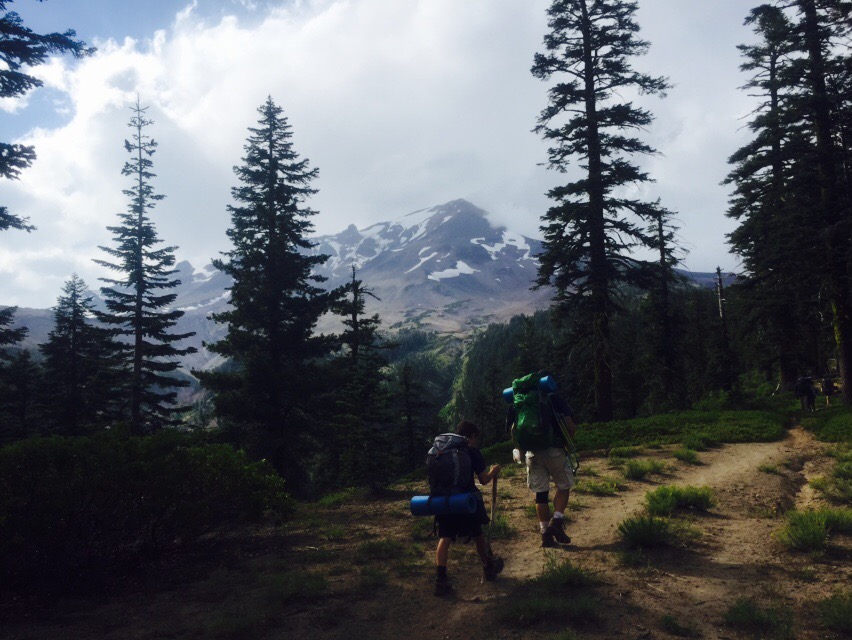 At 14,179 feet elevation and 9,822 feet of prominence, Mount Shasta dominates the landscape of northern California, solitary and proud at the southern foot of the Cascade Range. Without neighbors or friends, it protrudes confidently into the horizon, as if it has consumed all its peers and is slowly digesting them in its volcanic belly.
Mount Shasta maintains a far more impressive and commanding individuality than any other mountain within the limits of
California.
John Muir
This summer, my little bro and I crawled up the talus backside of that slumbering beast, like ants through the gigantic crumbling leftovers of its tectonic meals. Here's a summary of the epic scramblefest.
Base Camp at Clear Creek
Four of us drove up from the Sacramento area on a sunny but mild Sunday afternoon in late July: my dad, brother, oldest son, and I. After Redding, the drive gets more interesting as interstate 5 leaves behind the parched foothills spotted with dusty oak trees and climbs into the coniferous mountains and reservoirs of the Shasta-Trinity National Forest. We took highway 89 east at the town of Mt. Shasta, through McCloud, and then followed the signs north and west to the Clear Creek trailhead, which is at about 6,500 feet elevation.
As of 2015, wilderness permits and wag bags are free. Summit passes are $25 per person.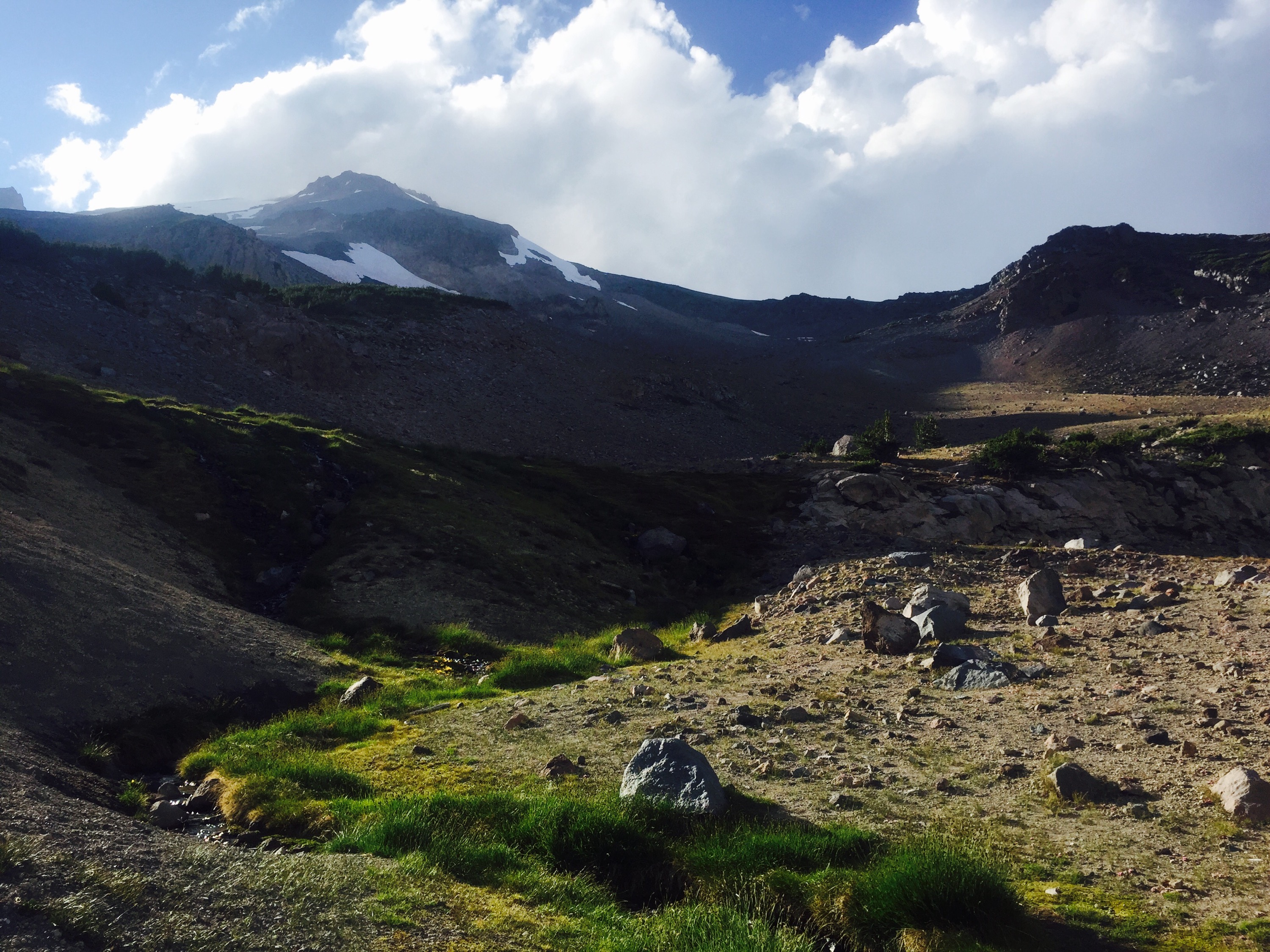 Clear Creek aptly gets its name from an icy spring trickling out of the mountain at around 8,400 feet. After the steep three-mile hike in to base camp, we filled our bottles with the snow melt and pitched our tents in a stand of aged and twisted whitebark pines, whose roots have also tapped into the moisture of that tiny creek.
Sunday evening we watched the sun set into Shasta's western trapezius, and then stretched out on our frustratingly thin sleeping pads in preparation for an early departure.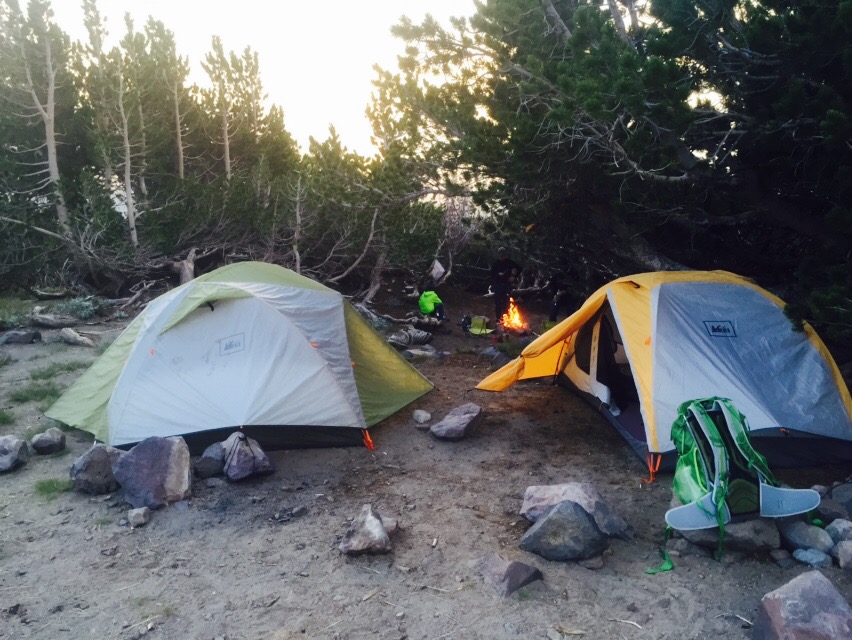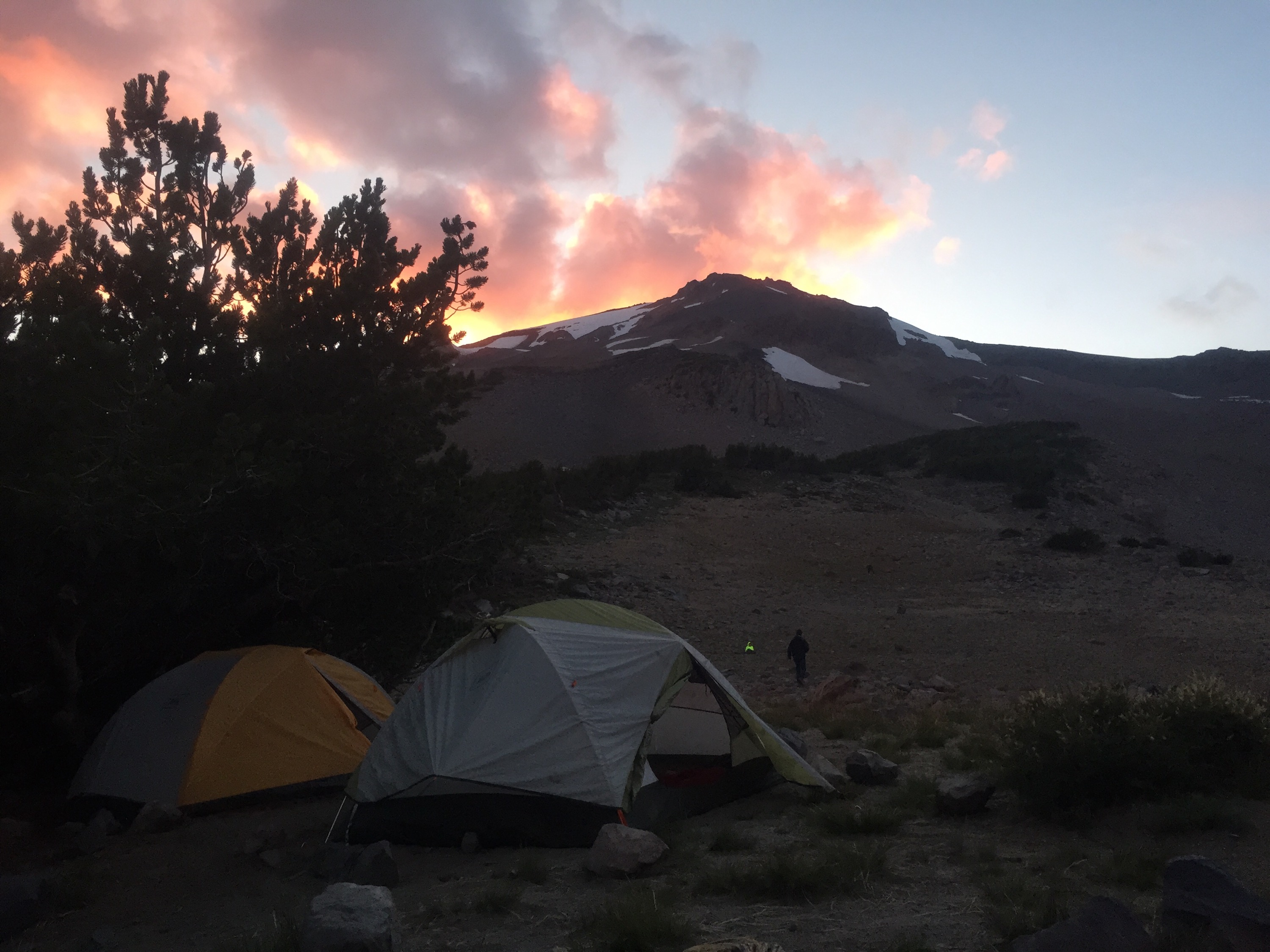 The Scramble
My bro and I emerged from our tents just before sunrise, around 6 AM, into cool, silent twilight. Shasta was just beginning to catch the refracted pink sun rays seeping in from the east. Layers on and shoes double knotted, we said a prayer and set off without a trail, trusting that upward would take us in the right direction.
My son and dad would stay back to explore the geography and fauna around camp, and to eventually wonder why it was taking us so long to return.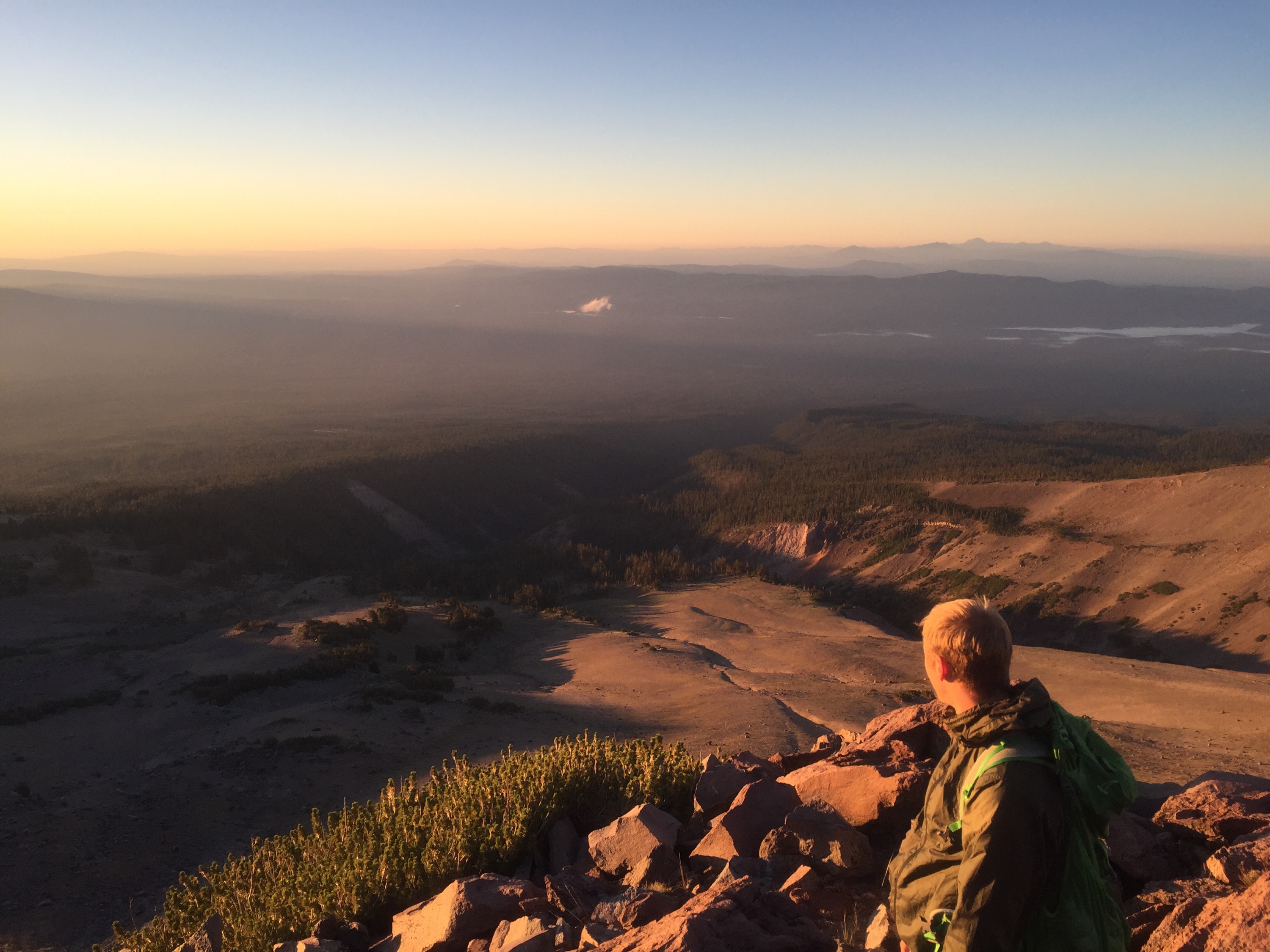 Our gear was pretty unassuming. I had fashioned a fanny pack from the lid of my hiking backpack, and stuffed it with granola bars, a plastic baggie of first aid, and about 60 oz of water. Plus a knife and headlamp.
I wore old tennis shoes and a scrappy assortment of layers: some cargo shorts under thrift-store warmup pants, a long sleeve t-shirt under a thin rain jacket, and a couple home-sewn fleece ski masks and beanies. Wearing old blue jeans, my bro was even more lacking in hi-techness.
Overall, we were the complete antithesis of an REI add. I'm sure we stood out as the party least likely to actually summit.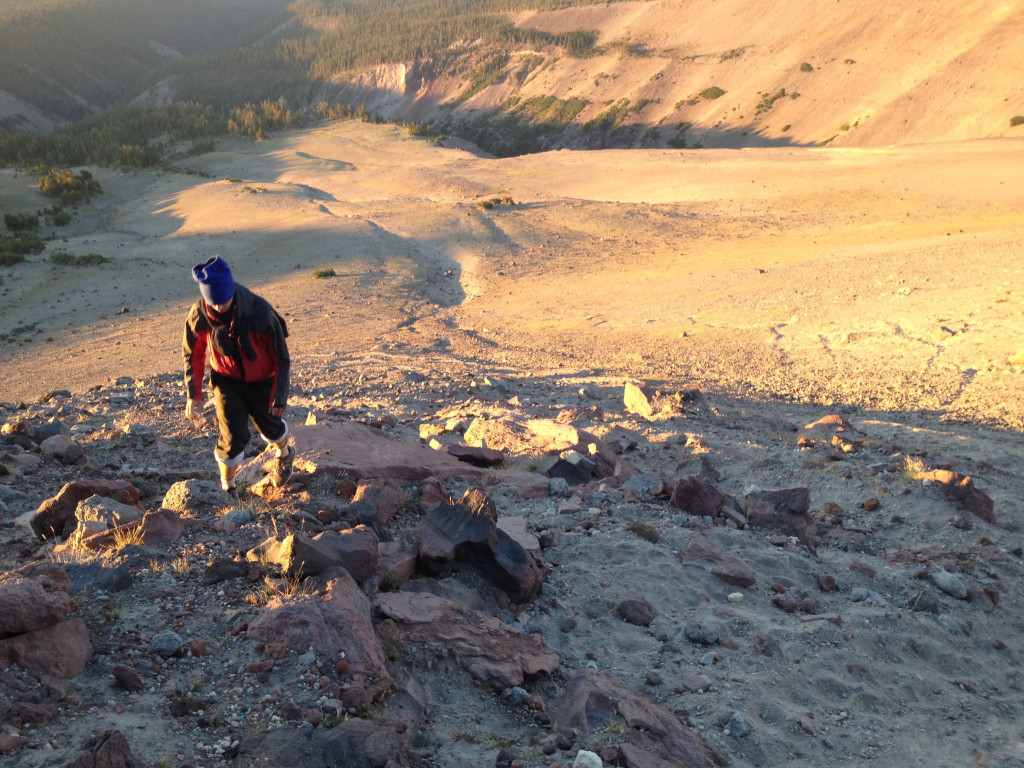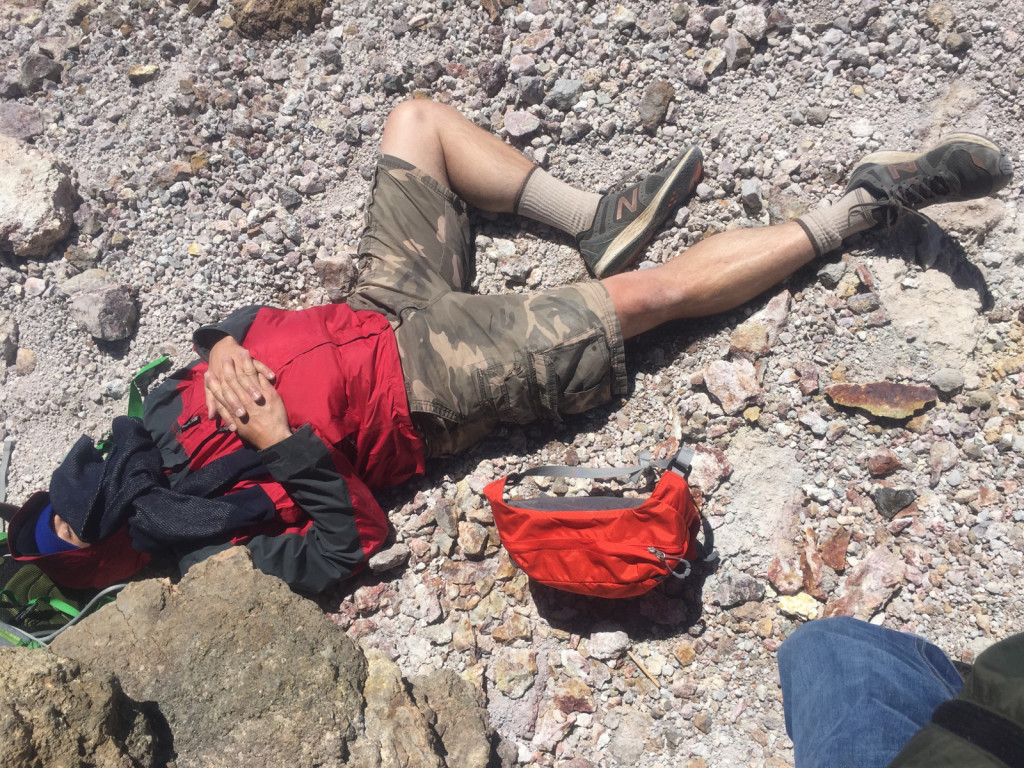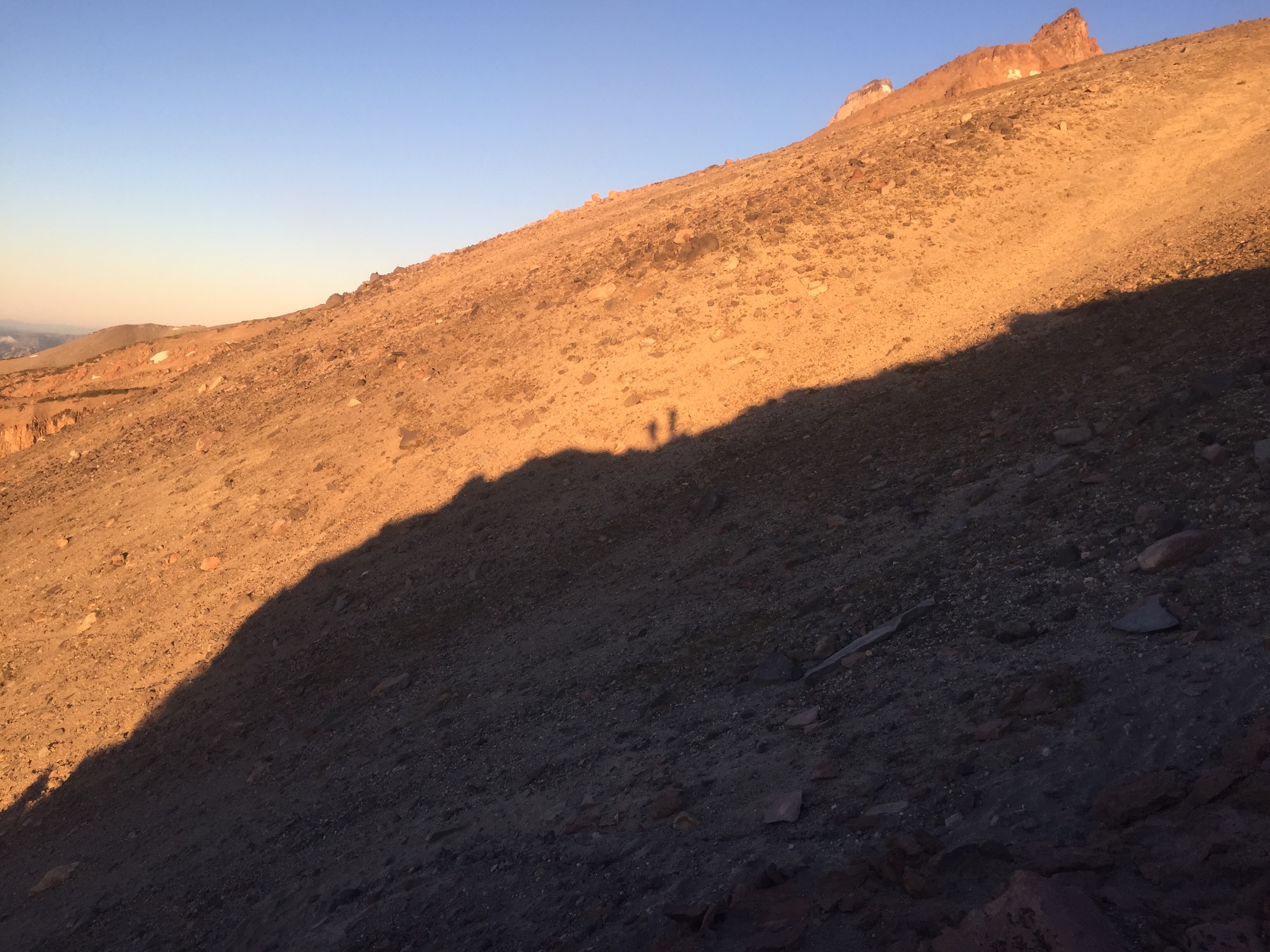 There are probably a dozen routes up Shasta, some more established than others. After some research, we had decided on Clear Creek because, ultimately, the internet convinced us to. Apparently, because of rockfall danger on the shorter and more popular routes like Avalanche Gulch, a more gradual grade is safer when the stabilizing snow is thin to none.
Thin to no snow exposes the raw surface of the mountain, an endless scramble up loose sand and gravel, interspersed with large cobbles and every other size of stone in between. These first few thousand feet up have earned the enticing name of Misery Hill. Who doesn't want to hike that, right?
After an eternity of stair-mastering through field after field of scree, les miserables, we began to see clearly the erratic wall of rust colored boulders that had loomed above us for most of the morning. Finally, rock that would push back on, rather than absorb, our plodding footsteps.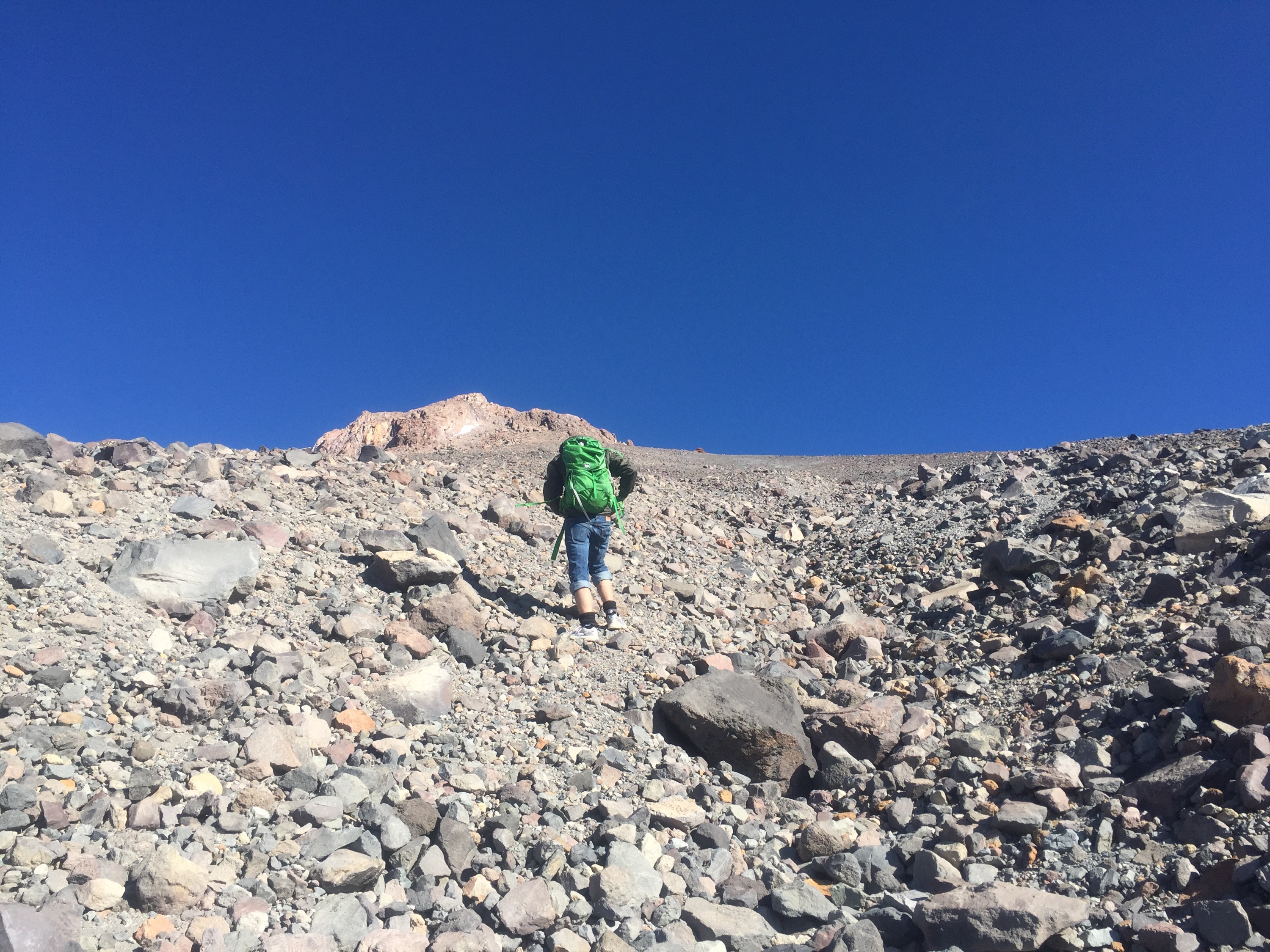 These massive boulders demand some pretty technical scrambling, mantling, boosting, and looking before you leap. Their sharp edges and occasional wobble give the impression that they're still adjusting to a sedimentary life.
A fall in this section could be catastrophic, especially just to the east, where it's open sky below.
From another perspective, the boulders are less stable than the bits of Misery Hill we just shook out of our shoes; we're just so much smaller in comparison to a boulder.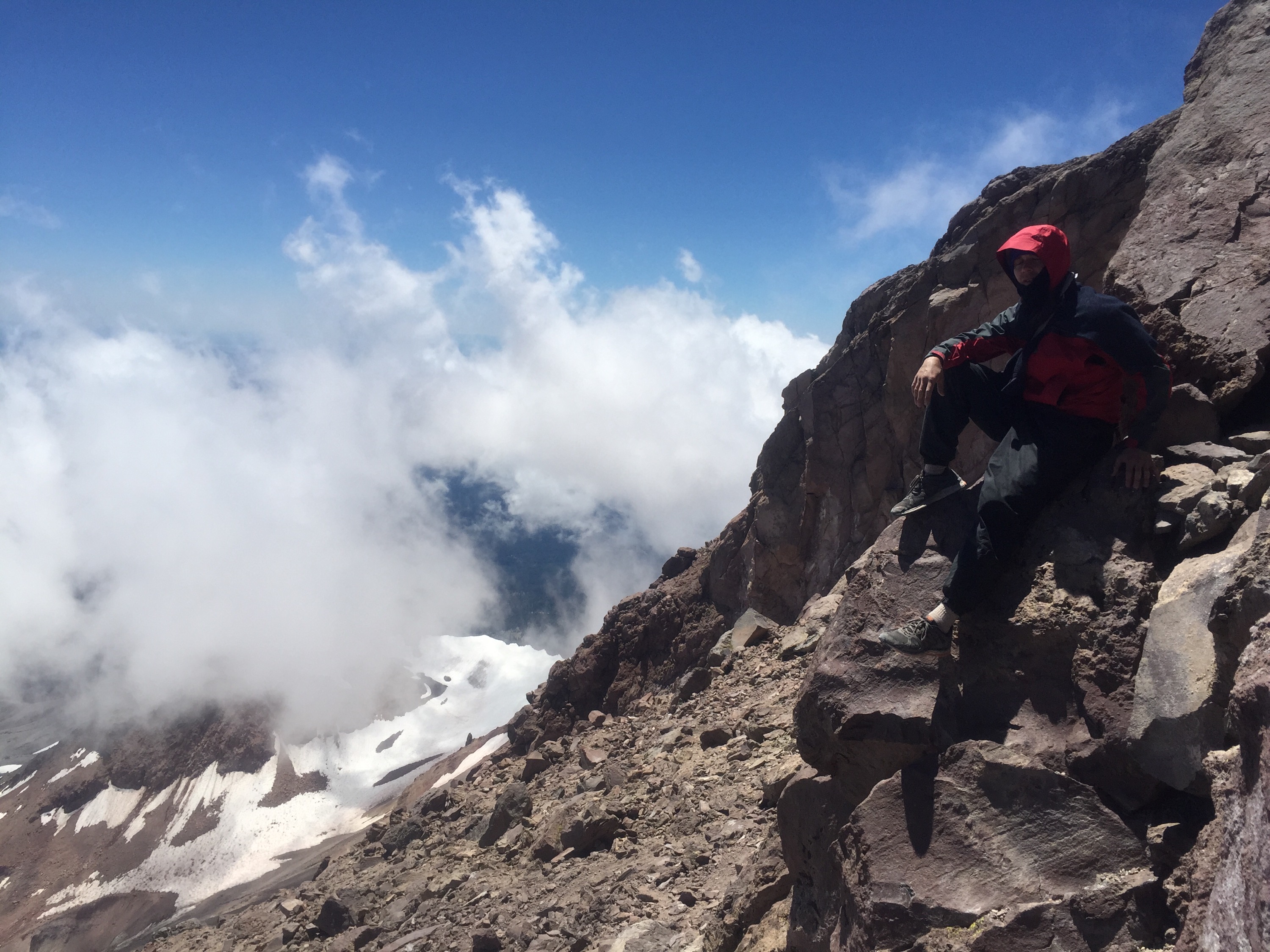 After no more than a couple hundred feet, the boulders gave way to the familiar sand and scree, and we were chugging along once again. At least 2,000 feet of climb remained, but I was starting to notice the effects of having carried myself so far above sea level. My body had never experienced 11,000 feet. The pressure of a mild but growing headache increased with each step.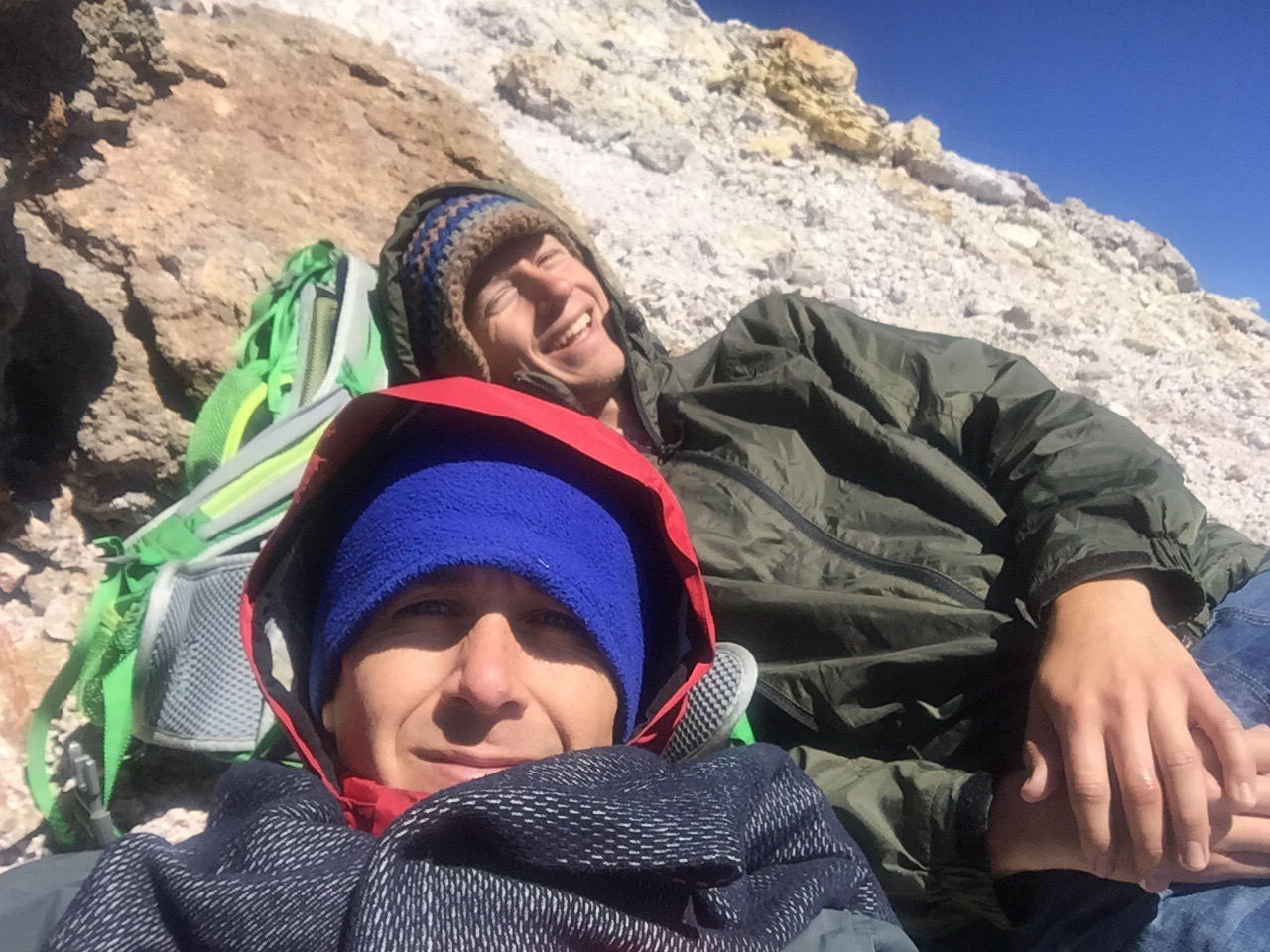 By 13,000 feet or so, I was stopping every twenty steps to catch my breath and my bearings. My brother would scamper ahead, and then wait patiently as I dragged myself along. This soon reduced to ten steps between breaks. I was able to maintain that pace until the summit came into sight, at which point I rallied and made a final push.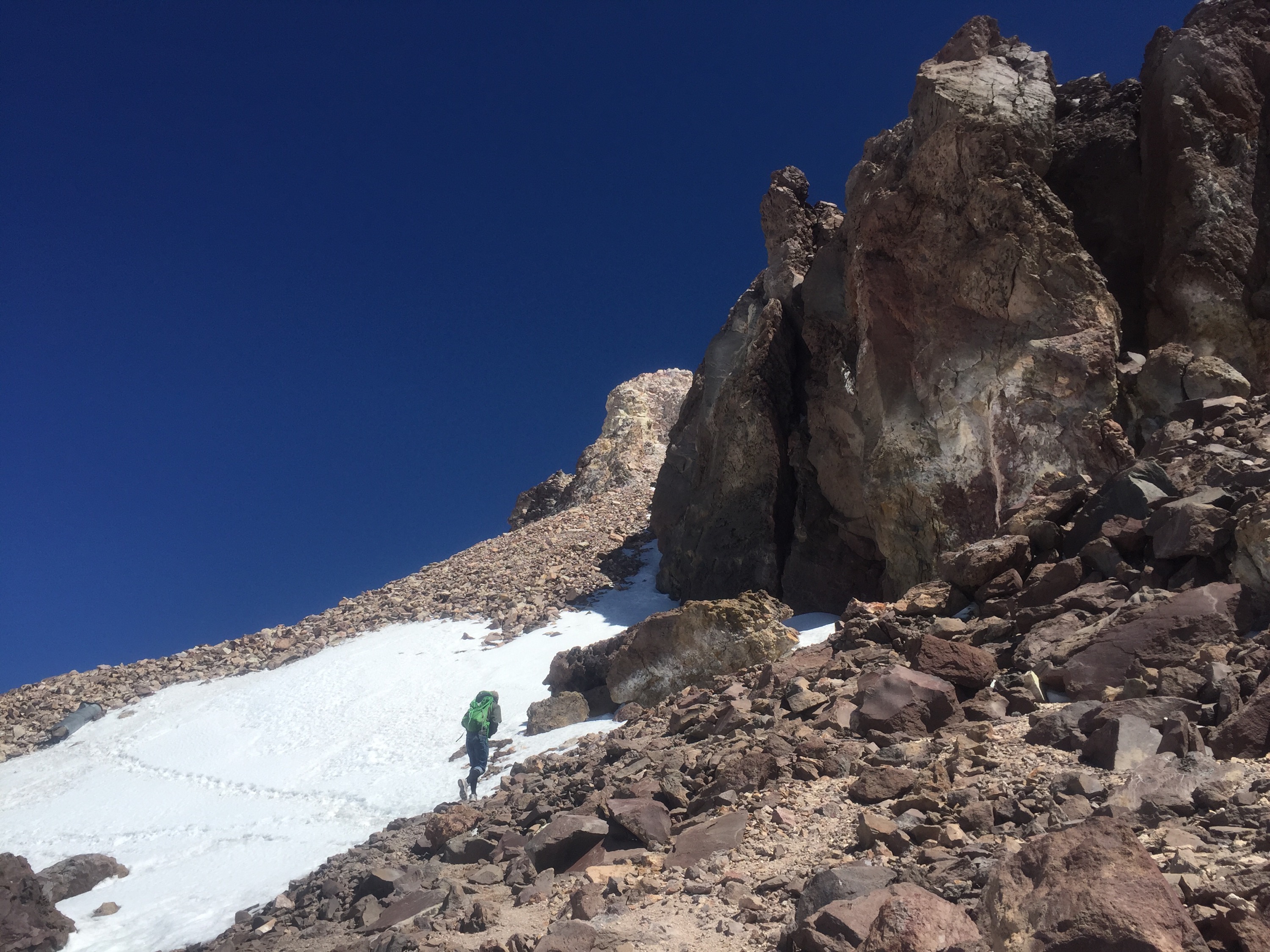 The wind chill was in the 20s, so we only stayed on the craggy summit long enough to scrawl our signatures in the registry and then pose for a few pictures.
Without neighboring peaks, the view is spacious and unobstructed, and, as a result, pretty unremarkable. We tried in vain to make out Mount Lassen, a smaller volcano to the south. But there was nothing to make out. The foothills and more distant mountains reflected the clear sky, making the horizon a wash of blue in any direction.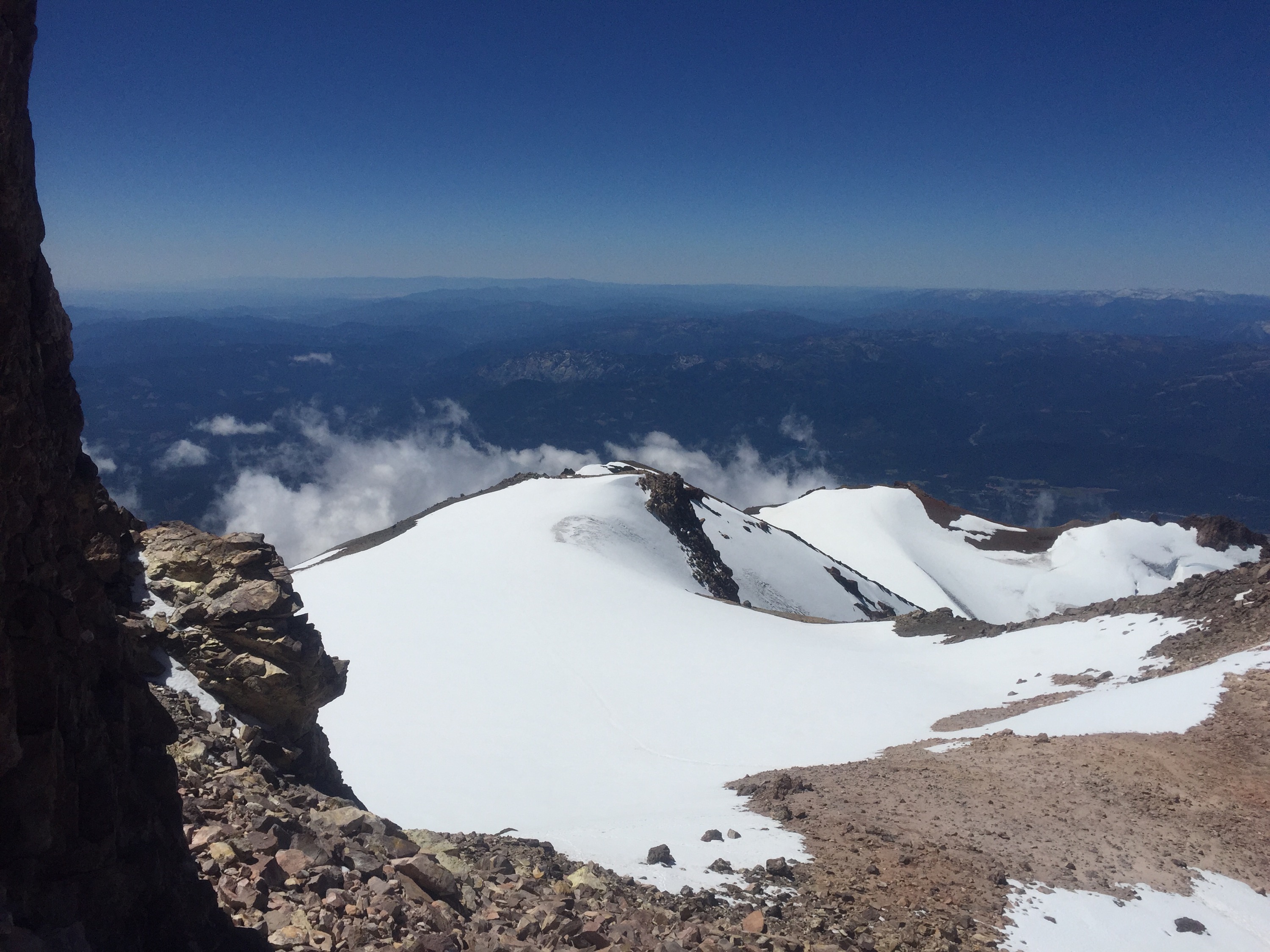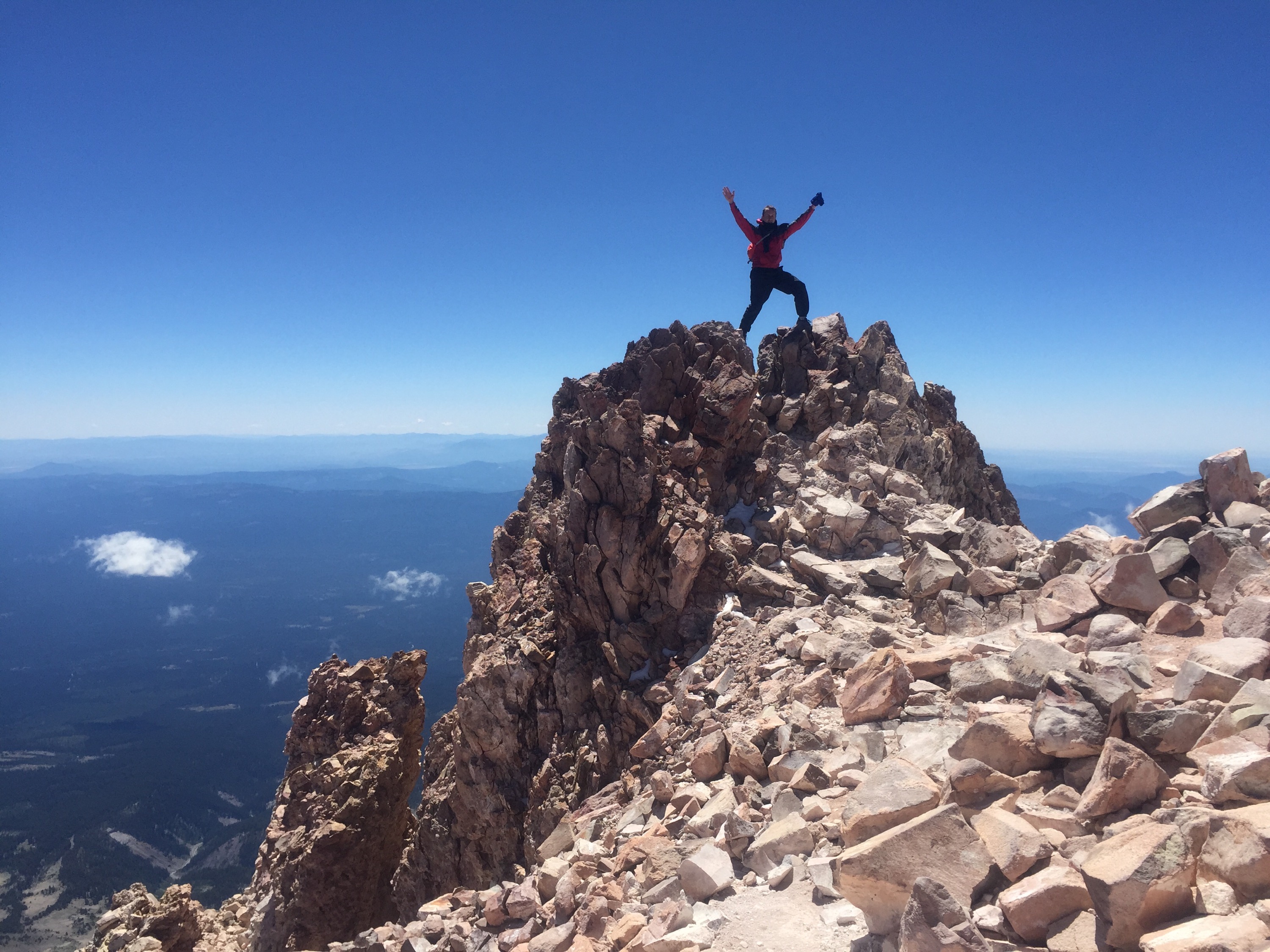 The Descent
The ascent from Clear Creek to summit, 8,400 to 14,180 feet, took us 6.5 hours. On average, that's 890 feet per hour or 14.8 up per minute. The descent would take 2 hours, or 48.2 feet per minute.
Descending the mountain really accentuates how far up you've gone. Going up, gravity was relentless. Coming down, it was on our side. And we were grateful for the deep, sandy gravel of Misery Hill, which absorbed our feet in small pluming avalanches as we slalomed and carved through it.
Overall, Shasta via Clear Creek was a nice introduction to mountaineering. Next time, we're thinking of going south to Whitney, or east to the Grand Teton. And I'm thinking I'll budget a full 24 hours for my body to adjust to the elevation.