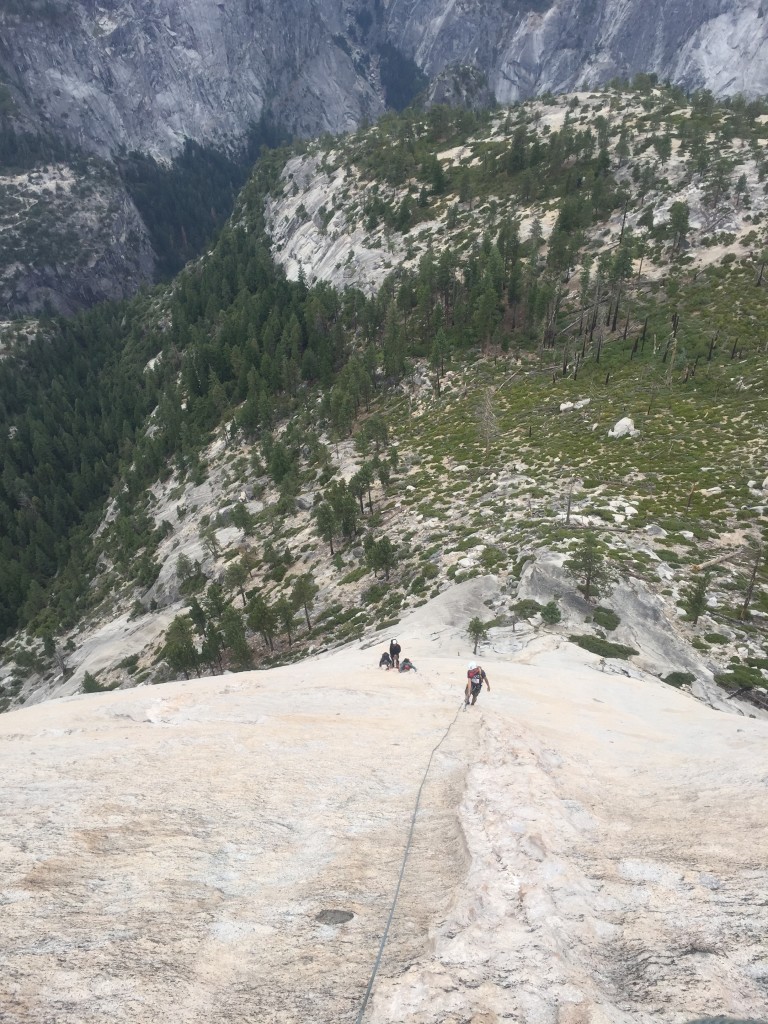 A week or so after climbing Mount Shasta last summer, my brother and I attempted our first multi-pitch climb up Half Dome via the popular Snake Dike route. This seemed like a reasonable alternative to competing with hordes of hikers for unobtainable cable permits. Instead, we would jockey with a horde of climbers for a turn on the dike.
Beta and Preparations
According to Mountain Project, Snake Dike is eight pitches with an overall rating of 5.7 R. That's a capital R for runout, which means the rope is often just ornamental for the lead climber, because there's nothing to anchor it to.
The lower friction pitches hover around 5.8 with an occasional bolt or cam placement. The higher pitches crawl along at about 5.5 with little or no protection. The climbing evolves to be pretty laid back, with lots of knobby holds. But, with the continual running out, a fall at the wrong spot would be long and painful, like sliding down 200 feet of cheese grater.
For gear, we brought a 60 meter rope and the recommended handful of small cams, from .5 to 1 inch, six quick draws, plus an assortment of carabiners and slings. No stoppers. Other preparations included a hastily printed copy of the free Snake Dike supertopo, and results on my phone of a Google image search for belay instructions.
For sustenance, we had some random fruit, bread, cheese, a handful of granola bars, and 2 liters of water each. Plus, the dew of a ginko leaf and the energy of the universe.
Lessons Learned
Keep in mind, this was our first multi-pitch climb, and so our first time route finding and setting up belay stations. As kids these days would say, we were total noobs. And we were about to get poned.
Our first mistake was beginning so late. We left the Sacramento area at 8:00 PM the night before and about midnight got to the park entrance, where we "slept" in our car until 5:30 AM. That put us in Curry Village, at the start of the six-mile approach, by about 6:00 AM. When we finally arrived at the base of the climb four hours later, there were three other climbing parties there shuffling through gear while shooting the breeze, waiting for countless other groups mid route.
On a busy summer day, I'm guessing you'd have to depart the valley by 3:00 AM to lead the way.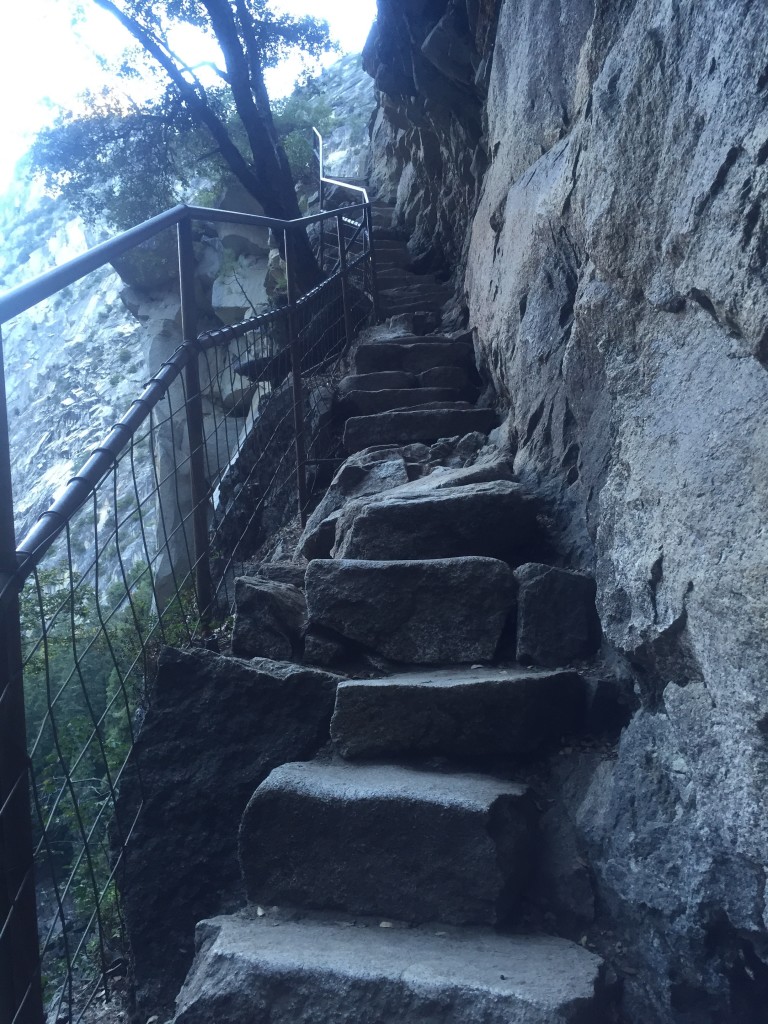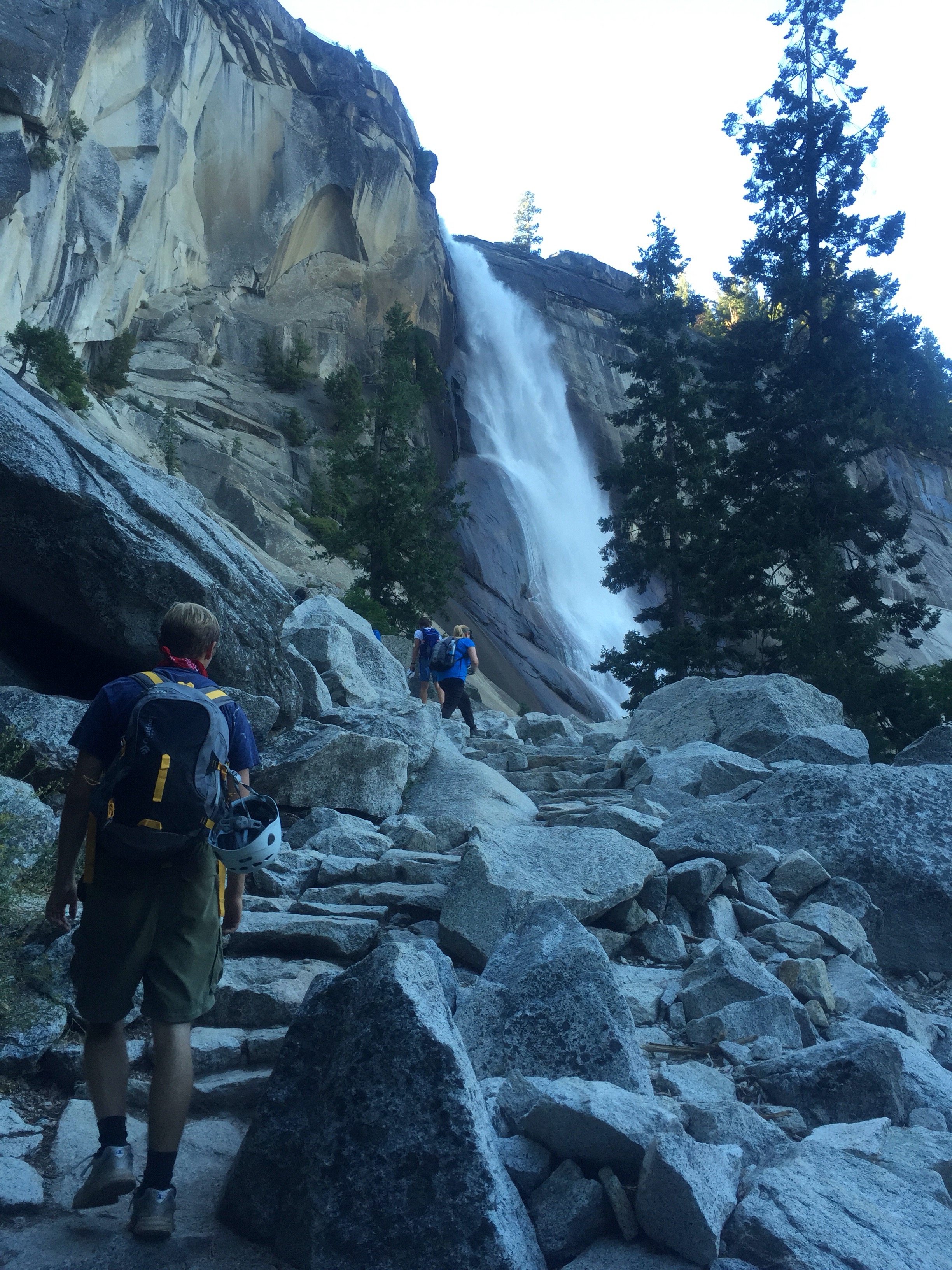 Because we left so late, our turn to climb didn't come until about noon. And at our plodding pace, we leveled out at the top just before sunset, the only ones on the summit. As the sky darkened, we ate what remained of our food and contemplated descending the cables and then eight miles of switchbacks and stairs by the light of our cell phones. No headlamps.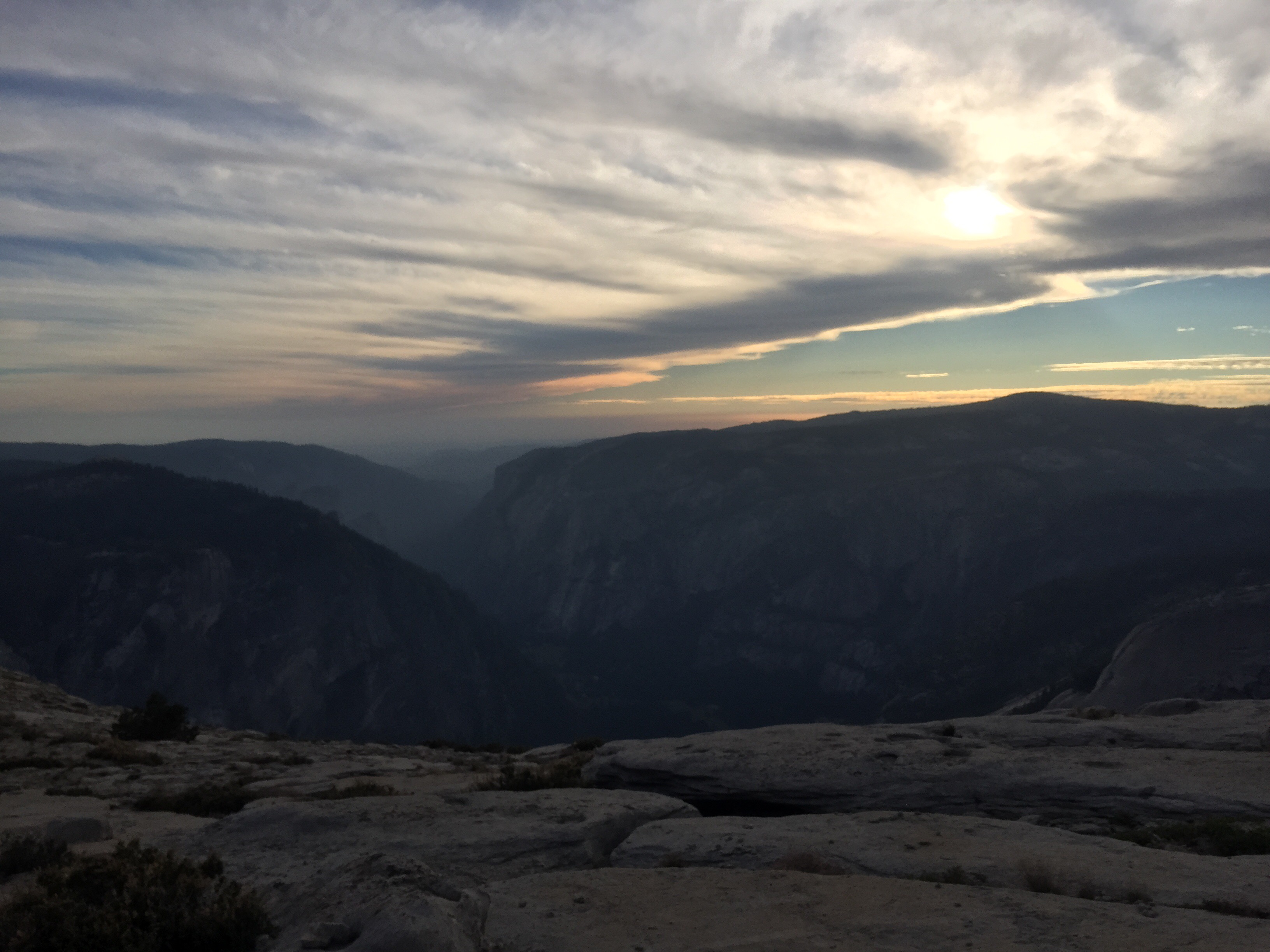 Our second, much stupider mistake was not bringing proper climbing shoes, and then thinking we'd be fine. The stupidity of this became clear as we eavesdropped on a conversation between a weathered Yosemite guide, next in line to climb with father and son clients, and another climber, who looked like he might live in a van by the river. It went something like this.
Climber: So, uh, how many times would you say you've climbed this route?

Guide: Oh, I've lost count, but probably fifty or more.

Climber: Wow. That's pretty bad @ that you're doing it in those tennis shoes.
My brother and I glanced down at the guide's tattered running shoes, and then, gulping, scrutinized our own. The guide clarified that he would never go without climbing shoes. That would be ridiculous. He just hadn't changed yet.
The climbing power of a shoe is described in terms of its "aggressiveness." The more vertical and technical the climb, the more aggressive your shoe needs to be. Aggressive shoes are typically tighter, with pointier heels and toes, a higher arch, and sharper edges. Understandably, they're also less comfortable.
A climber is more than his shoes.
Our shoes were light and comfy, passive not aggressive. They were timid and shy. When confronted with 800 feet of slabby granite, they cowered in fear.
But a climber is more than her or his shoes. And so, we went for it.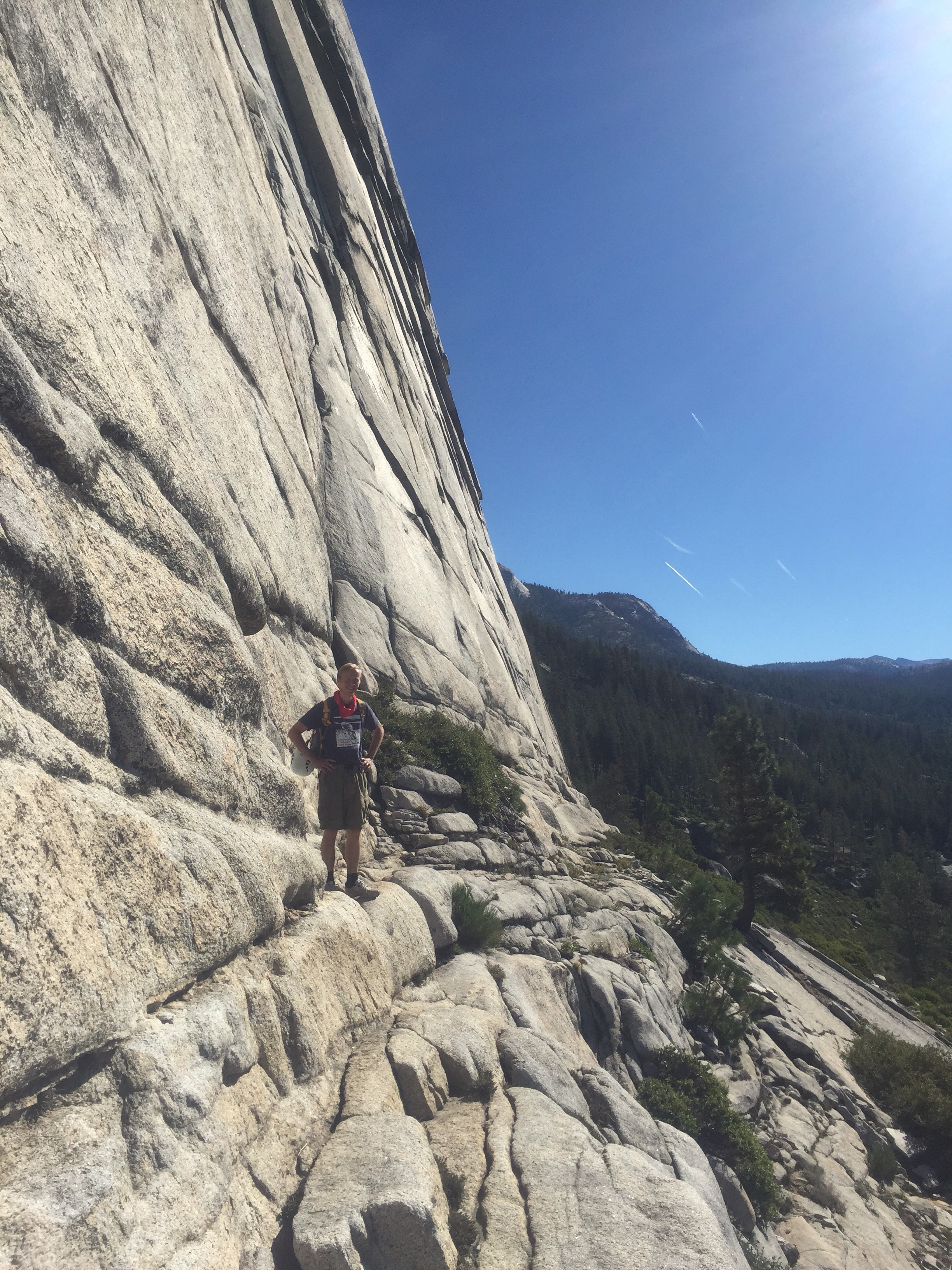 The Climb
Pitch 1, with its friction traverse, almost pushed my shoes to their limit. I scrambled up just fine, placing a cam in the roof with a long sling. But moving down and then left, I was immediately in sketchville. I channeled all my energy into my feet, and tread extremely delicately, my hands and toes searching for the smallest patches of unpolished rock. I made the traverse, and then scampered up to the first belay station, where the last climber in the group ahead was still waiting to go. He supervised my belay setup.
In the photo below, the roof is in the shadows, and the two climbers are at belay one.
Pitch 2 starts with a shorter, easier, traverse right. After a .75 cam placement in a small crack, I moved up to belay station two. The tennis fared well.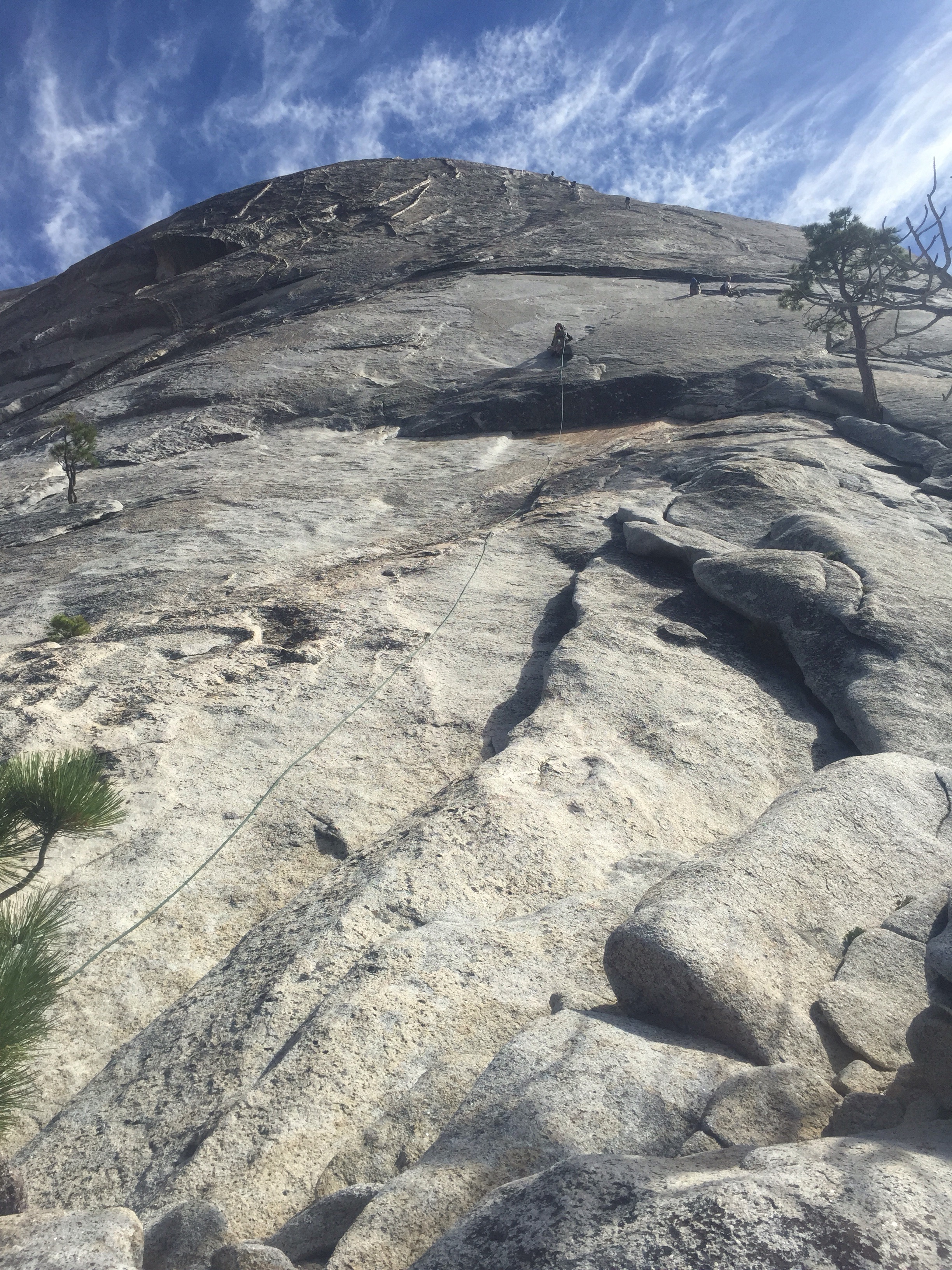 Pitch 3 was the crux for my passive kicks. After going up and off route, seeing my error and sliding down ten feet, I confirmed with the topo that the route takes a friction traverse straight left, one that's void of friction. Over the next thirty minutes, I tried and failed a few dozen times to cross over, my knees and palms taking the brunt of the sliding falls. Poned like a noob. Demoralized, I decided the only solution was to borrow some shoes.
A climber is only as strong as his shoes.
I explained my plight to the leader of the next group. He was reluctant, but took pity on us. Thank goodness. It's amazing what some aggressive rubber soles can do. I flitted like a butterfly across pitch 3.
I guess a climber is only as strong as her or his shoes.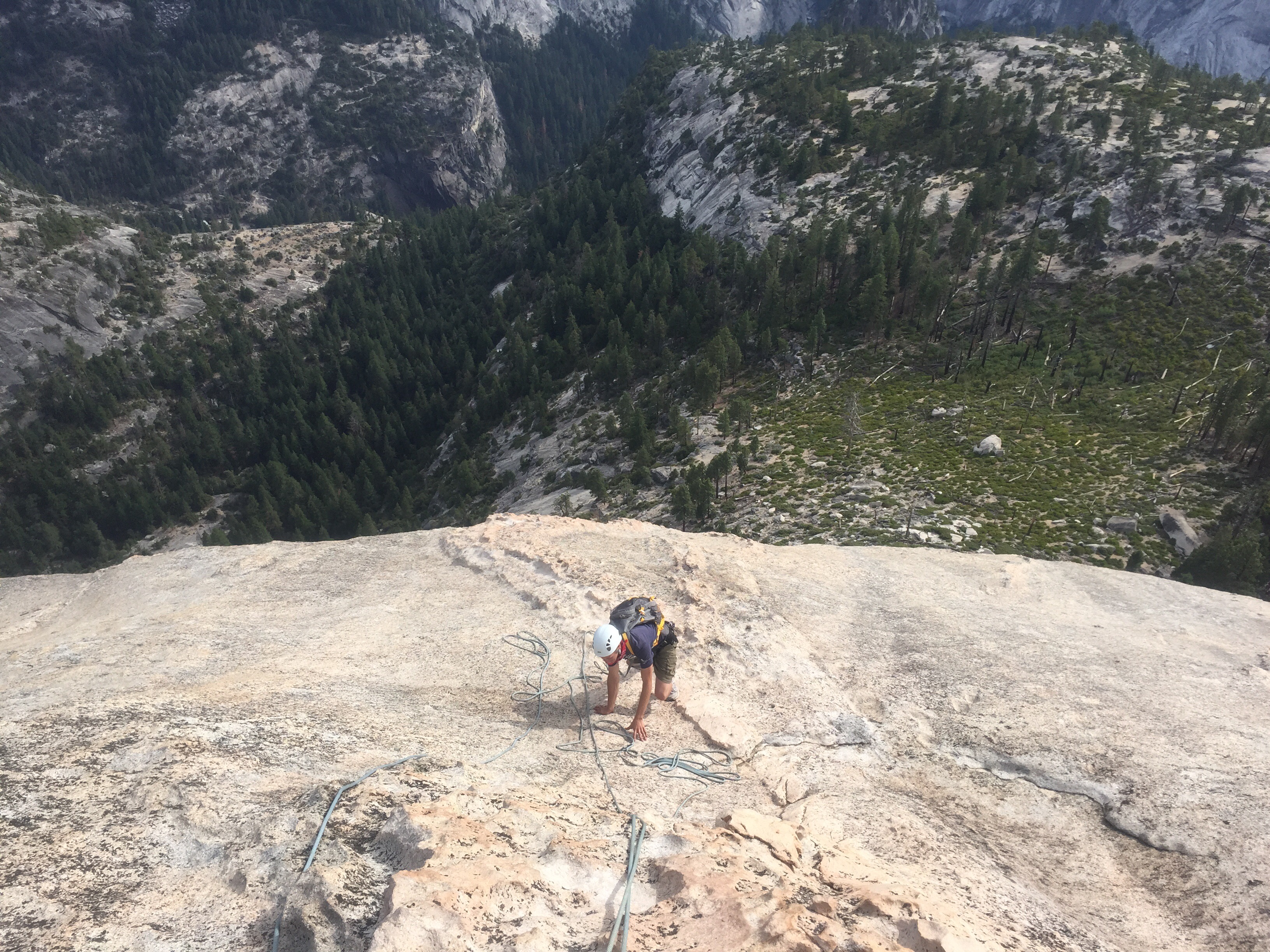 Pitches 4 through 7 were mainly dike, gradually transitioning to slab in pitch 8. The runouts were nerveracking at times, but manageable.
After an unexpected fontanelle in the aged mountain's skull, it was a featureless slabfest all the way to the summit.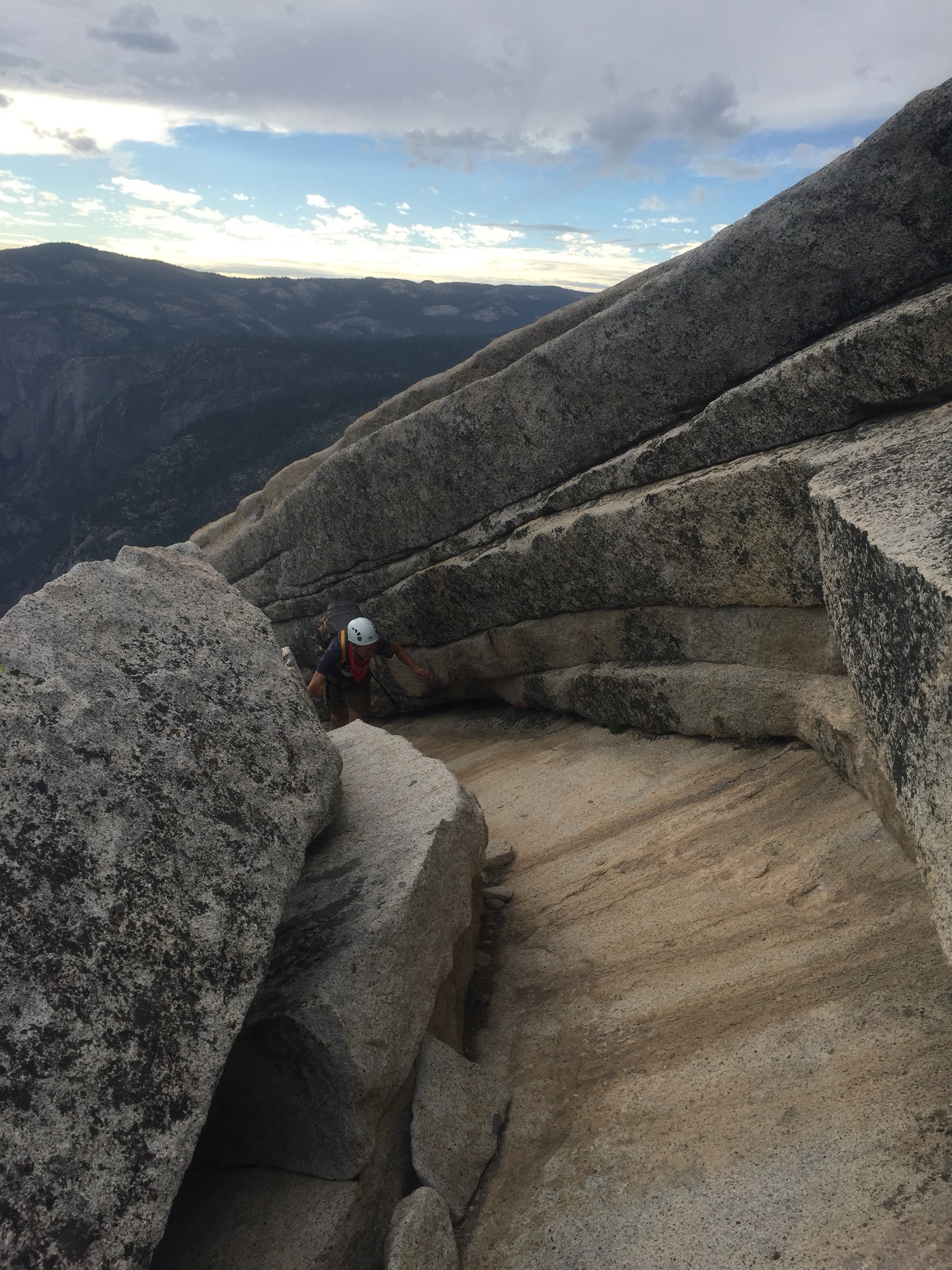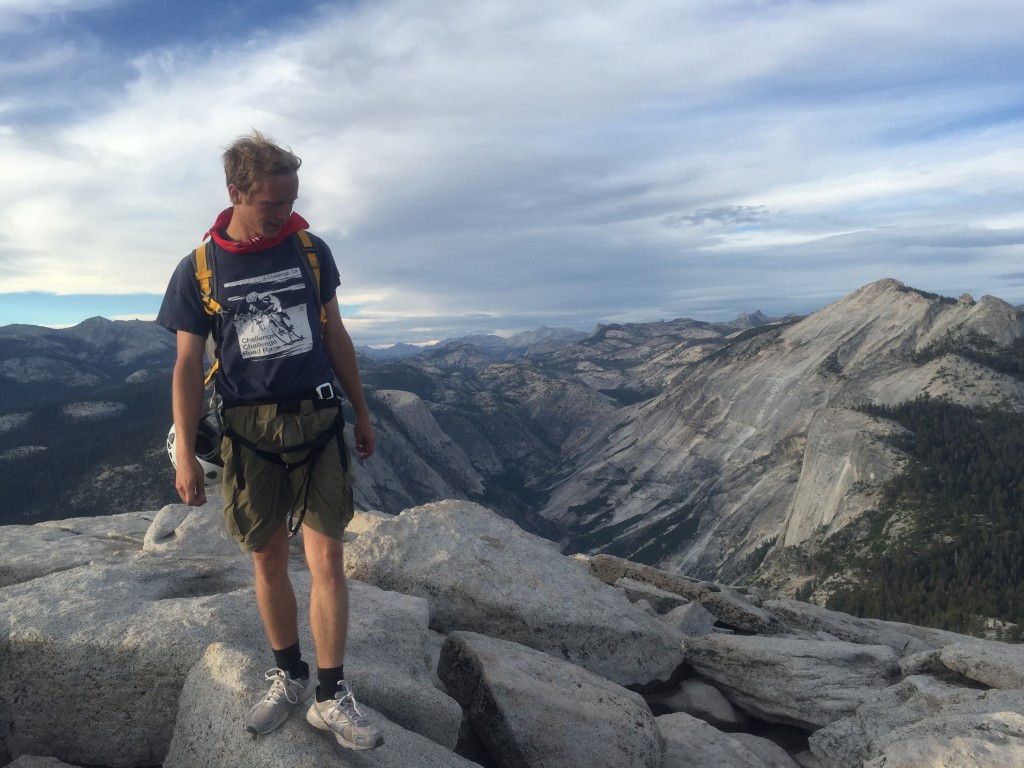 Conclusion
Snake Dike is a simple but classic climb, up an iconic mountain, in a legendary place. The approach is substantial, but worth the trouble. Just leave extra early, pack plenty of water, and climbing shoes, and plan for crowds.
All together, the climb lasted roughly sixteen hours, from 5 AM to 10 PM. Ascending from the valley floor took us about four hours. After waiting two more at the base of the route, the climb itself ate up around six. We descended the cables right about sunset, and made it back to the valley by 10 PM, stopping only once to give our remaining water to a climber from the party ahead of us, the one who might live with his buddies in a van. He was sitting in the dirt, head between his knees, as if he'd just rock climbed all day without drinking any water.
The late drive back to Sacramento put us at right around 30 hours total, door to door. Exhausting, but a great alternative to not getting permits. I'm looking forward to doing it right. Stay tuned.