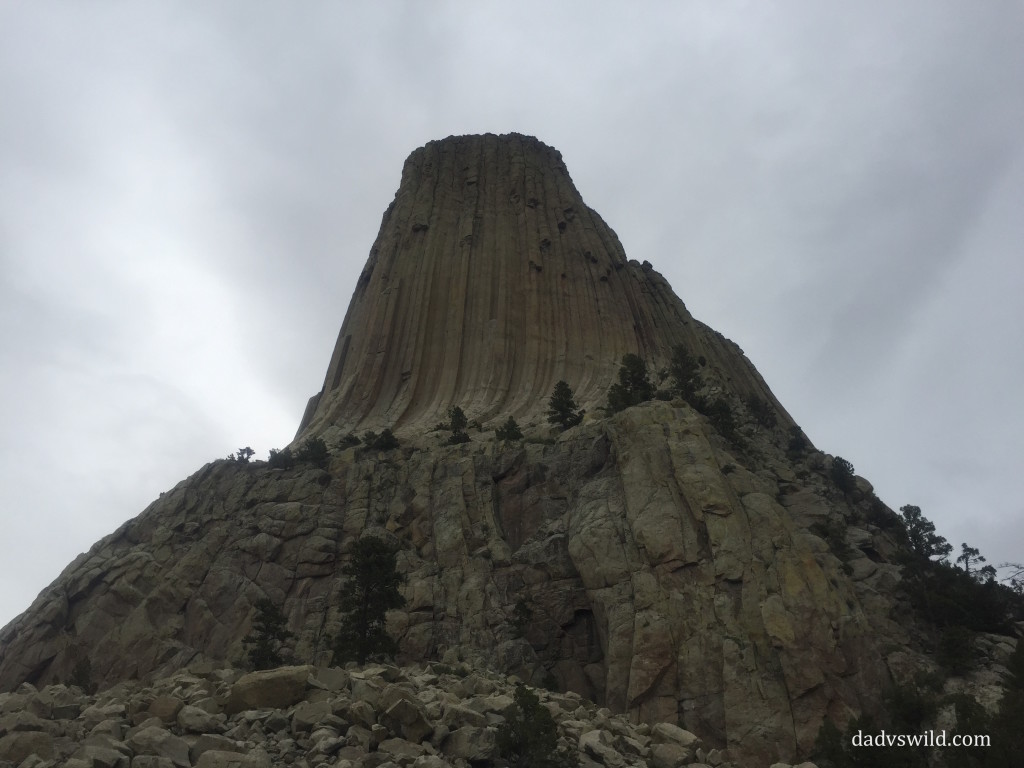 It's muggy and grey in Lincoln today. The sky is full to the brim with cloud cover, a moist blanket that erases the horizon, absorbing and diffusing any sunlight.
As bleak as it sounds, I actually enjoy this weather. It's rare for Nebraska, and it takes me back to the Sacramento valley, where the only precipitation is a slow and steady drizzle, with moisture dissipating in all directions. Before coming to the Midwest, I'd never experienced a real thunderstorm, where dark, dense concentrations of rain can pound one end of the city, and leave the other end untouched.
In terms of climate, Lincoln has a consistent diversity of flavors and textures. Winters range from frosty to fresh, springtime starts slushy and ends up soupy, summers are spicy, and autumns transition to crisp and crunchy.
It's the landscape of Lincoln that I struggle with. In terms of geography, southeast Nebraska is blander than plain old original oatmeal.
To escape the flat, pasty gruel this summer, my buddy Case and I journeyed to the Black Hills, a veritable topographic smorgasbord. We drove 600 miles northwest to feast on Devils Tower, Wyoming, and after a night there, we spent two nights at Winkled Rock, sampling the crags, walls, and spires behind Mount Rushmore, South Dakota.
Durrance
We pulled into our nation's first national monument late on a Monday afternoon. After 10 hours of driving, our fingers were twitching for a climb, so, with a few hours of daylight in the sky, we hurried to scope out the approach and pitch one of the classic Durrance route.
Having roped up at the base, a passing cloud, the remnants of an earlier thunderstorm, decided to relieve itself right above us. The tinkling was brief, but enough to send us back to camp to prepare for an early start the following morning.
The Wyoming sun rises soon after 5:00 AM this time of year. To beat any crowds, we set our alarms for 4:30 AM, and were back at the base of the approach pitch, racking up and flaking ropes, by dawn. The sky was mostly clear, with a chance of storms in the afternoon.
The prospect of being on legit rock all day filled my heart with joy. Every few moves up the gentle approach pitch I pinched myself to confirm this was real.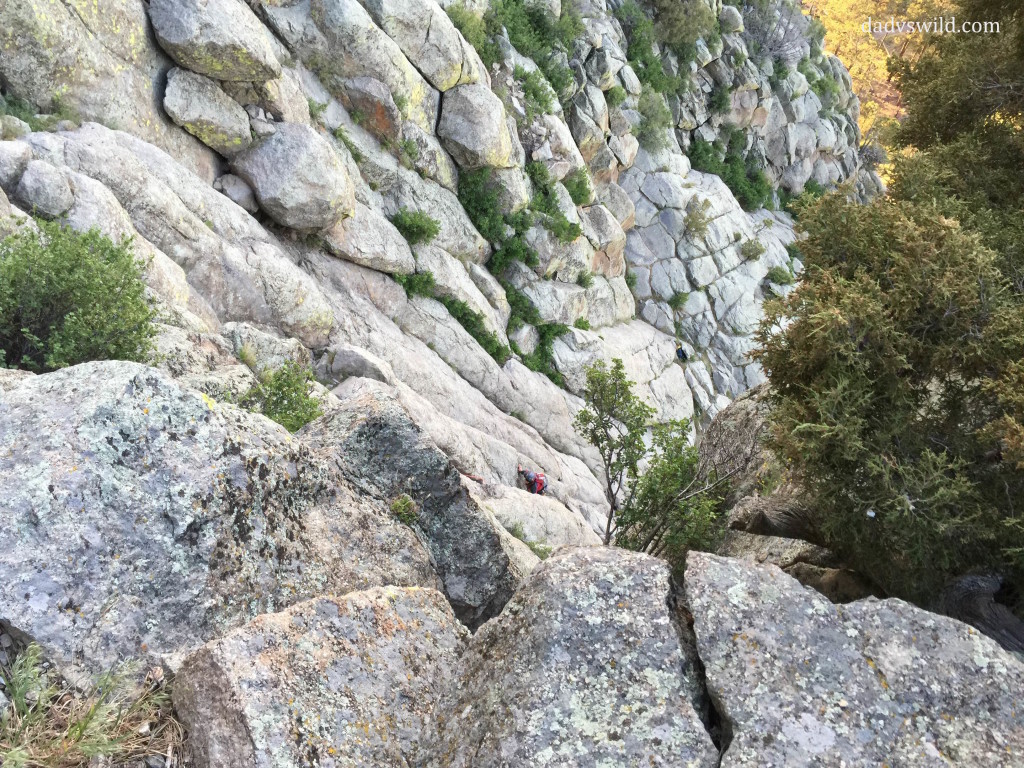 Everything was awesome, from the hexagonal igneous protrusions that made up the route itself, to the pigeons cooing on their platform penthouses two hundred feet above us. Moss growing like mortar in the lower cracks? So nice. Shadow from the tower stretching into the valley below? Yes. That ladybug, just doing her thing? Yep. It was going to be a good day.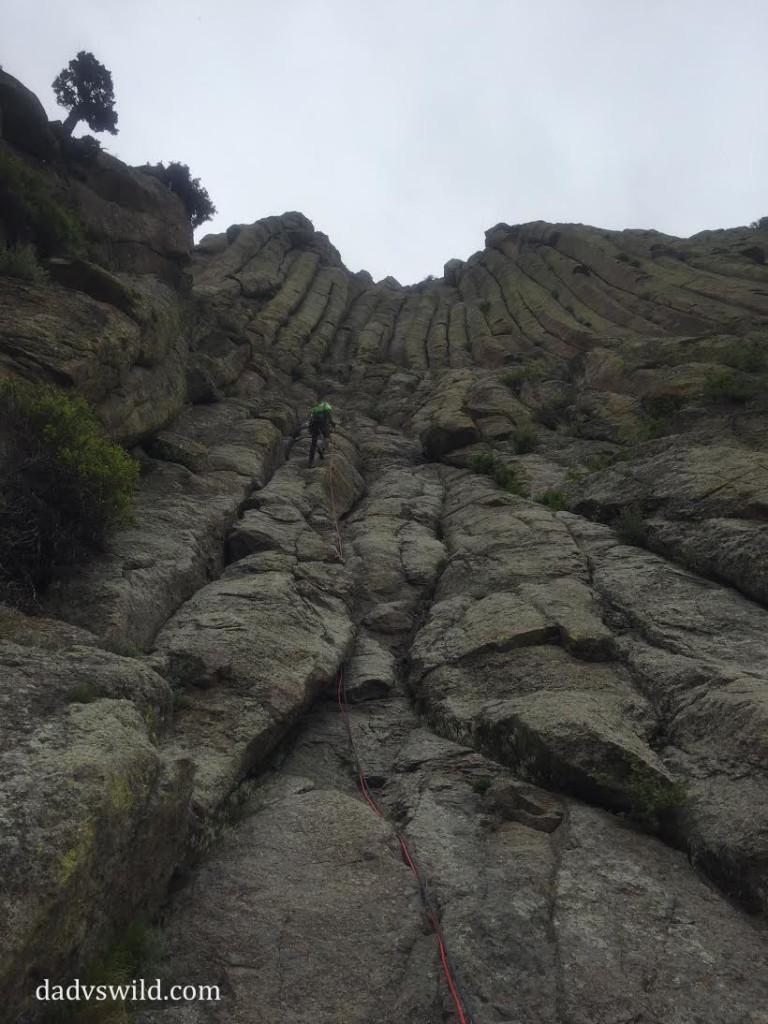 I led pitch one, Leaning Column, which follows an easy hand crack that widens at times to minor off-width. This was my first crack climb, and my first lead placing large protection, some 2s, 3s, and a 4. I had to gulp down a few mental hurdles along the way, but it worked out. Embrace the friction, trust the protection. As the kids would say, just keep swimming.
[Wikipedia reviews the basics of crack climbing]
Case led pitch two, Durrance Crack, which brought us to the crux pitch of the route, Cussin' Crack. The cussing is inspired by an off-width section ascended using a creative combination of jamming, squeezing, pushing, thrashing, and heel-toe camming. I tapped out after two failed attempts.
Case would lead us to glory. Once on top, the total exertion of it nearly pushed him to puking, but he held it in. Parties below us were unaware that they'd been spared a shower of vomit.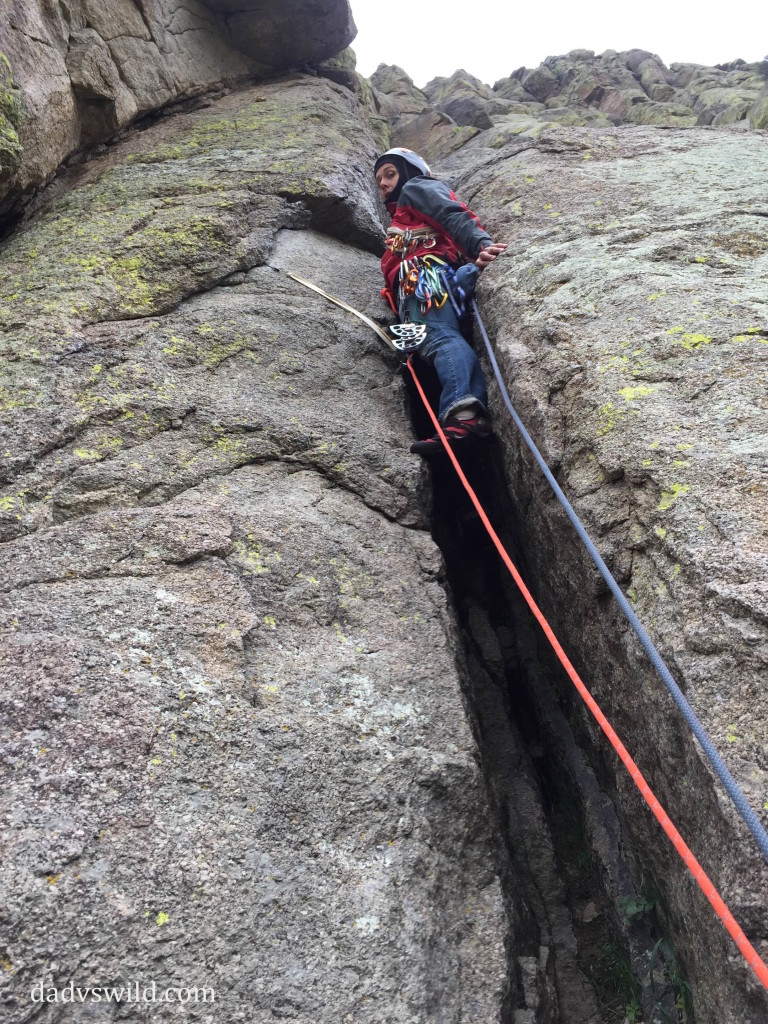 After Cussin' Crack, we continued up Flake Crack and Chockstone Crack. Flake was manageable, though the last few moves up onto the platform push you out a bit and make you think. Chockstone pushes you out at the last move as well, but your only option is to fully embrace a yoga-ball sized stone as you clamor to get around and above it.
From the top of Chockstone, we turned right to face the Jump Traverse. This famous pitch starts as a horizontal and then downward scramble toward the sloping bulge of rock that is the launch point for the jump. About 7 feet of air separate you from the welcoming landing zone, a small platform, and the remainder of the pitch.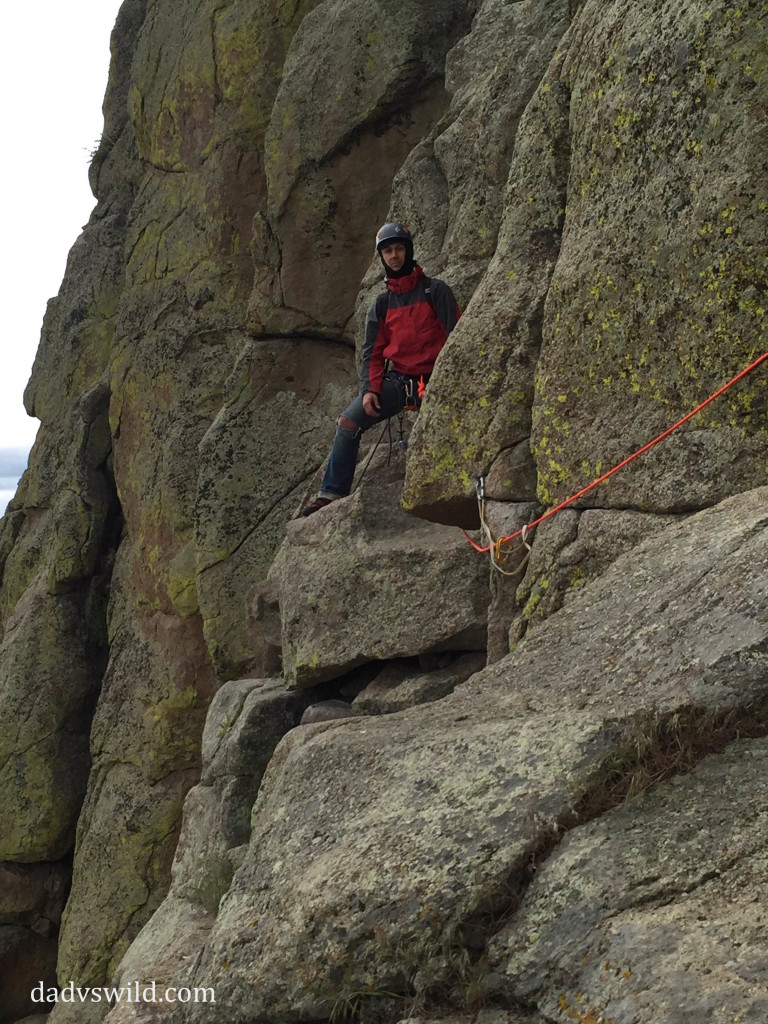 Having investigating the logistics of it, Case decided to climb around and through on lead, and then belayed me from the other side. I scooted to the edge and contemplated the jump for a minute, running through the what-ifs in my mind, some of them reasonable, like what if I lose my balance just prior to departure, and others more outlandish, like what if my foot cramps up or a pigeon dives into my face. In the end, I went for it, landing on all fours with a triumphant howl.
A frolic across the Meadows follows the Jump Traverse, and it's easy going from there to the top. Three quick rappels then brought us back down to our starting point, where we immediately asked the standard post-climb question, "did we just do that?"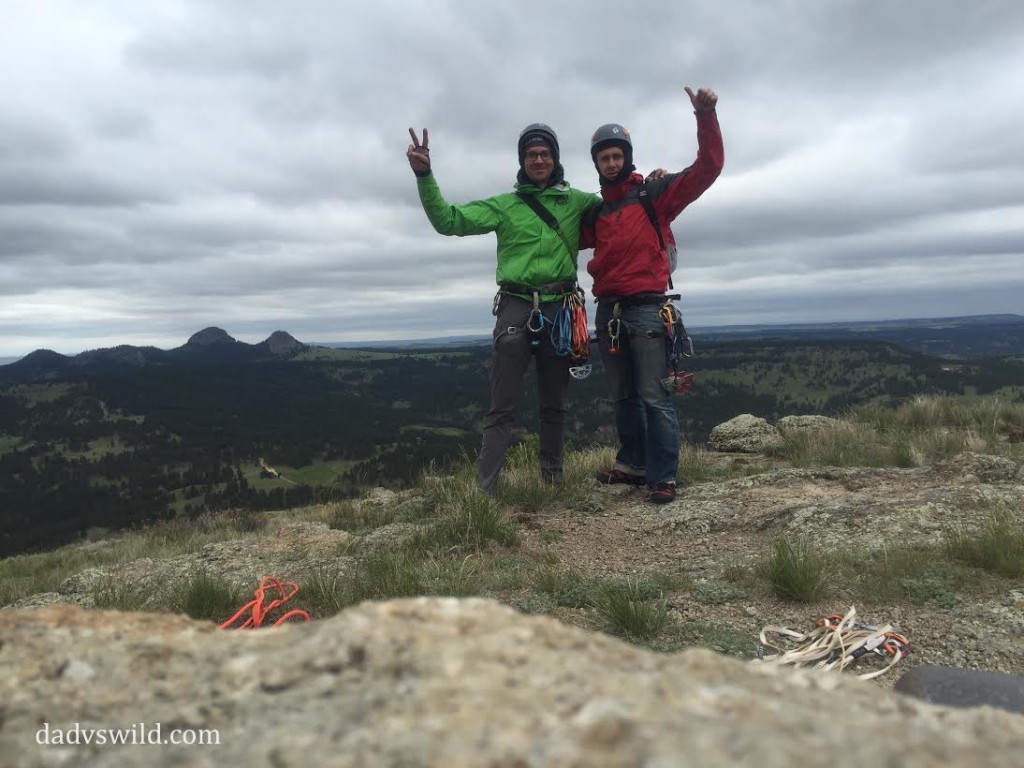 After the tower, we rested for a bit at our campsite, and then decided to hit the road and stay the next two nights at Wrinkled Rock, where the camping is free and the climbing menu is endless. Wrinkled Rock is a few minutes west of Mount Rushmore, about a two hour drive from the tower. We spent most of our time climbing in the Emancipation area, which borders the backside of Mount Rushmore.
More on Emancipation next time.
Extra Beta
Durrance is a popular climb that apparently gets crowded and slow on weekends. We opted for a Tuesday morning and mostly had the route to ourselves, with only one party ahead and one behind. The chance of rain may have discouraged others who prefer not to strap themselves to a gigantic lightning rod as a storm rolls in.
The Belle Fourche campground, managed by the parks service, is $12 per night, first come, first served.
Note that the National Parks Service has instituted a voluntary climbing ban during the month of June:
A voluntary climbing closure on Devils Tower is in effect during the month of June. The 1995 Devils Tower National Monument Climbing Management Plan established a voluntary closure for all climbing routes on the Tower out of respect for traditional cultural activities of American Indians. The voluntary closure has been implemented each June since 1996. The average number of climbers that choose not to climb during June has seen an 85% reduction.