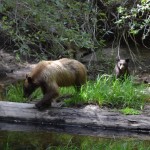 Our apartment complex is infested with squirrels. But we've learned to coexist. We all fill the dumpster with leftover food, like most Americans, and, in exchange, they don't ambush our kids on the playground, or drop sharpened acorns on our heads from their nests.
One of our lord of the flies neighbor kids made a bow and arrow for squirrel hunting, but this hasn't threatened our peaceful relationship.
Similar rules of engagement seem to apply when interacting with bears in the Yosemite valley and other high traffic national parks. On my last trip to half dome, I found this black bear mother and cub, minding their own business, not wreaking havoc or killing anyone. Like squirrels, these park bears thrive on our leftover trash, and they rarely bite the hand that feeds them.
But what about the wild, undomesticated bears? I know I sound pretty macho sometimes, but when camping with the kids, and not in KOAs, parks, or campgrounds, I tend to get a little nervous and super protective of my kin. Camping with the kids in the forest, I'm awake half the night listening for crunching leaves and snapping twigs, any signs of predators. So I've been doing some research, starting with bears, to ease my mind a bit.
Although bears can peel open a car like a can of sardines (warning from the NPS), dangerous encounters with humans are uncommon. There has never been a fatal bear attack in Yosemite (NPS – Yosemite), and fewer than ten have ever been reported in Yellowstone (NPS – Yellowstone), though two occurred in 2011 alone.
Wikipedia keeps a list of fatal bear attacks in North America
Some people misconstrue the numbers and suggest that we're more likely to be struck by lightening, twice, than to be part of what the Discovery Channel calls a bear feeding frenzy. Statistically, it depends.
Like professor Harold Hill, you've got to know the territory. In most of the US it's very unlikely that you'll ever meet a bear who feels threatened enough destroy you. Parts of Wyoming, Montana, and Alaska are exceptions, especially if you're baiting the bears with steak and salmon.
Like Ranger Smith of Jellystone Park, or Christopher Robbins of the hundred acre wood, you've also got to know the bear. Both black and brown (i.e., Grizzly) bears will take a picnic basket over acorns. But, unlike squirrels, they'll sneak into camp, even into your tent, to get it.
So, outside the Rocky Mountain wilderness, do you need a shotgun, bear horn, ferocious dog, and can of pepper spray when you take the kids tent camping? Probably not, as long as you don't use a jar of honey for a pillow. But, whatever helps you sleep at night.