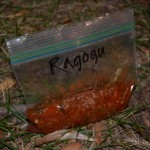 Having spent a couple years in southern Italy, and having a great-great-great-grandpa Antonio who immigrated here from Palermo in the late 1800s, I'm pretty much cosa nostra, and jarred sauce is an abomination in my sight. Only homemade, capice? My fave is the ragu, which works especially well as a camping or backpacking dinner over precooked ziti or rice.
A ragu is a meat and tomato based sauce, and the ingredients, including the type of meat, vary widely. I've had ragu alla Barese, made with horse, and Bolognese, with beef, chicken, and pork. If papa Corleone were to join us for dinner I'd prepare it as follows.
Ingredients
Some olive oil
1 large garlic clove
1 lb beef, ground or in small cubes
1 large onion, some shade of white or yellow
2 carrots
2 celery stalks
1 bell pepper, any color
1 28-oz can crushed tomatoes
1 28-oz can petite diced tomatoes
1 large chicken breast, whole
Some basil, oregano, thyme, and rosemary
2 bay leaves
Salt and pep
Procedures
The amounts above are only estimates of what you should probably bring home from the store. Here are the sauce ratios by which I cook:
Excluding tomato, 1 part meat to 1 part vegetable
For the veggis, excluding tomato, 1 part each (err toward less onion)
Overall, 1 part meat, 1 part veg, 1 part tomato (err toward more tomato)
Drop things into the pan, on medium heat, as you cut them. Once the beef is brown and the veg aren't crunchy, add the tomatoes, chicken, and spices, and simma down. Simmer time depends on how much the tomatoes have already been processed, or precooked.
The tomato processing spectrum starts at the vine and ends in tomato paste. The more cook time you have, the lower on the spectrum you can go, and the better the sauce. Simmering all day, use fresh tomatoes when available, otherwise, canned whole or diced. For a last minute ragu, you might go with crushed or sauced. In the end, use paste and water to get the right consistency.
On the Go – Ragogu
Freeze it in baggies and they'll thaw by the time you set up camp and heat the noodles. In an ice chest they'll last another day. To reduce the carry weight and pack size, cook everything fully, excluding the chicken and tomato, then stir in a can of tomato paste. Reconstitute with water when you're ready to eat. Bam!
Let me know what you think.