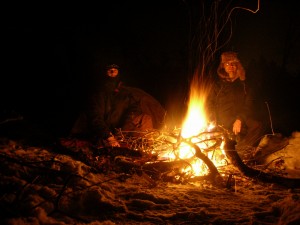 This weekend I set a personal record for winter camping: a high of 0 and low of -26 degrees (confirmed with the UMN climatology database, coordinates 45.29970, 93.58346). Pretty ridiculous, but only slightly dangerous – we were armed with many trees worth of firewood and many layers worth of clothing.
I still haven't decided on a minimum temperature for the kids, but negative degrees Fahrenheit seemed like the no-kids-allowed zone. My son cried when I declared it to be too cold for him to join us. I didn't want to suggest he wasn't tough enough, so I tried the distraction-with-new-information strategy, explaining the phenomenon of frostbite. But the threat of losing body parts didn't phase him. That made me proud. He is a tough kid. I bet he would have had a great time.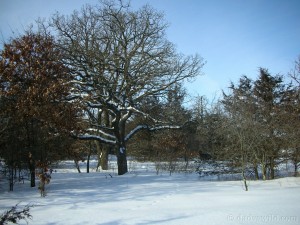 There were only a few moments of pain, mostly in my toes as I was stupid enough to wear hiking boots. Otherwise, the campfire was always blazing and if you situated yourself nearly in the flames it was quite comfortable.
Here are a few more pics: Sand Dunes – January 21.
And here's my pertinent gear: insulated jacket, heavy fleece, thermal t-shirt x 2, long johns, wool socks x 2, snowboarding pants, hiking boots (bad idea), ski mask, beanie, sleeping bag x 2 (zero and twenty degree), closed-cell foam pad (the blue one).