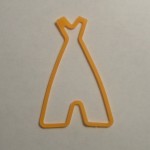 It's the season of shopping and you may be wondering what your family will get you. If you don't think of something reasonable, soon, you'll end up with more emblems of your favorite, losing, sports team, probably on a pillowcase or license plate holder.
Or, maybe you're out of ideas for your husband, and he pretends he already has everything he needs.
Either way, dads never have everything they need. They always need more camping stuff. Dads are responsible for teaching their family to survive and enjoy the outdoors (see here). This requires lots of gear, including different variations of the same tools and equipment.
Assuming that the bigger, more expensive items (e.g., tent, sleeping bags and pads, hiking packs) are either out of the budget or already taken care of, here are my top ten most important pieces of camping gear for under $50:
Knife/multitool
Camp stove
Hatchet
Headlamp
Things for lighting fires
Mess kit/cook set
Ropes and cords
Gear box
First aid kit
Camping chair
Because they're so basic, most of these items have a pretty low "that's not the one I wanted" factor – variations across brand/make/model are minimal.
If you have to choose between them, I recommend the hatchet – it's guaranteed to increase the toughness and ruggedness of whoever wields it.
For more gear ideas, see here.