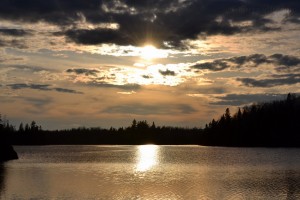 Minnesota is waterlogged this time of year. Winter has outstayed its welcome and spring has finally taken a stand, liquefying the snow much faster than the earth can soak it up. Hiking trails are soggy. Campsites are more mud than dirt. Nevertheless, in celebration of spring's triumph, my son and I spent May 6th and 7th on the Superior Hiking Trail, in northern MN.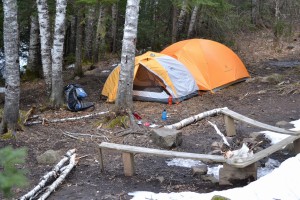 Despite the snow melt and overgrowth the hiking was great. We covered a few miles of the George Crosby section, just north of Little Marais, MN, and spent the night on Sonju Lake.
The single campsite on Sonju is on the north side of a small hill with lots of shade – most of it was either under snow or puddle and there wasn't a single dry stick to burn. Conclusions: in the spring months, don't camp on Sonju or plan on a bonfire. Also, watch out for ticks.
Here are more pics and a link to the Superior Hiking Trail Association. And here's a map of the campsites, parking lots, and trail section, about 23 miles, from County Rd 6, through the state park, to Hwy 61:


View Superior Hiking Trail: George Crosby Section in a larger map