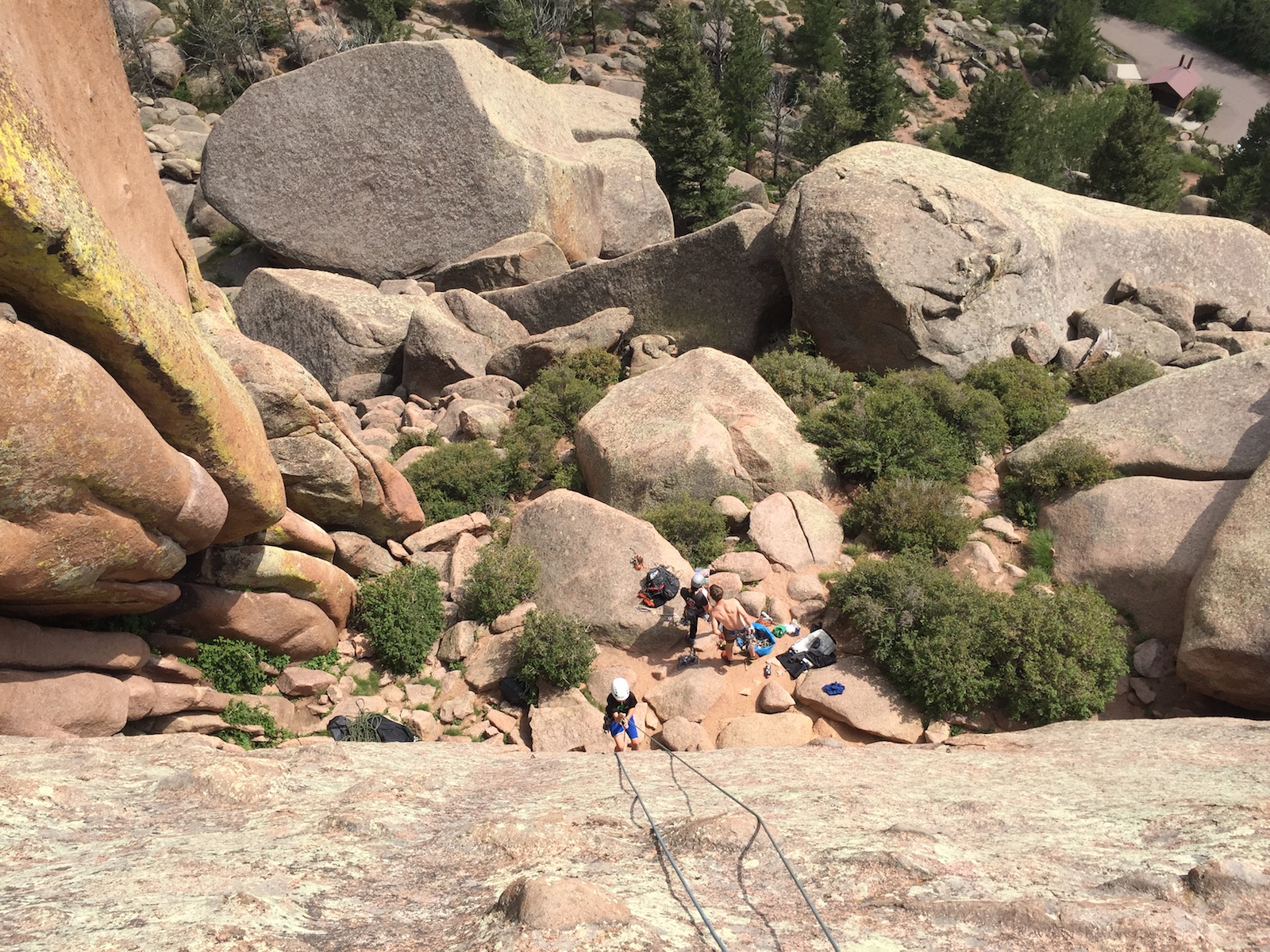 Day one of our annual summer road trip to the west coast begins with excitement and anticipation. We've got wallets, purses, phones, chargers, snacks, water, books, paper, pencils, and pillows. Bags are loaded, bladders are empty. We are clear for departure. Engage turbo boosters.
[The kids think our minivan has turbo boosters, and that they're reserved for special occasions, like on road trips and when we're late for church.]
Lincoln is small enough that we're soon out of the city in light traffic, flowing west on highway 80, the contiguous asphalt artery that will carry us like an oxygenated blood cell from the Nebraska heartland to the congested extremity of our trip, California.
Everyone is pumped.
The freedom of the open road, the anticipation of seeing new sights and old faces, of camping, hiking, swimming, fishing, restaurants, parties, together we're bound for a good time, and we're bonding on the energy and excitement. Parents have visions of free babysitting, and sleeping in while the kids watch Fox News with grandparents. The kids can almost taste the bottomless smorgasbord of pizza, soda, treats, and all-out gluttony that awaits them. Each day, they'll consume before lunch more sugar than they've had in the past month.
This is going to be an epic trip.
Fast forward eight minutes and the magnitude of 1,500 miles has sunk in. The good times are so, so far away. Too much asphalt artery separates us from vacation glory. A steady stream of questions is projected from the back of the van. Hey, are the turbo boosters still on? Why not? Wait, isn't Nebraska a city? What is a state? Can we have a snack? Now are we there?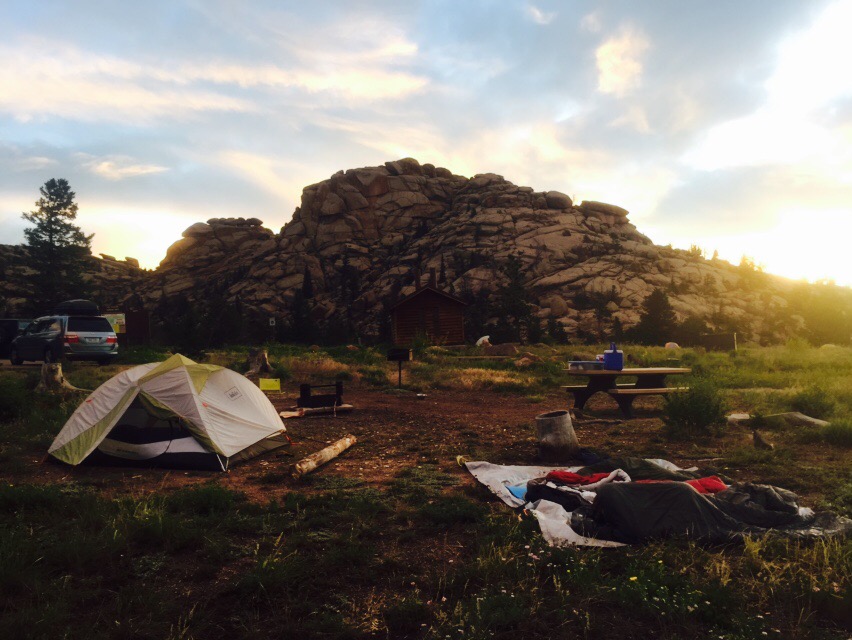 One kid mentions Wyoming, and the rest convince themselves instantly that we must have just crossed the vast expanse of Nebraska. Phew, I thought we'd never get there! Wait, we're not there yet? Then why did someone say Wyoming? Six more hours? The positive vibes and bonding give way to irritability and then hopelessness. The blood cell has lost all its oxygen.
For the remainder of Nebraska, everyone is holding out for Vedauwoo, where we'll stop to breath, at least for an hour or two, possibly for the night.
[Recommended reading: Annual Overnighter at Vedauwoo: Climbing, Hiking, not Sleeping]
Vedauwoo is an unassuming US Forest Service camping area just off highway 80 between Cheyenne and Laramie. If you're ever passing through, I highly recommend a visit. Exit the freeway and faster than you can say, "Stop pinching your sister or I'll tie your fingers and toes together, you just watch me, oh, you think this is funny," you'll find yourself on a mesmerizing hike through enormous, globular granite formations, stacks of rounded, misshapen bricks that glow orange and pink in the evening sunlight.
Camping is ten dollars, day passes for the paved areas are five. There's also a dirt road to an unofficial looking parking area past the main entrance where you can stop, and possibly camp, for free. Take a look.
When the weather is right, you'll see rock climbers doing their things, flaking ropes, sorting through piles of cams, some as wide as your head, in preparation for a distinctive climbing experience. Note that the bulbous bricks that characterize Vedauwoo have no mortar between them. The gaps have been flossed clean, leaving cracks and chimneys of every shape and size, some just large enough for a fingertip, bicep, thigh, or twisted foot, wedged in for stability and then upward leverage. After much squeezing, contorting, and grimacing, all while mummified in roles of athletic tape to preserve skin against abrasive granite, people are able to shimmy their way to the top. Vedauwoo is famous for this off-width style of climbing.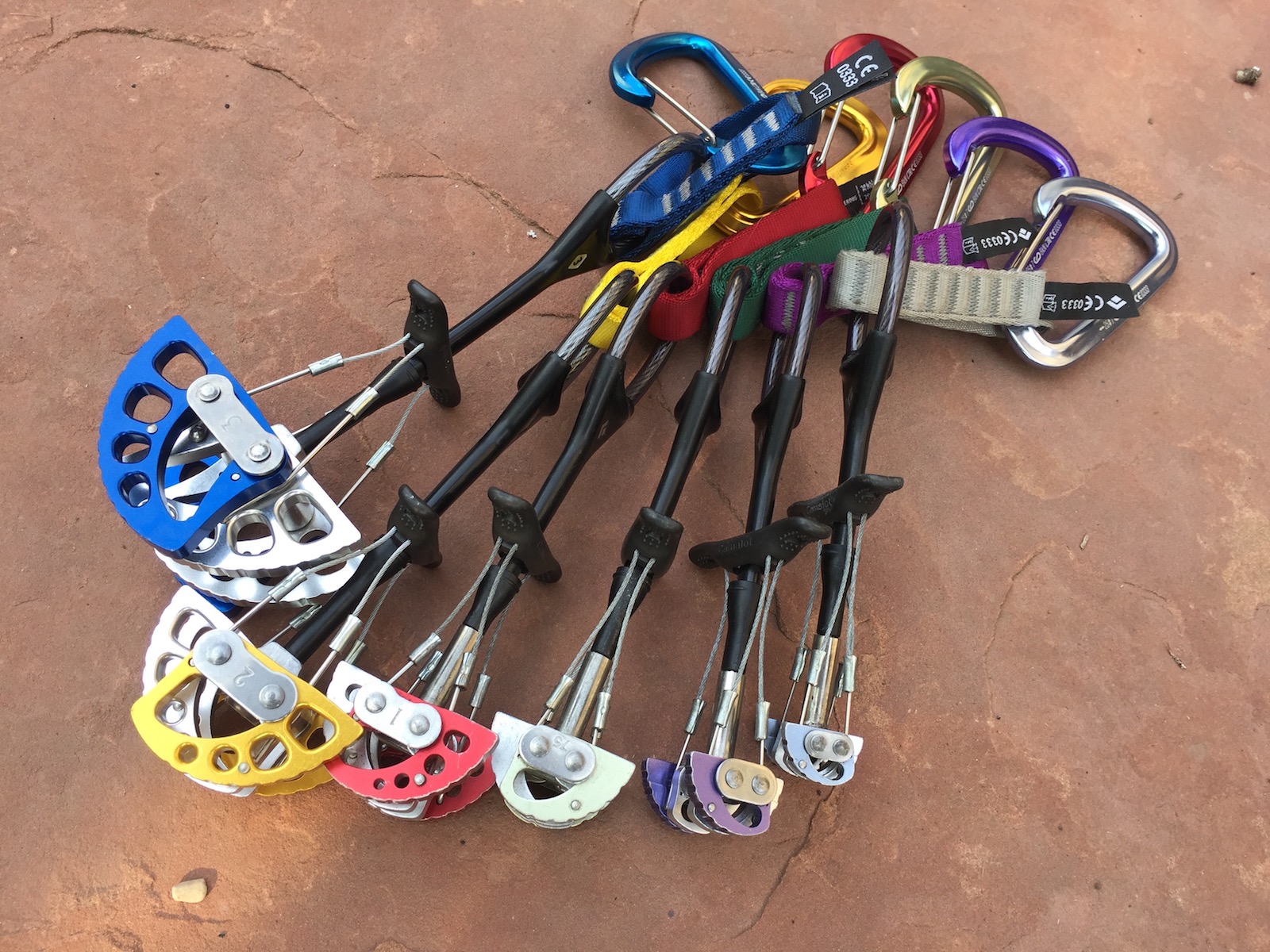 This summer, my oldest son and I roped up for our first climb on Vedauwoo's iconic turtle rock, which resembles a mountainous, scraggly old tortoise resting on its belly. Having trounced around on the crag's scree every summer since he was five, bouldering on petrified turtle droppings, it seemed fitting that my son's first lead belay and first climb on traditional gear would be a scratch on the turtle's shell.
Most of my son's belay experience comes from playing on our tiny basement wall. We've also practiced at the local gym. One of us will climb on the auto belay, a mechanized self-tightening safety rope, while mock lead climbing on a second rope, as the other mock belays. This seemed like adequate preparation. Looking up at the route, I did pause for a moment to make sure everything felt right. It did. Harnesses, helmets, knots, and belay were all triple checked. We were ready.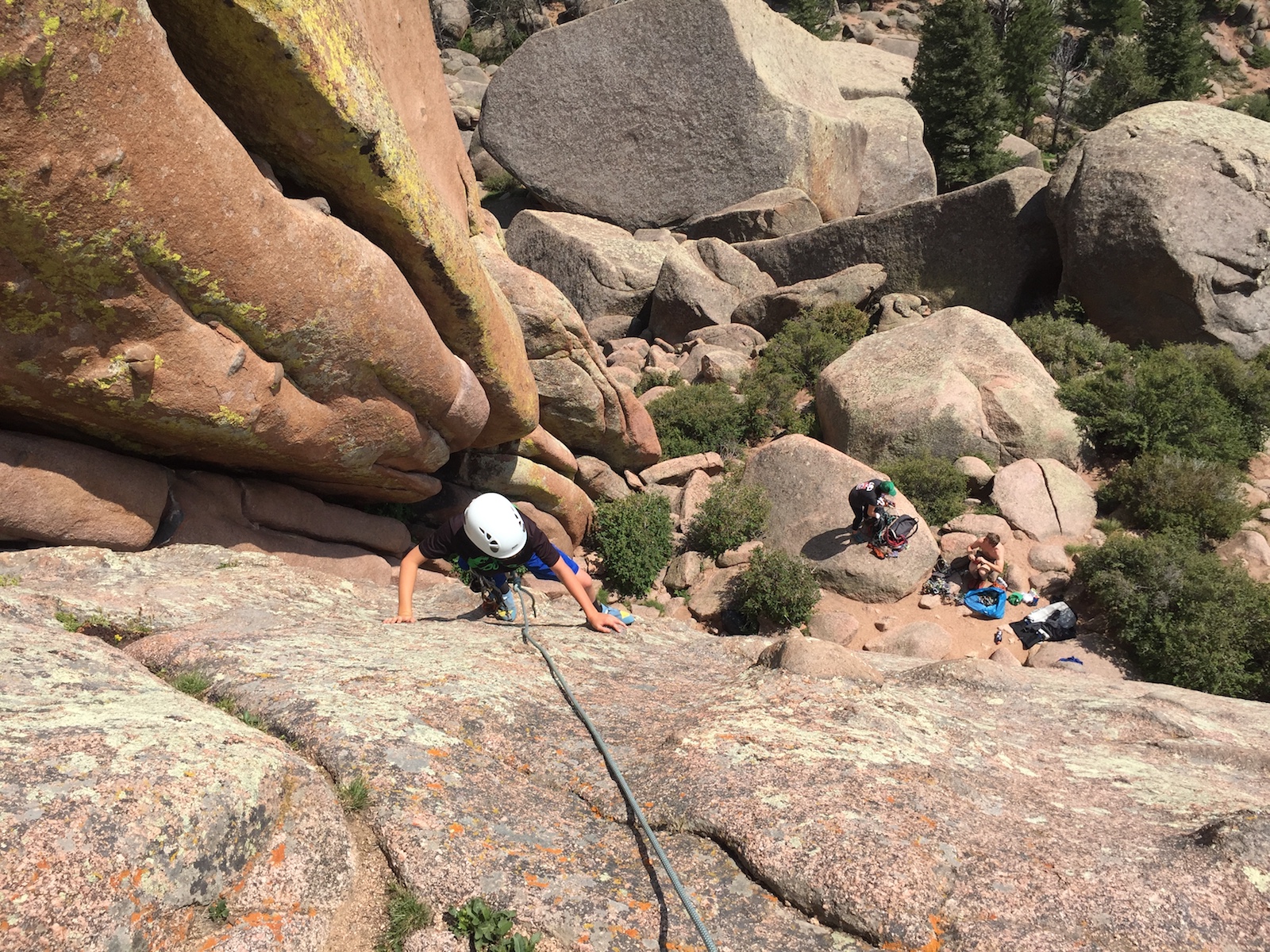 We made it up the first pitch of Walt's Wall, a gentle meandering ascent with ample protection (more at Mountain Project). Rated 5.4, Walt's is mostly a steep scramble, perfect for a dad helping his 11-year-old navigate climbing on real rock. Unfortunately, after hugs and high fives at the first set of bolted anchors, a thunderstorm rolled in from the north. With lightening approaching, we decided to call it off, before getting the full body experience of off-width. Next time.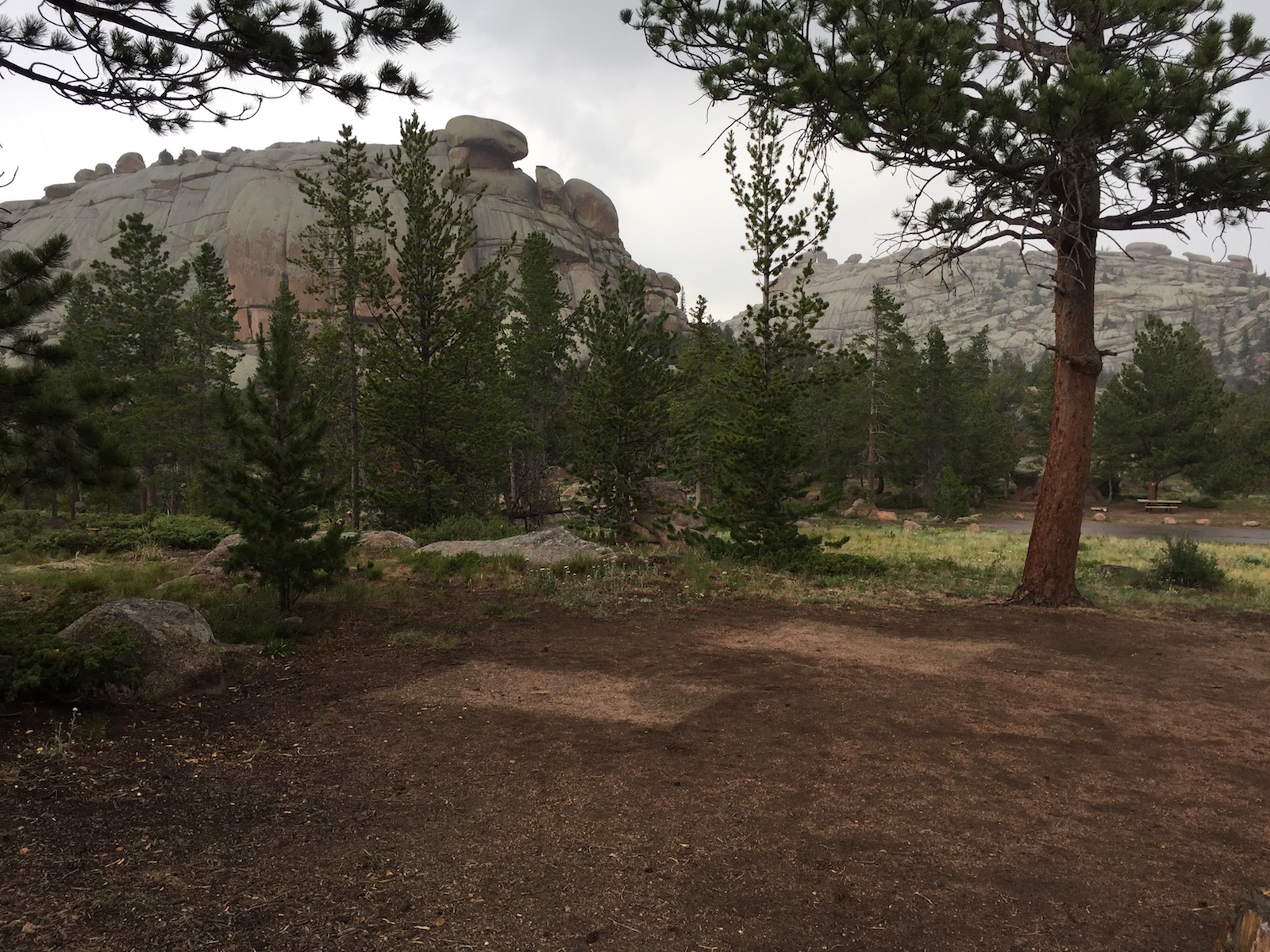 Rain meant an immediate departure. Tents and gear, soaked within minutes, were crammed into the roof rack, sleeping bags were strewn about the cabin, as kids clamored into boosters and car seats. An hour after arriving, we were back on the road, with 400 miles and another state to go before our next stop, Salt Lake City, Utah.