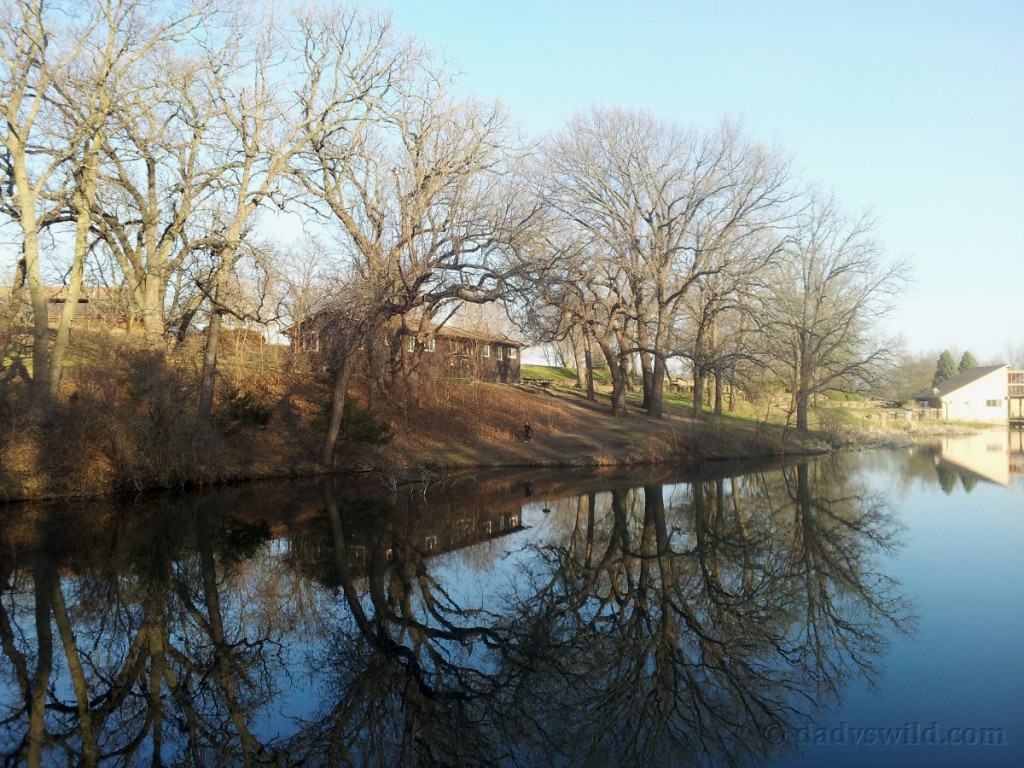 This spring we spent two nights at the luxurious Platte River State Park, which sits about 15 minutes off highway 80, halfway between Lincoln and Omaha. The trip was definitely a new experience for me. Although I grew up camping in an RV, and had a great time, for the past ten years our campouts have been as primitive as possible. Sometimes there's running water and some form of outhouse. But, ideally, it's just us and the woods. Some people call this "primitive" or "backcountry" camping. I just call it camping. Anything else is glamping.
Platte River State Park is glamping. It has the unassuming woods, plus everything else you might have left at home because you aren't supposed to have it while camping. We rented what they call "modern" cabins. In addition to four walls, a roof, and a floor, which is already excessive, the modern cabins are furnished with real beds, carpeting, and soft things to sit on, like couches and chairs. You can store your mess kit in the kitchen cupboards, next to the actual cookware. And you can put your baggie of toilet paper rolled up in a rubber band on the shelf in the actual bathroom, next to the porcelain toilet.
The flat-screen TV took the experience from slightly awkward to offensive, from weird to wrong, from questionable to blatantly unethical. Adding a TV to camping is like "enhancing" your water with artificial sweeteners and flavoring. I like a little sugar in my water. But you can't enhance water, just like you can't enhance mother nature. They're already perfect. Don't fool yourself into thinking you're still drinking water.
That said, we did have a great time. We shared two adjoining cabins (called Chokecherry) with two other families. This put us slightly way over the recommended occupancy, with six adults and thirteen kids. But that was part of the fun. Also, the cabins were right on a pond, and our canoe was the only craft to tread the water. And we found some decent hiking nearby, with noteworthy changes in elevation. We spent an afternoon walking down to the humble Platte River, which is more of a really wide creek, and were surprised to find a waterfall along the way. Nothing grandiose, but still an nice getaway with family and friends.
Next time we might try the modest "camper cabins," which only have a fridge and beds, in addition to the walls and roof. It's still glamping, but slightly less glamorous.