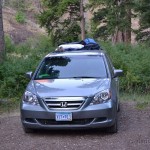 A few days ago, my oldest and I were reminiscing about "that time we slept on top of the van." Ah yes, I remember it well. Pretending that were trying something new, getting a better view of the stars, when in reality I just wanted get as far as possible from the hungry grizzly bears.
It was the summer of 2011, if I remember correctly, and Newton Creek, apparently home to some grizzlies, was the final stop on our road trip from California back to Minnesota. We had departed from Sacramento three days earlier in a caravan lead by my parents in their RV. The trip took us east on highway 80 through the Sierras and most of Nevada, and then up to Nat Soo Pah, an RV park near Twin Falls, Idaho, that boasts of "magical mineral water" in its spring-fed swimming pool.
As a kid, our road trips often took us through Nat Soo Pah. My dad loves a good swimmin' hole. From all accounts, he spent most of his childhood on the banks of the American river, like a modern day Huck Fin, exploring and causing trouble. Those were the good ol' days, when you could jump from Rainbow Bridge into Lake Natoma, a reservoir on the river, and not go to jail. Nat Soo Pah is great because it has a massive high dive. With enough bounce, it's almost like jumping from a bridge. Also, the water is a consistent 99 degrees, so it's like a giant, communal bathtub. The kids have fun, at least.
As far as I could tell, nothing at Nat Soo Pah had changed, from the slimy diving boards, to the mustachioed camp host, to the arcade games with their familiar theme songs and worn-out joysticks. After 20 years, we were crunching the same gravel and sitting at the same picnic tables around the same fire pits. The nostalgia was flowing like spring water from the prairie. It was nice to go back.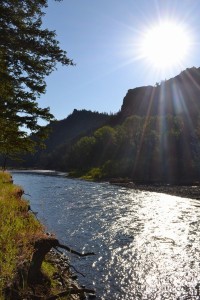 Newton Creek was beautiful, and definitely memorable, but I don't have any yearning to return.
I've never seen grizzly bear warnings, let alone campgrounds prohibiting tents because of "grizzly activity." Leaving the east exit of Yellowstone on the North Fork Highway, we passed 2 campgrounds (Threemile and Eagle Creek) which allow only "hard side" campers and RVs. My parents had turned back at Yellowstone, and all we had was a 2-person backpacking tent, the sides of which are quite soft.
Next up on the North Fork Highway is Newton Creek, which allows tents after June. It was late July, so we were safe. I reassured my wife, who slept in the tent, at ground level, that bears use calendars.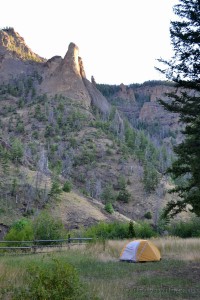 The meaning of "grizzly activity" is up for interpretation. I can't remember if there's a sign as you pull in to the campground that attempts to depict the "activity." I think there was a small sign, but it only made things more ambiguous. I'm going to stop joking about this now, because after returning to our hard-sided home and getting on the internet I learned that a few people have been pulled out of their tents by bears at Newton Creek and neighboring campgrounds. So, I appreciate the warning, despite the ambiguity.
At the time, I thought I was being nice by giving my wife the tent. I guess nice would have been some structure that could withstand a bear claw. After making sure she and the girls were situated, I wished them luck and my son and I climbed on top of the van and tied ourselves to the roof rack. We watched shooting stars in the clear mountain sky, confident that we were out of reach of the shorter grizzly bears. I reflected on my nighttime half-dome hike and eventually dozed off for a couple of hours.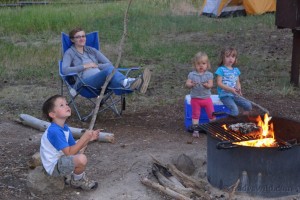 The best part about this campout was dinner. We brought some frozen salmon that my dad had caught in California, but I had forgotten to bring suitable cookware. Rather than holding it over the fire on a stick, or frying it on a hot rock, which I've done, we decided that the easiest cooking method would be to foil wrap it.
We bought the foil for a ridiculous price at an outpost on the way out of Yellowstone (a new frying pan would have been cheaper). And for seasoning, we crushed some potato chips inside before wrapping it all up. Flame-broiled, Lay's-encrusted, wild pacific salmon. Good eatin'.
Looking back, I would add some moisture to the foil wrap, even if it's just some water. The grease from the chips doesn't really distribute itself like it does on your hands.
Also, don't feast on salmon before camping out in bear country. We were like foil-wrapped salmon in our sleeping bags. Good thing it wasn't June. And good thing we smelled more like diapers and road trip than anything else.