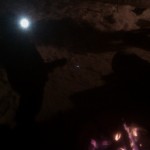 I can still smell the campfire smoke and stinky socks from our first overnighter of 2011, a quick trip to Afton State Park, on the St. Croix River, about 30 miles from the Twin Cities. Though not as campy or gritty as our last campout, the state parks have a couple of attractions to offer in the winter: heated cabins and snowshoe rentals.
Compared to a tent in the bushes the cabin was luxurious, with heat, electricity, a porch, fire pit, and picnic table. Not to mention a garbage can and coat rack! They're a bit pricey at $58.50, probably because of the coat rack, but going with friends and splitting the bill made it manageable. For a bundle of firewood, snowshoe rentals, and three meals for 5 people the total came to about $110, and we ate like camping kings (hot dogs, dutch oven cinnamon rolls, cakes with bacon).
Please excuse the blurry, i.e., artsy, photos, taken with my cell phone. I forgot my camera, along with the ketchup, hence the fast-food condiments seen in the hot dog lineup picture. Even with Heinz the trip couldn't have been better, unless the kids had gone to bed before 11:15 and/or woken up after 5:15. Despite having burnt the candle, severely, at both ends they tromped through the snow with us for a few hours.
A successful first attempt at snowshoeing! I've posted a few more cell-phone quality pics here: Campouts – 2011