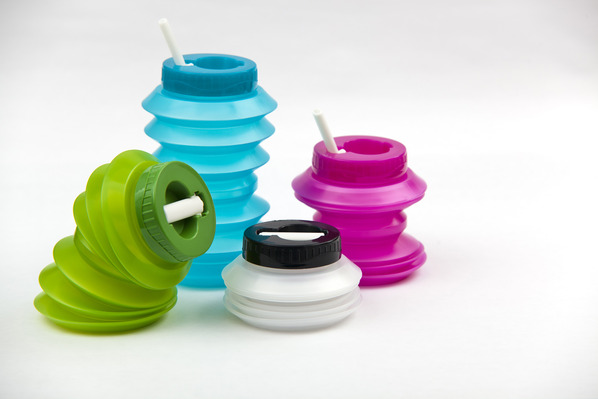 A few weeks ago, the lovely chaps at UK-based Ohyo sent me their 500ml and 1000ml collapsible water bottles to try out. The liter version hasn't made it across the pond yet, but the 500ml is available on Amazon
.
This is my first review of gear I didn't pay for, so I want to clarify that I'm going to be as merciless as possible with this, and with future reviews.
That said, the Ohyo "collapsabottle" is pretty cool. The smaller and larger versions scrunch down to about 1 and 2 inches tall, and only weigh a few ounces when empty. In that way, they're sort of like reusable disposable bottles. Here's my take after two weeks of guzzling.
The Cons
A few limitations of the aquaccordions:
The straw on 500ml is tiny, and there's no pressure release. This is great if you're rationing water, or if you're a rabbit. Otherwise it can prolong thirstiness. The 1000ml version with the flip top is better suited for humans, but it's not yet for sale in the US.
The scrunchy parts are prone to staying wet, and they'll probably start growing algae if you aren't diligent when drying. Most water bottles acquire a funky flavor with time, but these may quickly turn into collapsible fish tanks. Which is a brilliant business idea. You're welcome.
It does not produce a folky sound when squeezed, so it's useless at a Polka dance, except for drinking from.
The Pros
Here are some scenarios where I see the Ohyo being useful:
Ultralight backpacking, though it doesn't double as a stove or pocketknife, which serious ultralighters may scoff at.
Freezing conditions, for example, to stock an ice-chest or when winter camping, which is not unheard of. Experience shows that solid bottles will crack when frozen.
Flying, or when you're otherwise pressed for space.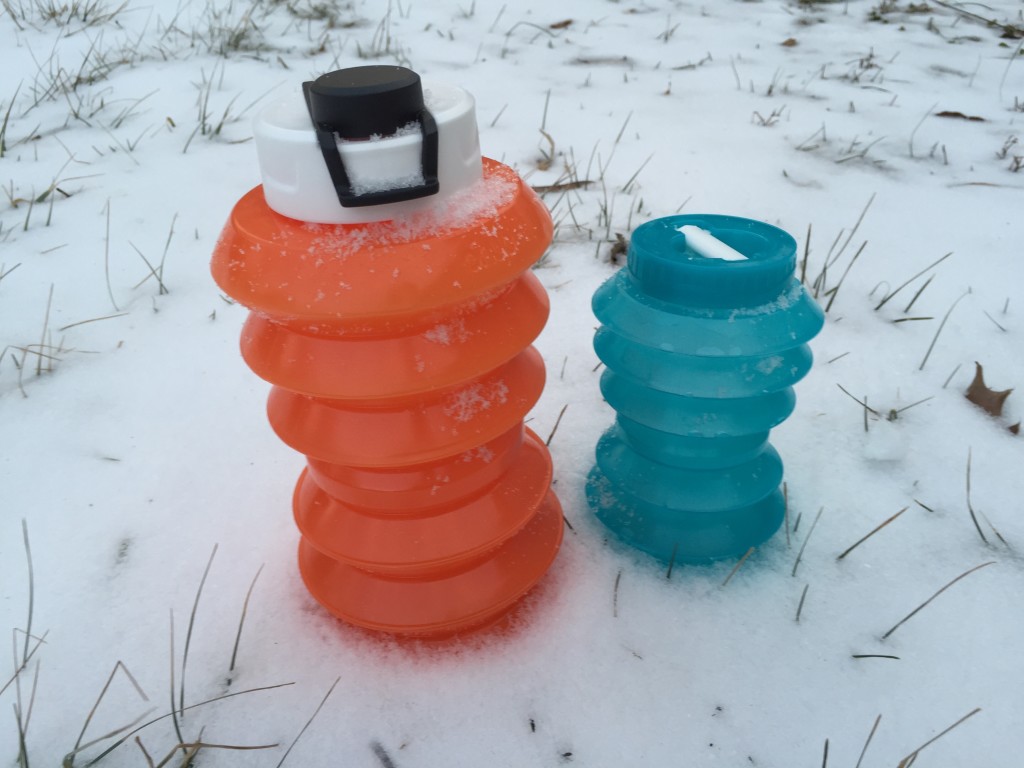 I've run three simple tests on these squeeze bottles. First, I filled and froze them both outside overnight. The low was -2°F. After thawing they bounced right back to life. Next, I dishwashed them on the bottom rack, and then tasted for plasticity and soapiness. Nothing but water. Finally, I sent them to school with my kids. Keep in mind, kids backpacks are hazardous environments, where only the strongest survive. Both bottles emerged unharmed.
Conclusions
The Ohyos are sturdy and functional, plus they look cool and they're a little less expensive than the other crushable bottles on the market.
Currently, you'll only find them on Amazon
.