Earlier this week I posted a list of winter bicycling essential attire. Today, I'll finish the ensemble with some essential winter biking gear.
All you really need is a bike, preferably a beater, one you wouldn't mind leaving in a ditch or launching off a bridge just to see if it explodes. For the past two winters I rode Frankencycle – a beast of a bike, scrapped together from numerous bike corpses abandoned around our apartment complex.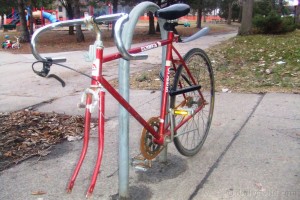 Somehow the front wheel escaped before I took the picture… It was actually a sturdy and reliable bike, and yet I never had to lock it up. I guess a bike thief is a poor judge of character.
Here are a few additional components that some people find handy:
Studded tires – helpful on ice, but pricey, slower, and still not crash proof. These come in all sizes, even for road bikes, though the fit might be snug.
Snowboarding helmet – full-face makes it warm and dry, but also bulky and heavy.
Lights – absolutely essential. Here in the north the sun throws in the towel around 4:30, and the bike lane turns into a slosh fest which forces you into the road, so the more candelas the better. Since both my light mountings have busted I've strapped the front to my helmet and the rear to my backpack, which is nice because I don't have to detach them when I park.
Last year, completely cankered with rust, Frankencycle disappeared into the northern countries to live its final days in solitude. I've since assembled Bikenstien, a mountain bike that's just as scrappy, though not as loyal.